307 Resources to Hire Niche Writers
307 Resources to Hire Niche Writers
Workello enables content teams to filter through hundreds of niche writers to identify and hire the top 1%
307 Resources to Hire Niche Writers
We spent 27 hours creating a list of 307 free resources you can use to hire niche writers.
This list includes more than 50 primary niches, and hundreds of sub-niches. For example, the 'Pets' category includes:
Dogs
Cats
Fish
Reptiles
You'll notice all of the resources are Facebook Groups.
This is because there is no:
Job board for writers specializing in fish or fishing
Job board for writers specializing in programming
Job board for writers specializing in automotive reviews
If we want writers with real life experience, we need to meet them where they hang out, and today that is Facebook Groups.
Hard won experience
In the last three years, my content agency has…..
Evaluated 3,500+ writing candidates
Received 1,000+ completed writing tests
Hired 100+ writers
Published 12,000 pages of content
Driven 250,000 page 1 keywords and 30,000,000+ organic visitors
It took us hundreds of hours to build and iterate on systems to hire great, affordable writers on-demand, whenever we needed them.
At the same time we were doing all this, hiring writers was a consistent challenge our community faced.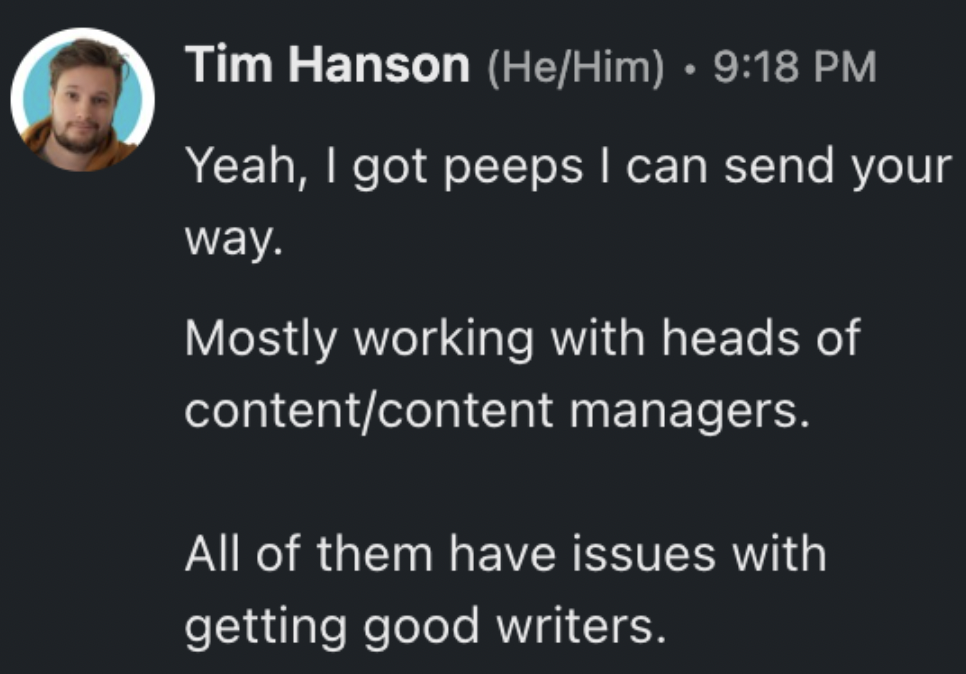 If you haven't spent much time hiring writers, here is what it looks like for most people:

Getting dozens or hundreds of emails, DMs, and comments from candidates across multiple apps
Starting conversations with each candidate to learn their rates and other critical information
Losing track of conversations and candidates
Evaluating candidates with great portfolios and terrible first drafts
Doing complete re-writes and spending more time editing than you imagined
Missing deadlines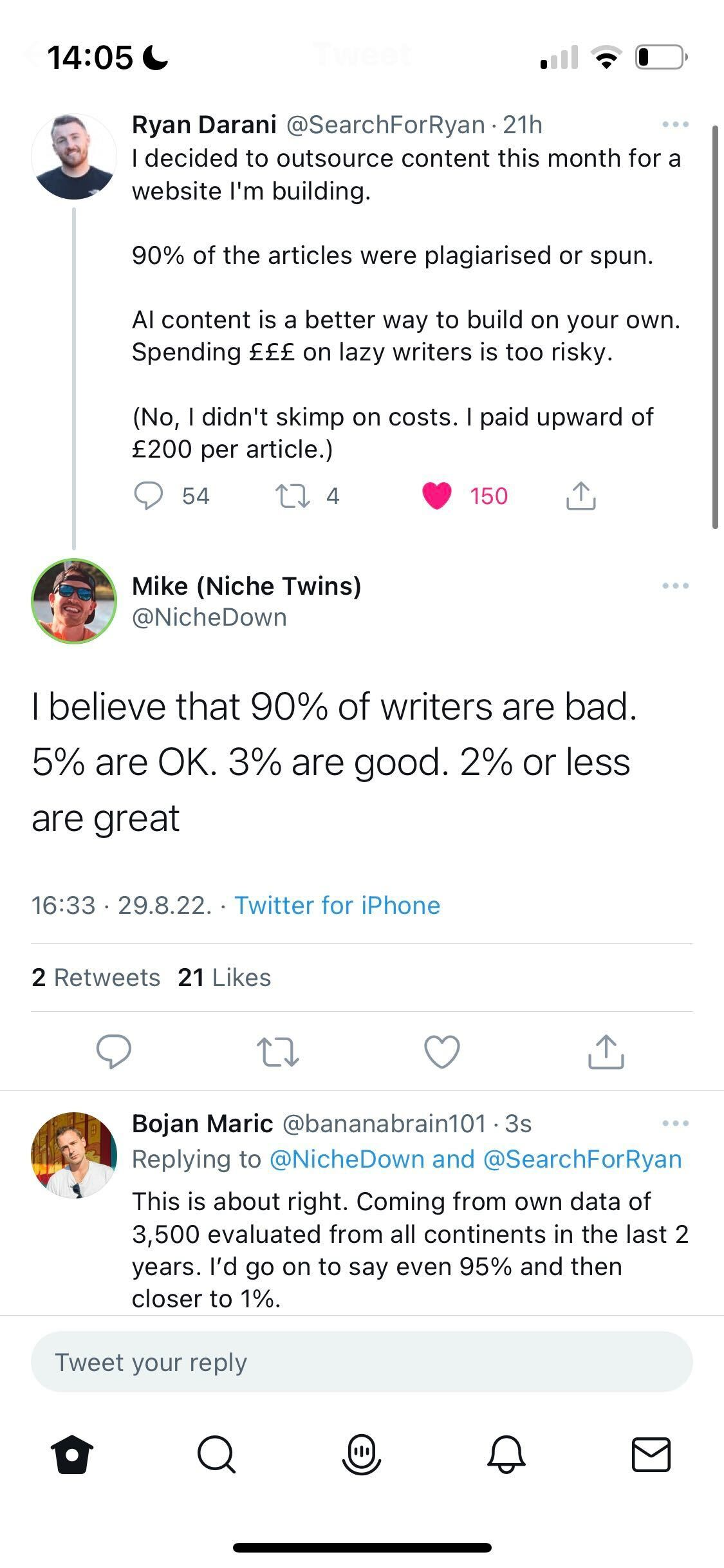 We found it very easy to hire writers, at the same time our community found it almost impossible.
So we're fixing that. By the time you're done reading this playbook, you're going to walk away knowing how to:
Hire niche writers on-demand, whenever you need them
Hire better writers than your competitors
Hire more affordable writers than your competitors
Step #1: 🔎 Sourcing Strategy
Earlier I made the bold claim that Facebook Groups were the best place to find niche writers. Facebook Groups come with their own set of challenges, but it's the best option if you need niche writers. Here's a quick list of the alternatives.
✍️ Job boards specifically for writers
Think paid job boards like ProBlogger or SuperPath. These job boards specialize in writing jobs and writing jobs only. Writing candidates are located around the world, so we can't pick the location, and most of the candidates won't have experience with specific niches (although some will).
🤖 Reddit
There are three active writer specific subreddits, and a few more general hiring subreddits. These subreddits have a global candidate pool, and most candidates won't have experience in specific niches, but some will.
👤 LinkedIn
LinkedIn Job Ads have a very generous free tier. When you post your job, make sure you set the option to allow candidates to apply via an external link. LinkedIn allows you to select a country, so you can control for location, but these candidates are going to be generalists, and most likely won't have experience with specific niches (although some will).
🌎 Job boards in specific countries
In Serbia we use Infostud, in the Philippines we use OnlineJobs.ph. We can control for location, but these are general job boards, for all types of jobs. Many candidates will not have prior writing experience. Very few of the candidates will have experience with specific topics.
👯

Interest based communities

If you want to write about something, there is a community for it. This is where you're going to find people with experience and passion for the topic you need expert content for. But they won't be professional writers.

All of these channels have their pros & cons, but if you absolutely need writers with real life experience in a topic,  interest based communities are the way to go.
Step #2: ➡️ Posting your job ad
🔎 Create a list of relevant communities
Clicking into any of the sub-niches above will bring up a list of Facebook Groups.
The more groups you post in, the more surface area you give yourself to find the right mix of quality / experience / affordability.
You should join 10 – at a minimum.
If you're ambitious, join dozens.
Create a spreadsheet, because this will come in handy later.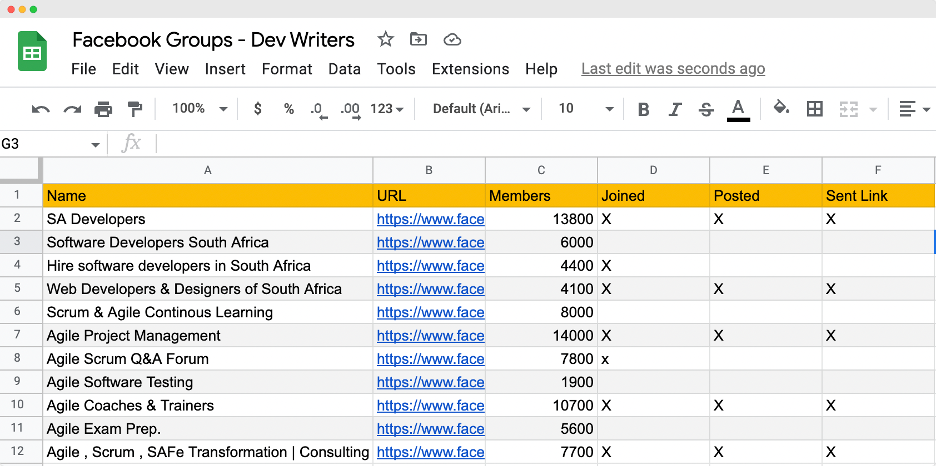 Everything is easier in batches, so join all the groups, fill out the spreadsheet, and wait 3-5 days for all group admins to approve your membership.
➡️ Posting the job ad

👉 Now this next step is super important.
Do not include a link to your application.
Facebook will reduce the reach of your post with external links, and you will receive fewer candidates.
Instead, return in a few days and send the link to anyone who commented on your post or sent you a DM.
Copy/paste the URL of each post in each group back into your tracking spreadsheet.
Here is some example copy and an image you can borrow to maximize reach of your post.
If you…
Are a content writer with experience creating content for B2B and B2C clients
Spent a lot of time perfecting your craft, have a strong grasp of grammar, and enjoy the creative aspect of writing
Can produce expert-level articles on assigned topics
Love creating compelling content and are a continuous learner
Understand the importance of organic search and search engine optimization (and if you don't, you're willing to learn)
Are organized and independent, but love working in a collaborative and positive team environment
We want you in our team as our new content writer.
What you get as our full-time writer
2.5 days of paid time off per month
Opportunity to advance into a Senior Writer position in as little as two months
What we need:
We want you to help our clients achieve their growth goals by creating content that connects with their target audiences and brings eyes to their sites. You'll learn how to create content that ranks and brings clicks and revenue to the client. You'll:
Create engaging content for a variety of different clients
Make intuitive and data-driven decisions to leverage content and achieve client goals
Stay on trend with new insights for techniques to share and enhance best practices
Implement editors' feedback to your existing content
Meet with your editors 1:1 and attend group team meetings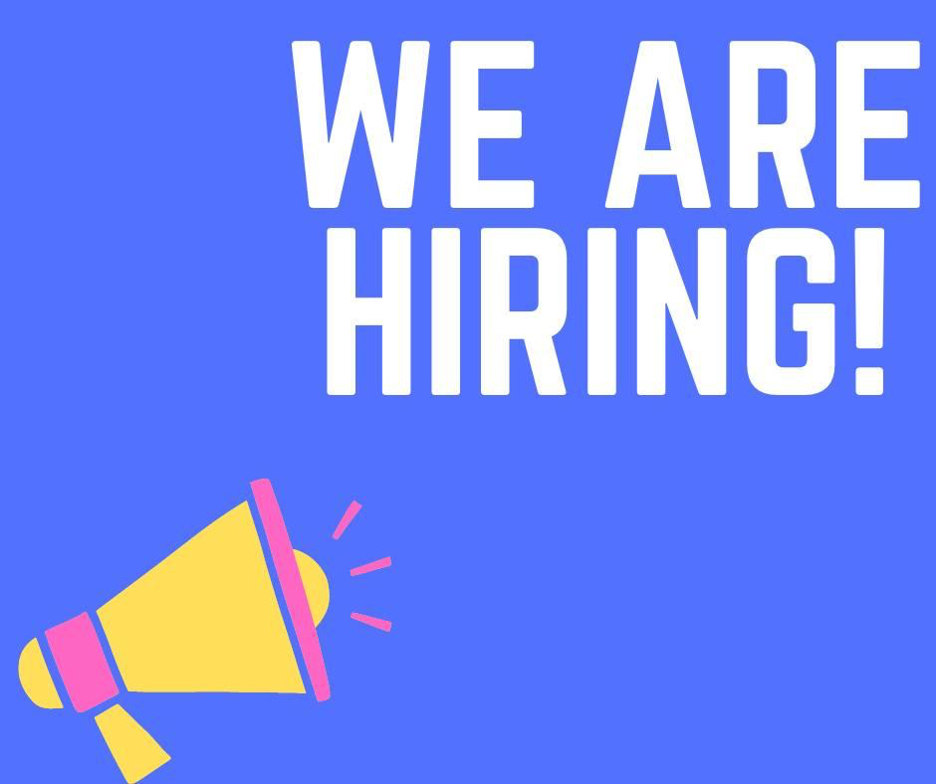 Step #3: ⚡ Automate in 90 seconds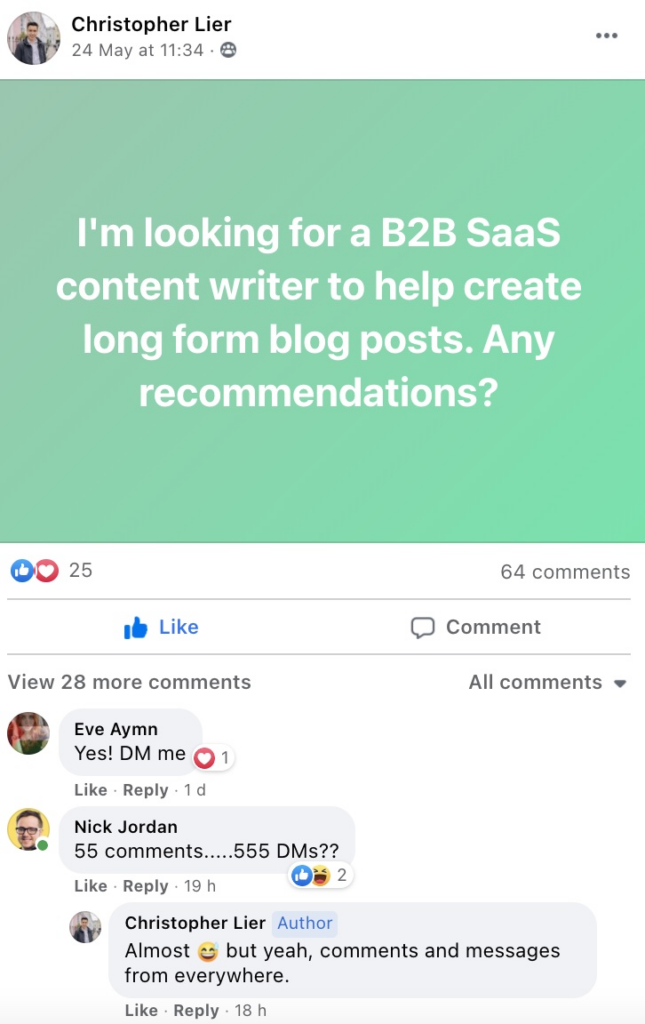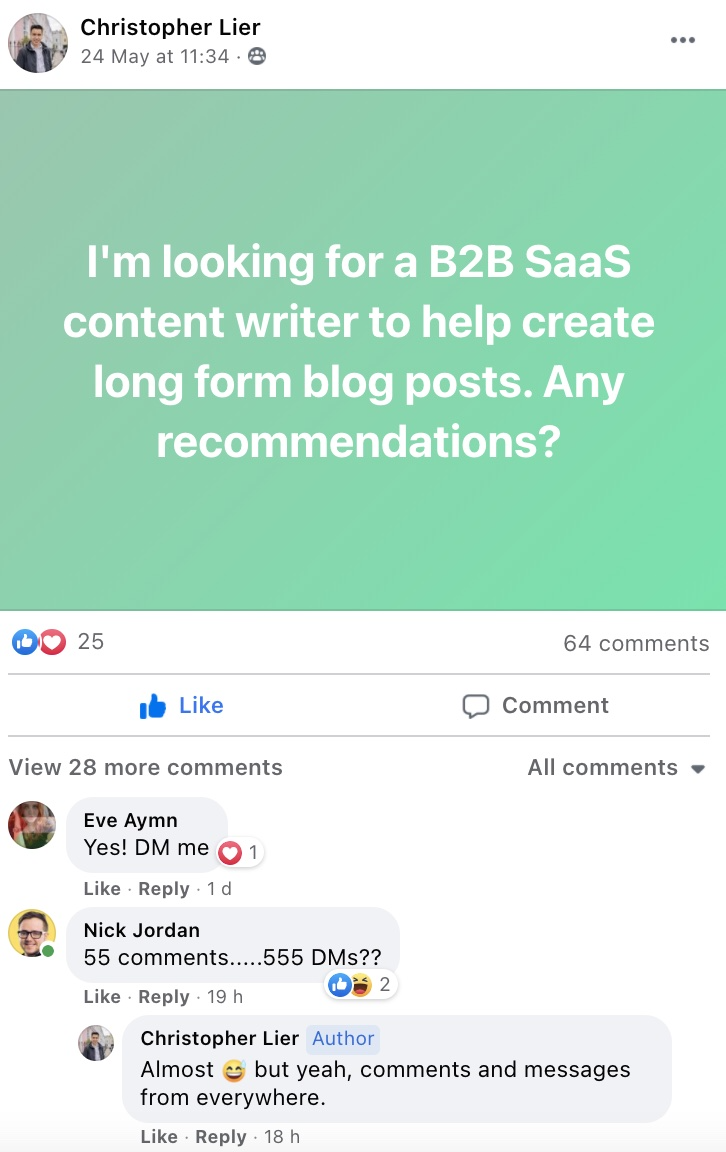 If you execute the steps above without an automation strategy, you're going to have a bad time.
Your automation strategy needs to:
Funnel all of your candidates into a single dashboard, sorted by status
Move candidates through your hiring funnel without switching between apps
Test dozens or hundreds of candidates in just a few minutes
Filter out bad candidates with good portfolios
Be respectful to all your candidate and keep them engaged
Thinking of using Google forms? Read our Workello versus Google forms comparison first.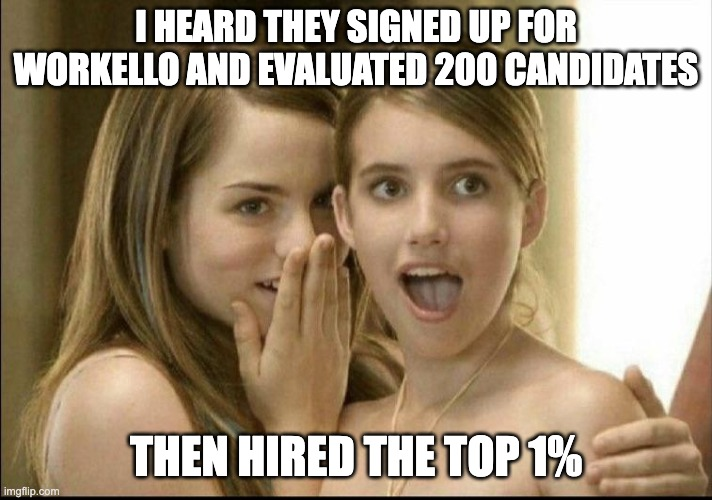 What took us years to figure out, anyone can now copy and deploy in a few minutes, for the cost of a page or two of good content.

Sign up for a free Workello account in 30 seconds.
➡️ Create a new job ad
After you finish the 30 second onboarding process:
Click Job Ads
Click 'Add a new job'
We've pre-written your job description and it takes just a few moments to edit it to align with your brand.
👉 Check out what the application looks like for candidates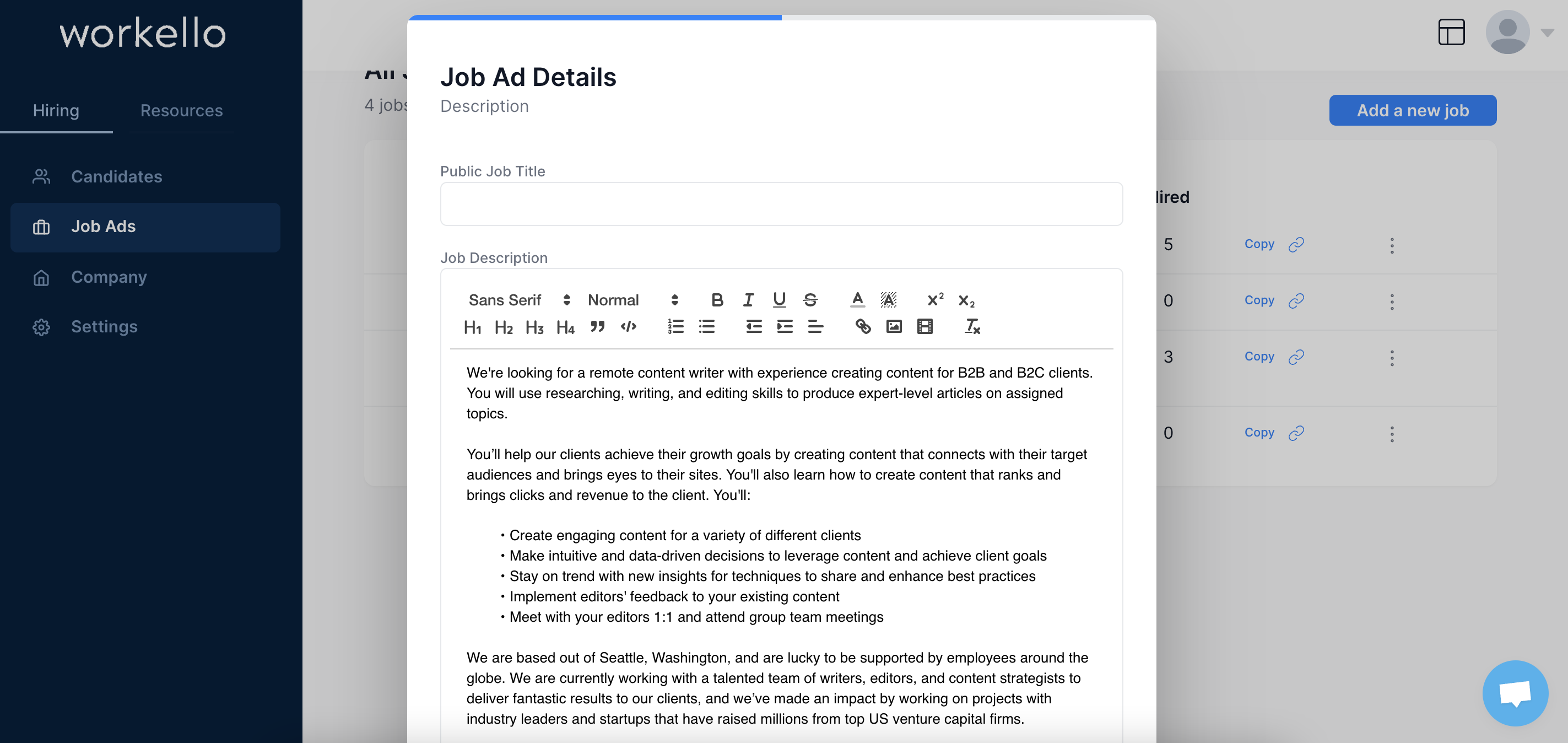 ➡️ Create your assessment
Your writing assessment is also pre-written, and takes just a few moments to align it with the niche you're hiring for.
Our assessment was created to balance comprehensiveness and test completion rate, and we've A/B tested this across thousands of candidates.
The average Workello user sees a 50-80% test completion rate depending on how engaging your brand is to candidates.
For example, when CopyAI used Workello to hire writers from their community for the their blog, they had a 100% test completion rate.
👉 See the writing assessment from the candidate's POV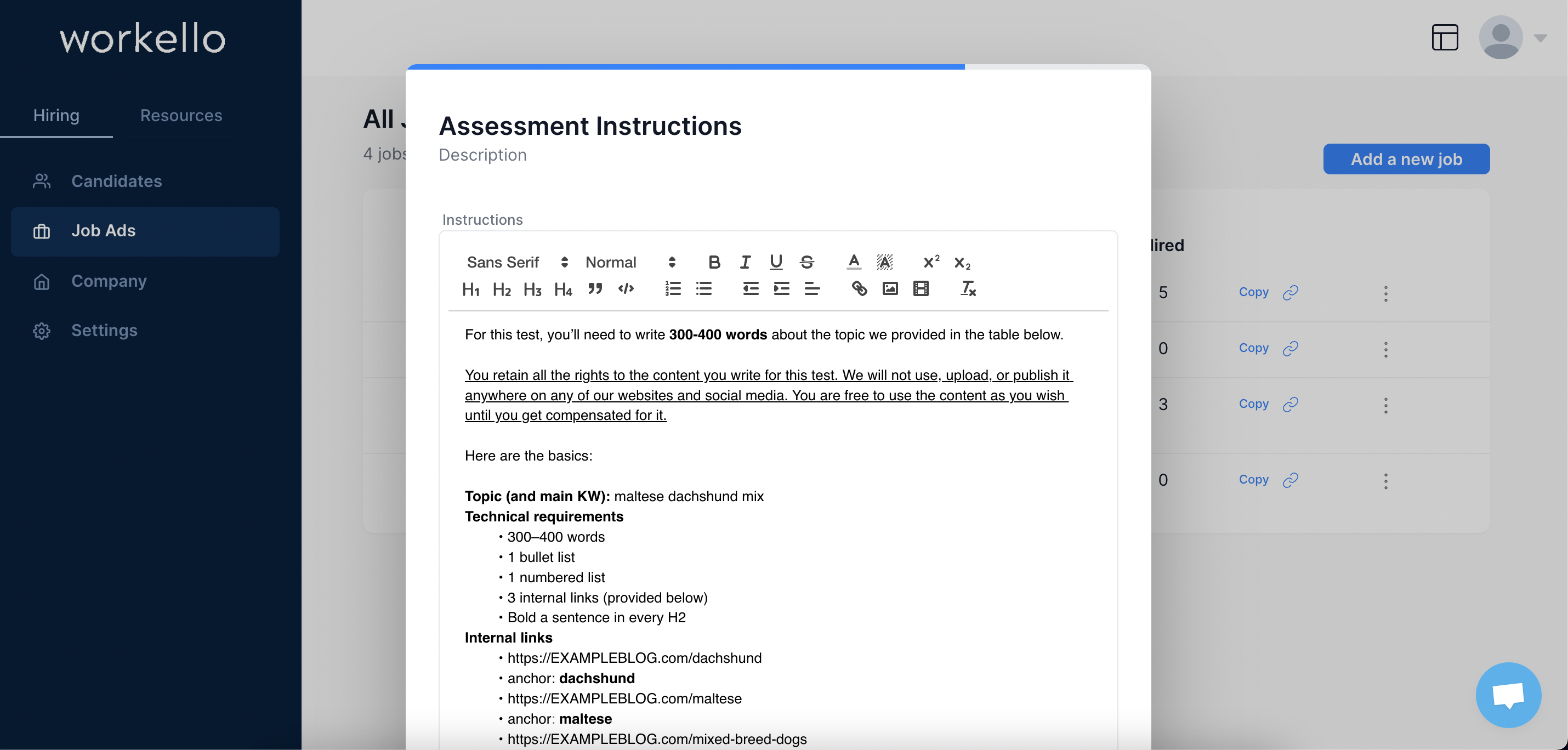 ➡️ Install Slack
Authenticate Slack during the job ad setup to get daily reports on your hiring pipeline.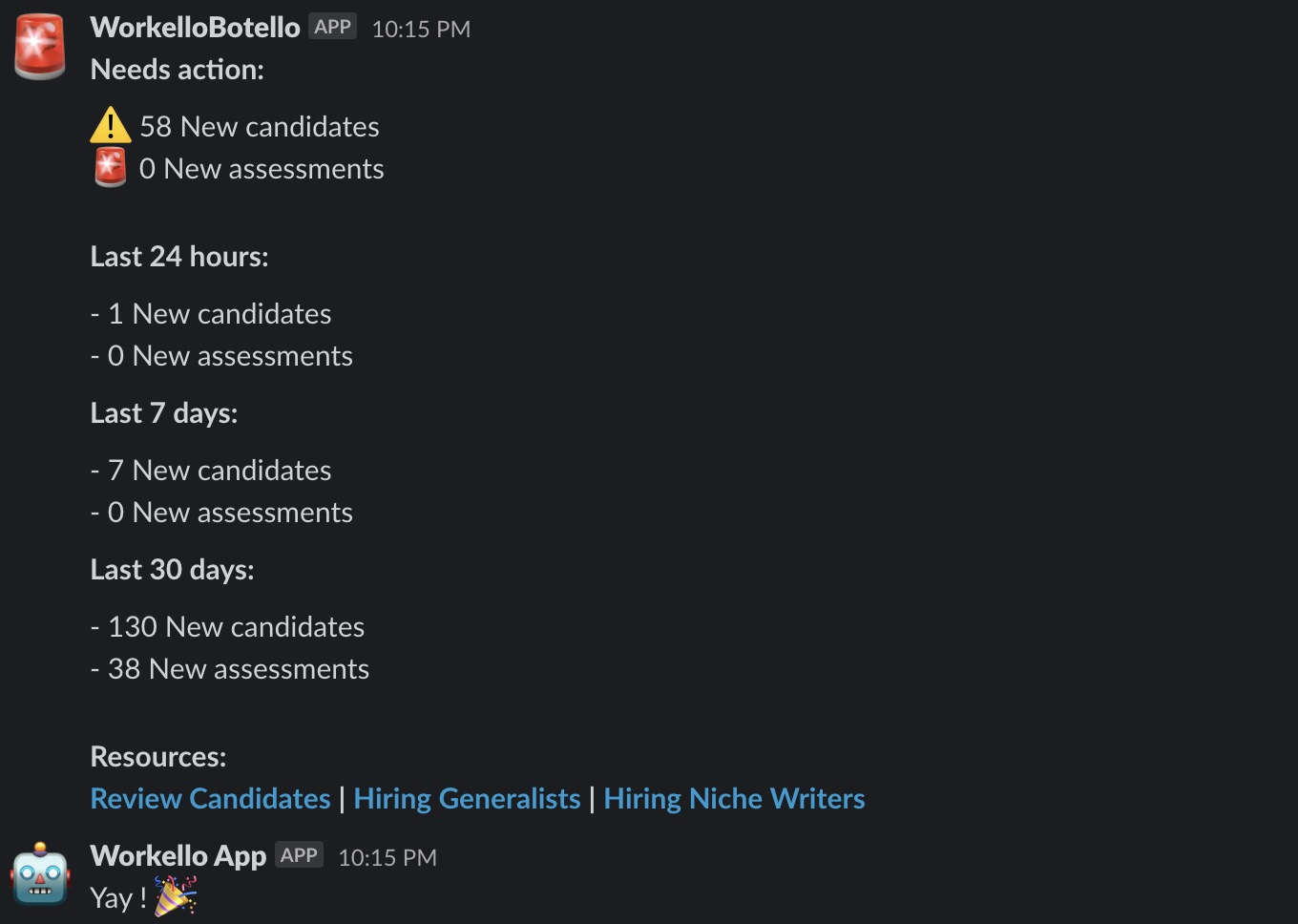 🥳 You're done!
You're ready to start funneling candidates to your job application.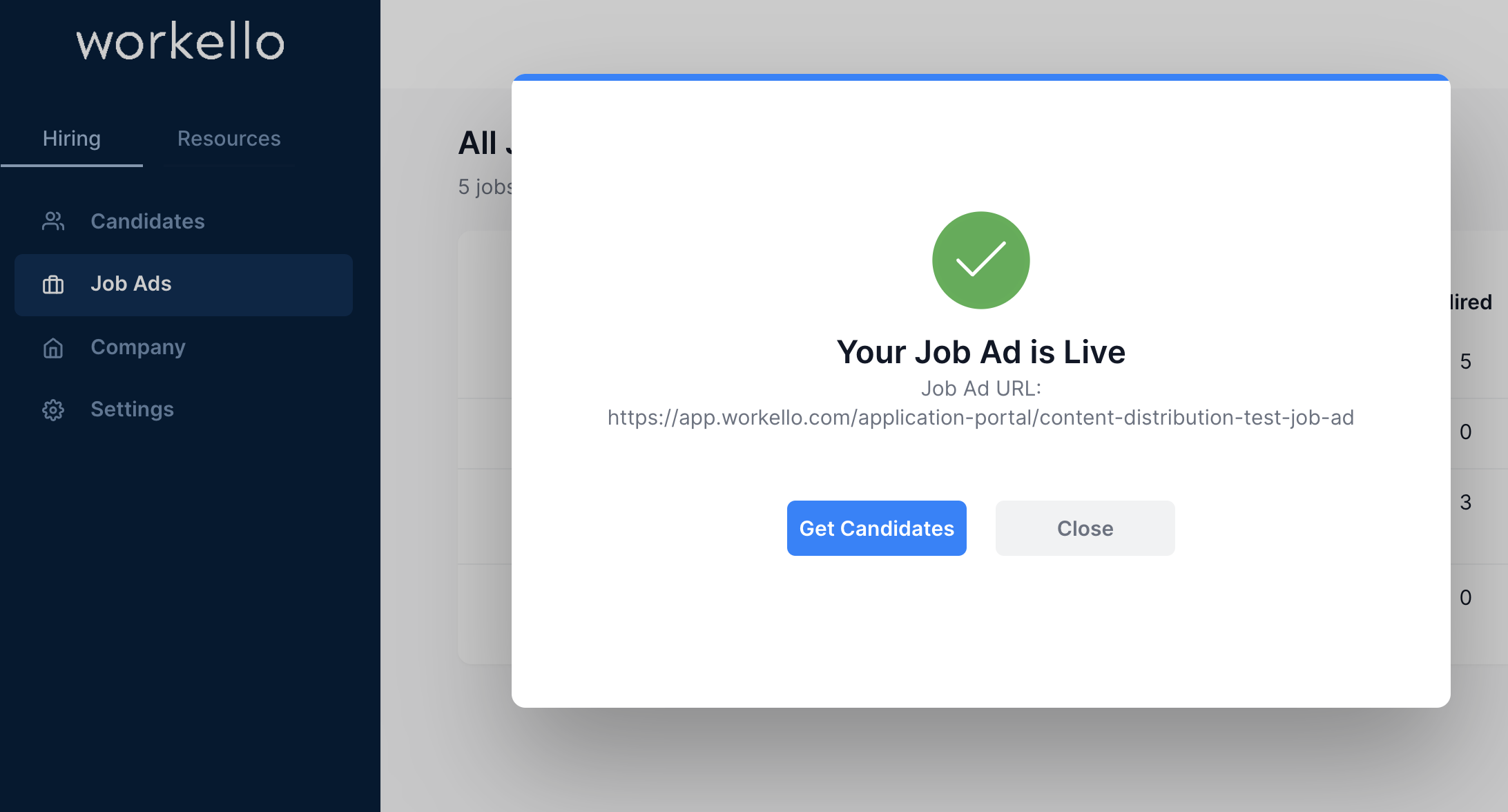 Your application form URL will look something like: https://app.workello.com/application-portal/content-distribution-test-job-ad
📨 Send the link
Go back to the Facebook posts you made, and drop a link to each commenter.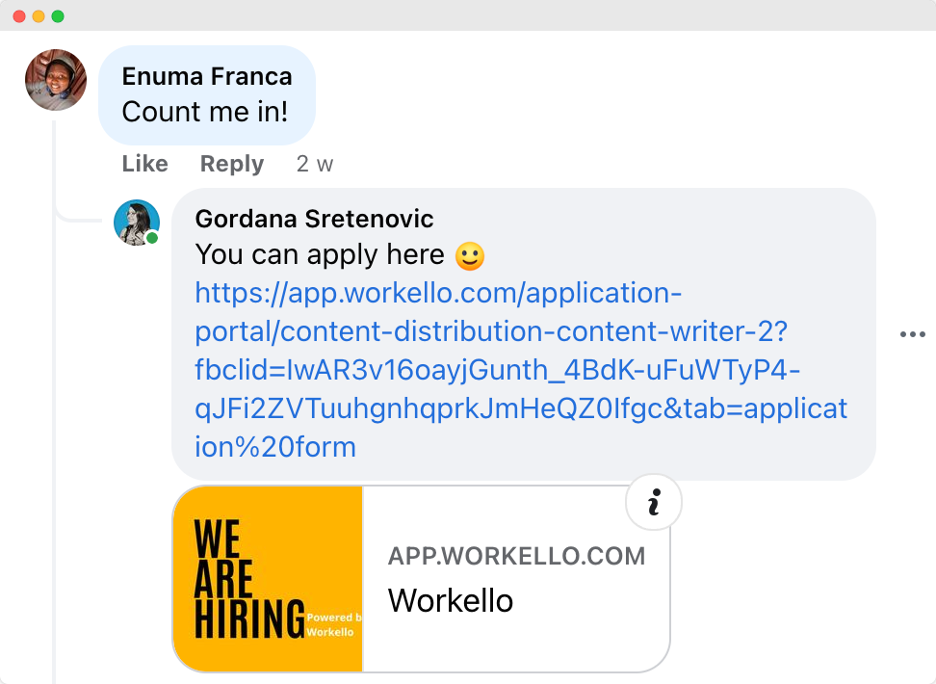 You should also check your DMs and 'other' inbox to catch any candidates that reached out directly.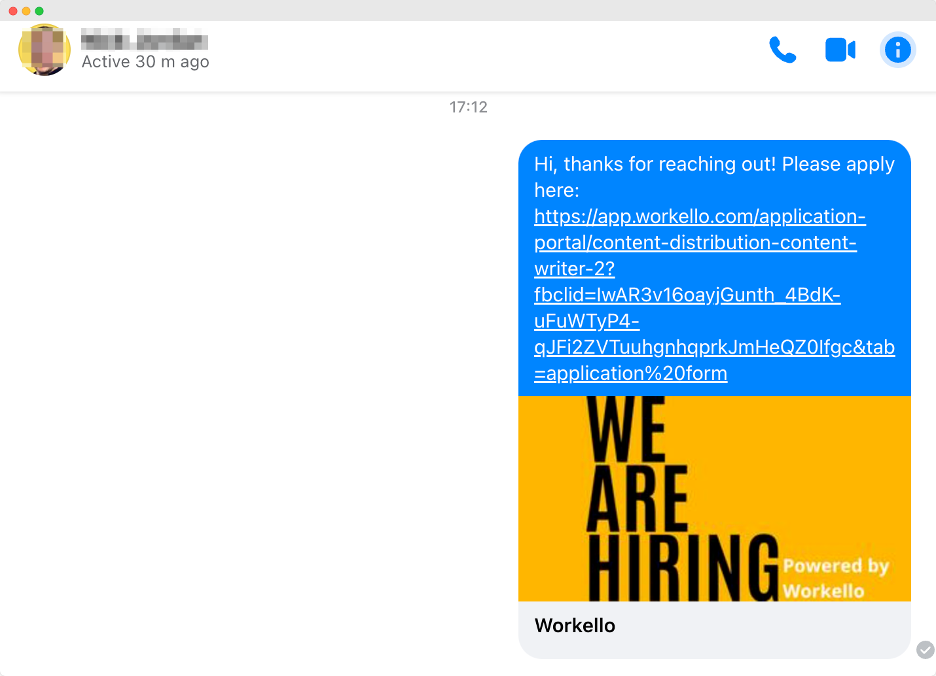 🔎 Evaluating Candidates
Candidates will begin streaming into your hiring dashboard under 'New Candidates'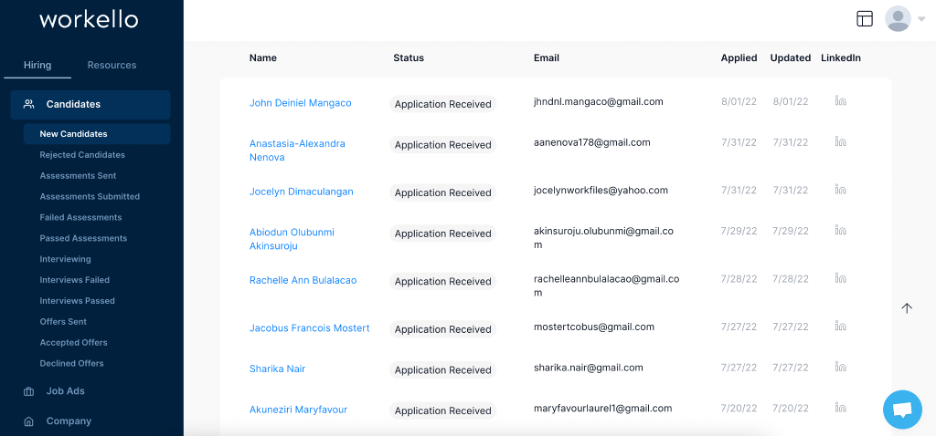 Open the candidate card, read the candidates cover letter and check out their portfolio.
[Reject Application] to send the candidate a very polite rejection email.
[Invite to Test] to send the candidate an email with an invitation to submit written assessment/test.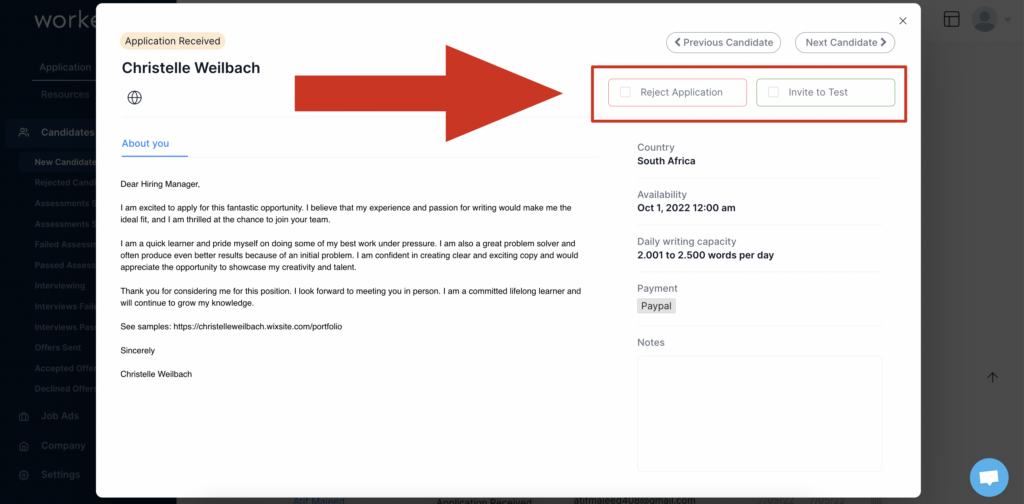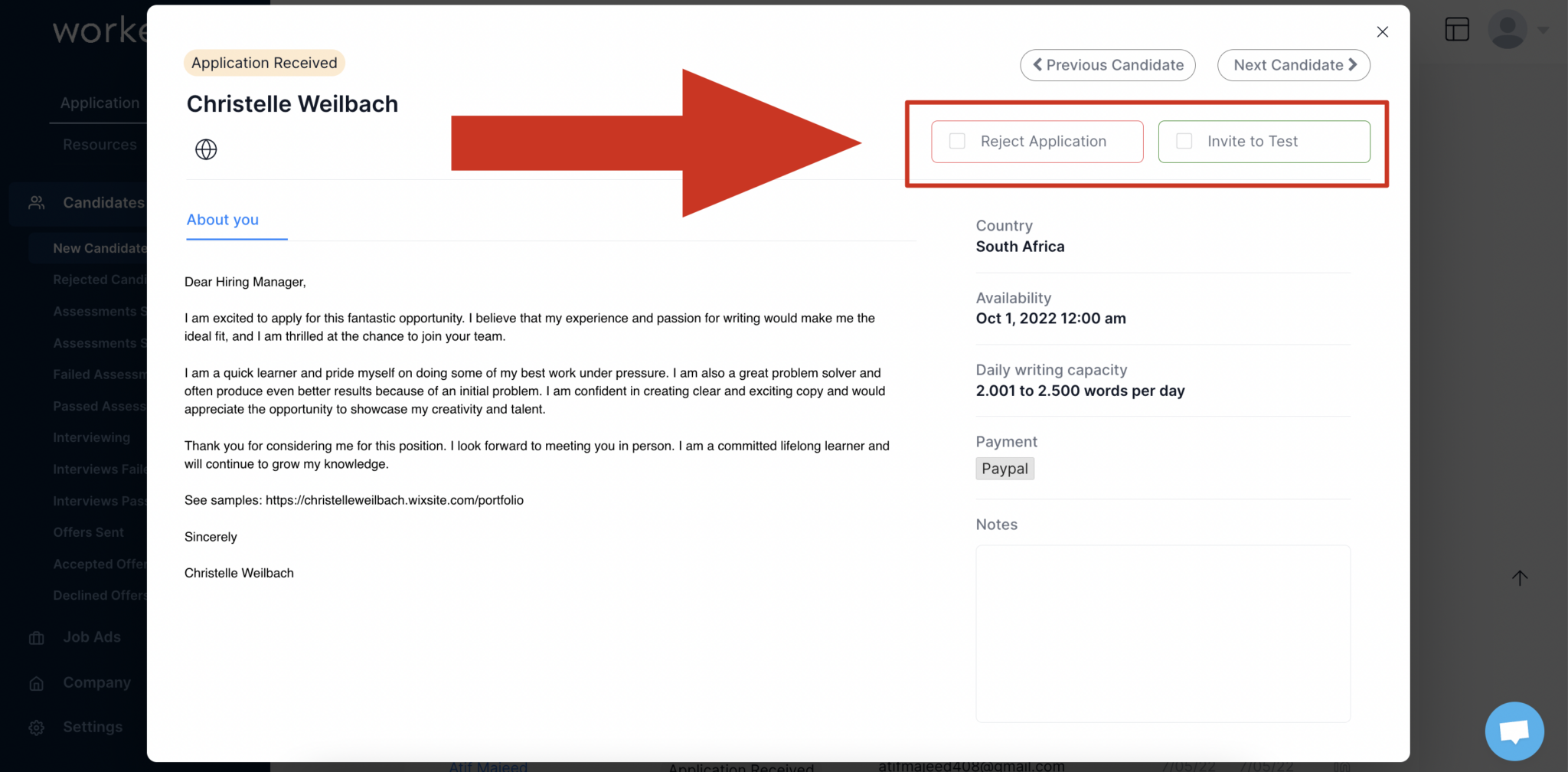 🏝️ Sit back, relax, and wait for assessments to roll in
Completed tests appear under 'Assessment Submitted'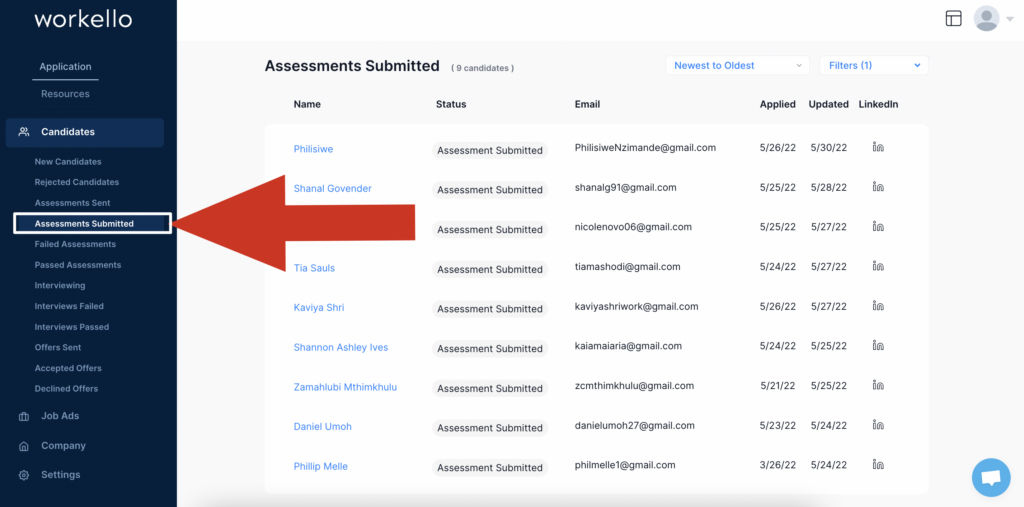 Click on the candidate to open the candidate card and review their test.
[Fail Assessment] to send the candidate a very polite rejection email, thanking them for their time
[Pass Assessment] to send the candidate to a holding status while you review the other submitted tests
[Invite to Interview] to send the candidate an email with your Calendly URL to book an interview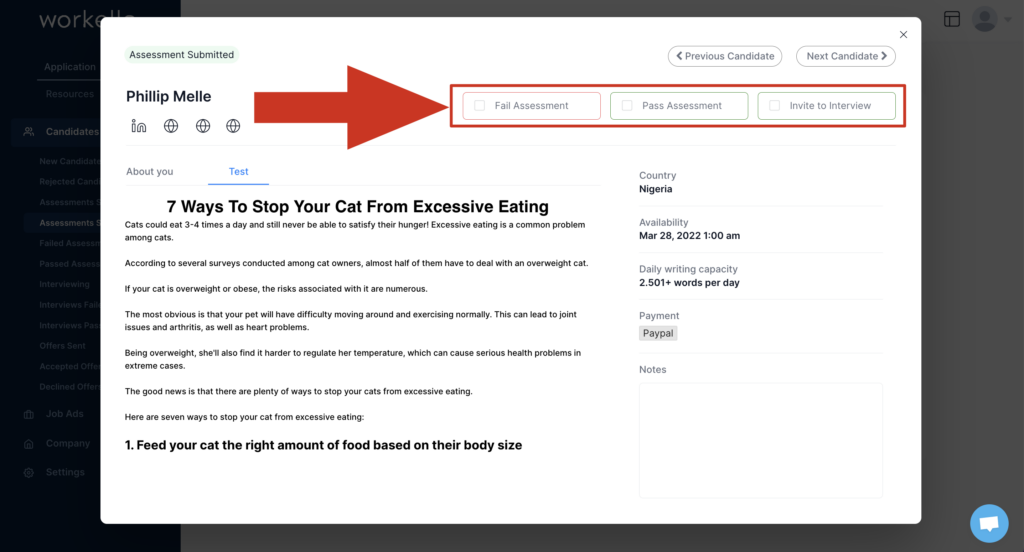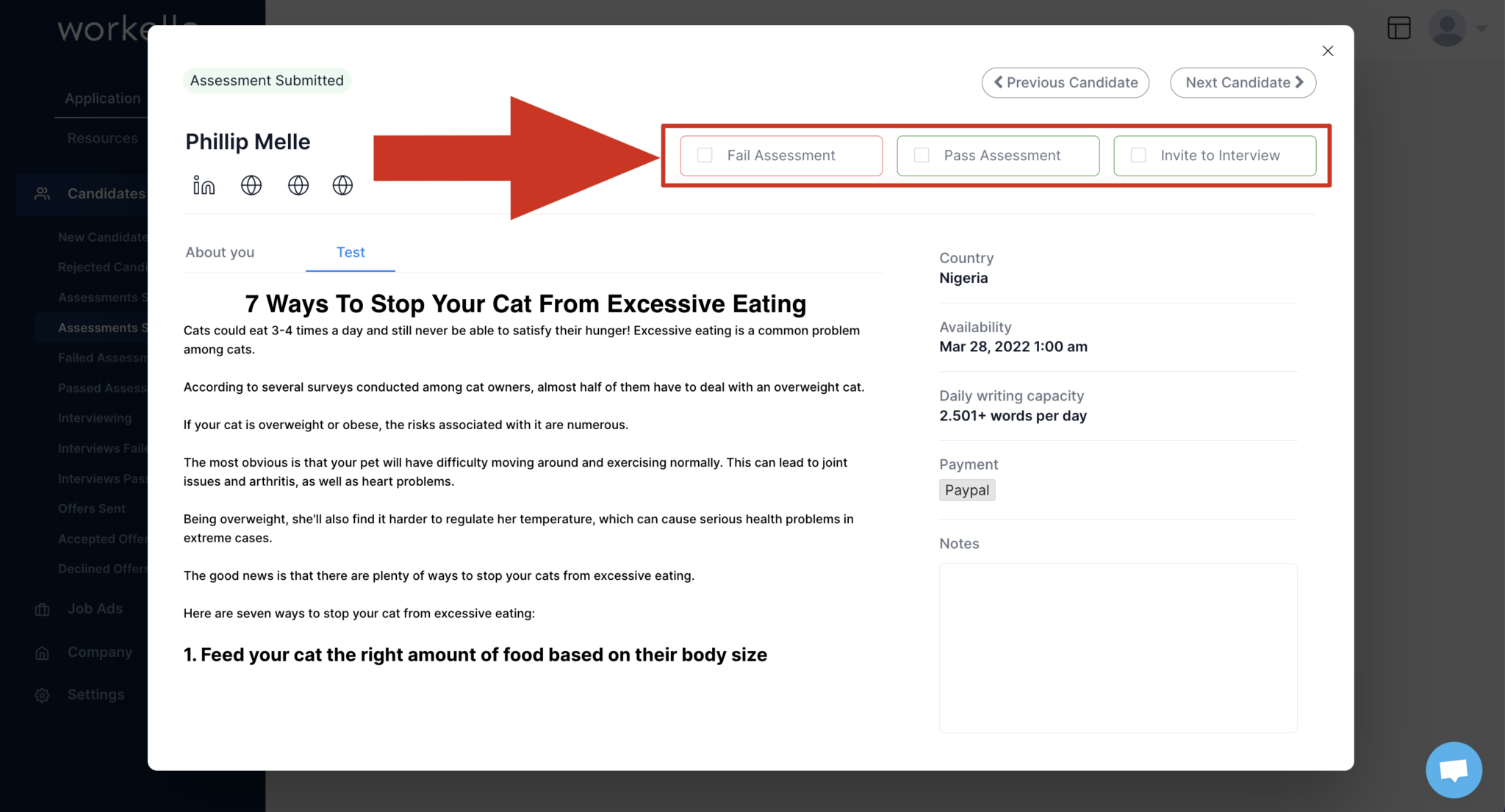 Beat your competition
SEOs think about user experience.
Leaders think about candidate experience.
The #1 decision you'll make as a leader is who you decide to hire to execute your vision.
Depending on that first decision, the next stage of your journey is either easy, hard, or impossible.
Your goals are going to be so much easier to hit, and you'll go so much further with a high performing team.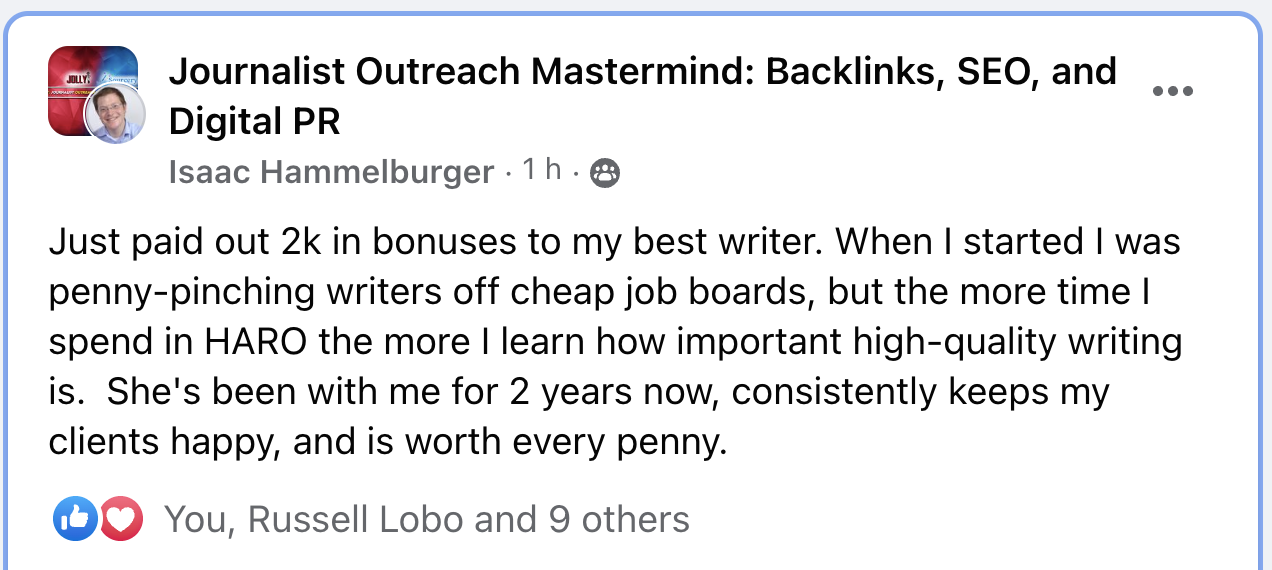 But the top 5% of candidates have options.
They're being evaluated by multiple employers right now.
And the best candidates want to work for the best employers.
Workello is designed to keep your best candidates engaged and invested into using their valuable time, to take your writing test – so you can hire them.

The candidate status page tells candidates exactly where they are in your hiring process, what to expect next, and how long it will take to hear back from you.
👉 Check out the candidate experience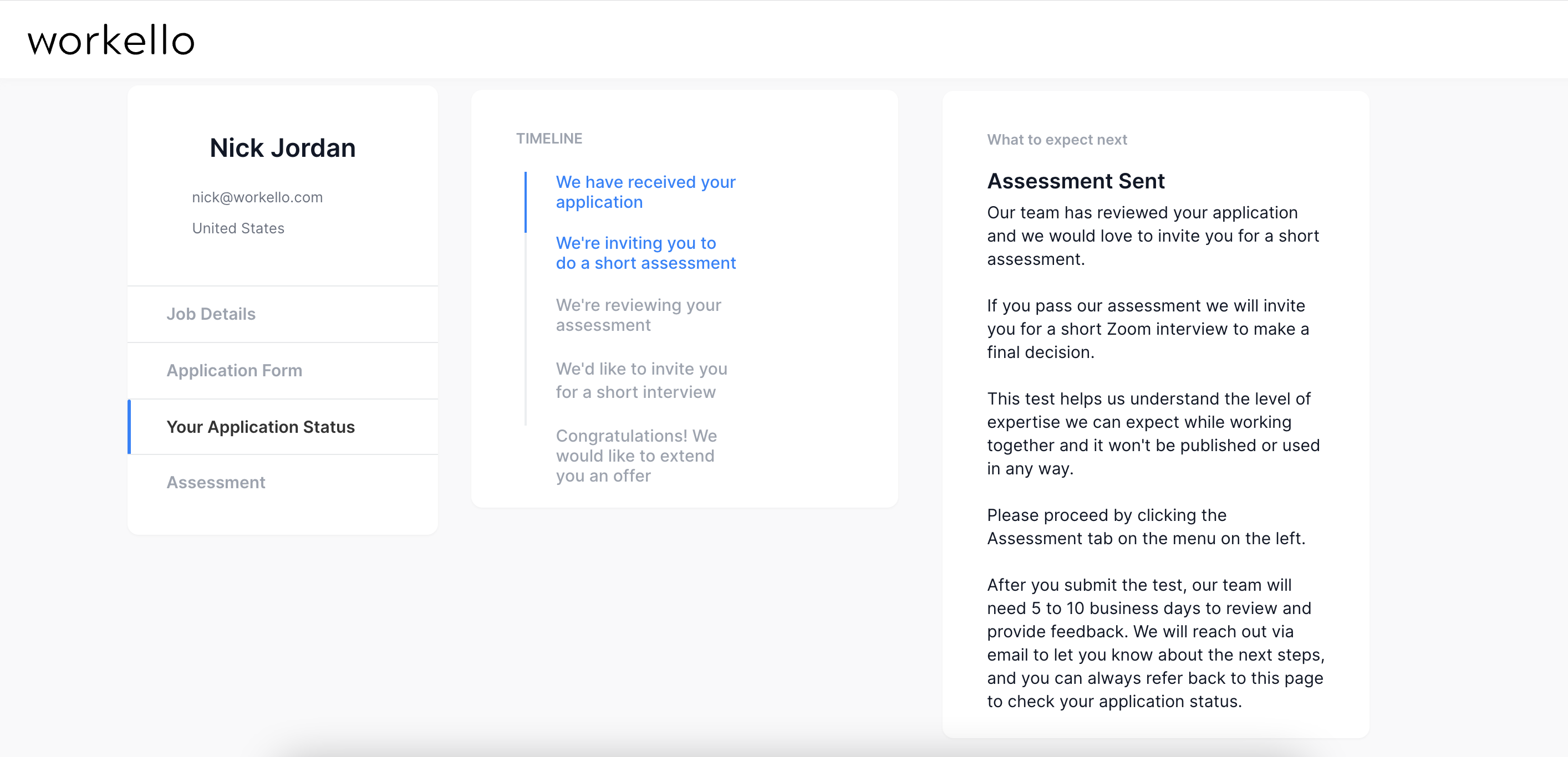 Step #4:🔥 Bonus Sourcing Strategies
👯 Your Community
Copy.ai is the #1 AI writing tool and their philosophy is that AI writing tools enhance writer productivity, not replace it.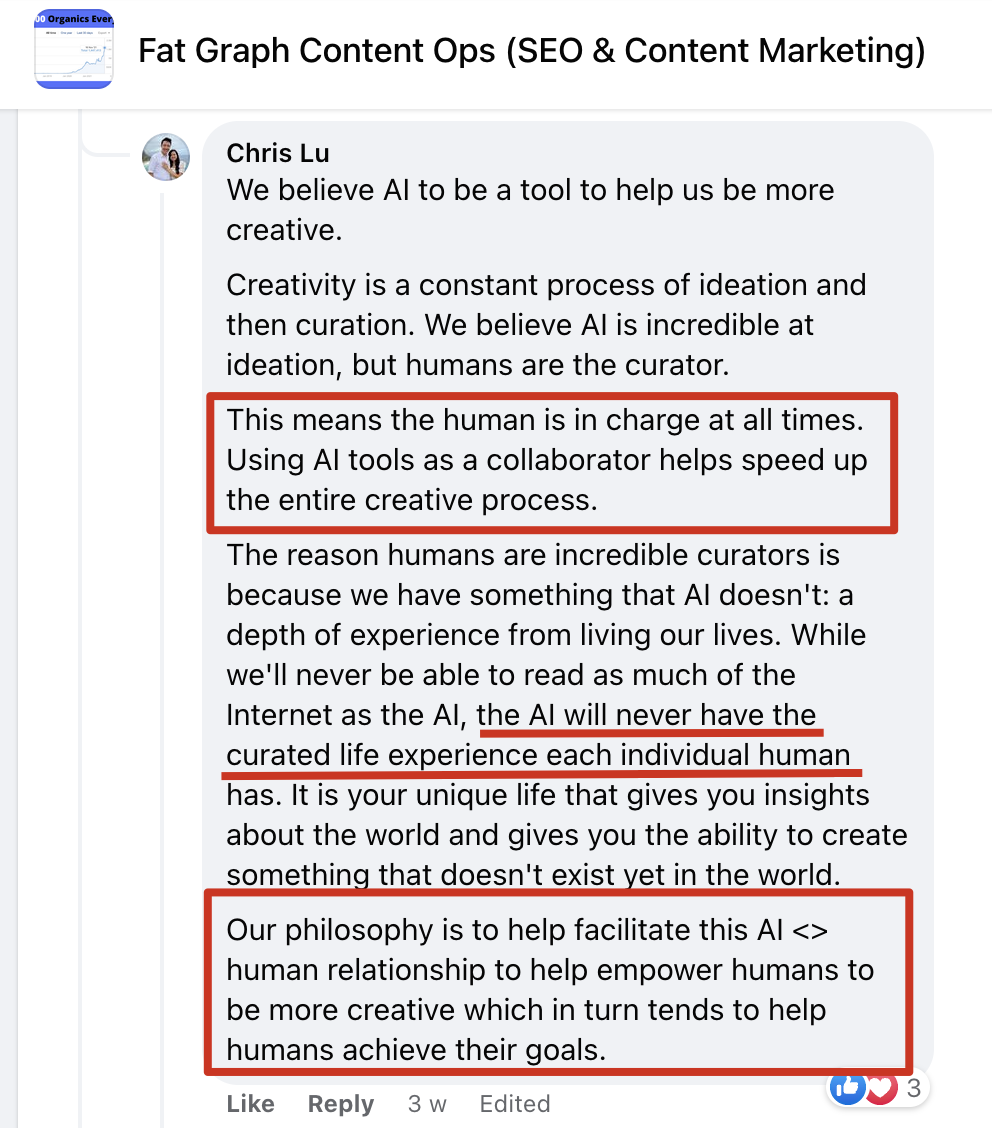 CopyAI has raised $13.9m, has 36 employees, and already uses an applicant tracking system (ATS).
The problem?
Their traditional ATS didn't have assessment capabilities.
And if you've ever hired writers, you know that more often than not, the portfolio content that candidates submit with their application doesn't match what they'll write for you.
So, Copy.ai signed up for Workello for our pre-hire assessment capability and recruited niche writers from their community.
Here's what that looked like.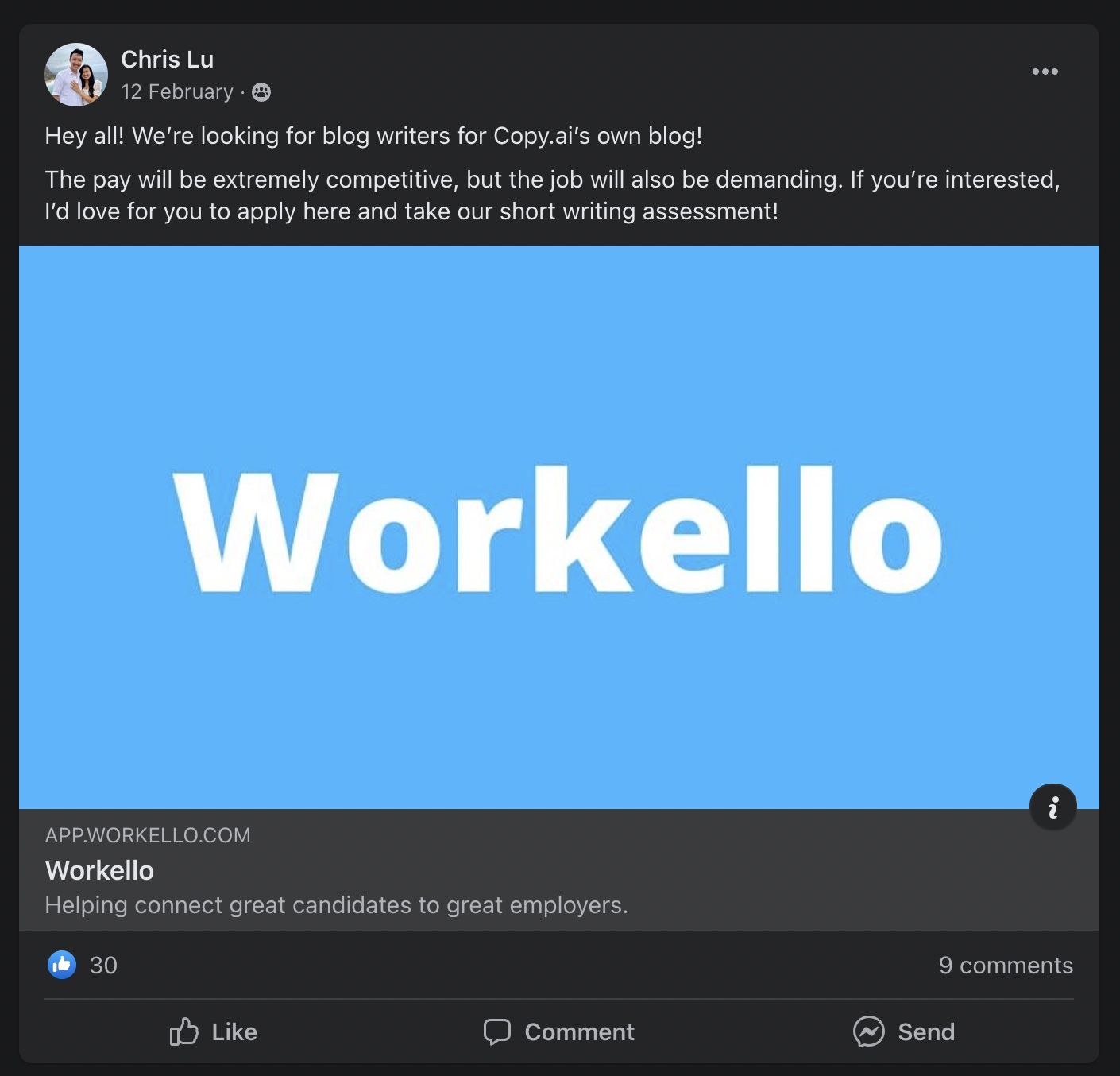 The results?
Crazy good.
📧 Your Email List
If you run a business, chances are — you have an email list. If you're an e-commerce company, chances are you have tens of thousands of customer emails.
And if you're looking for niche-specific writers, this is your goldmine.
A Pickleball manufacturer signed up for Workello to hire writers with Pickleball experience.
They sent an email to their email list of tens of thousands of Pickleball players and got nearly 100 candidates, including some of the the biggest Pickleball fans, and even some ranked players, applying to write for them.

💪 Competitor Outreach
A DevOps SaaS signed up for Workello to find, test, and hire writers with software QA experience, and found more qualified writers than they could manage.
First they identified a handful of the biggest competitors in their space.
Then they used Ahrefs to look up their competitor's top pages, then filtered by "Author".
And discovered every single writer that had ever contributed content to their competitor's blog.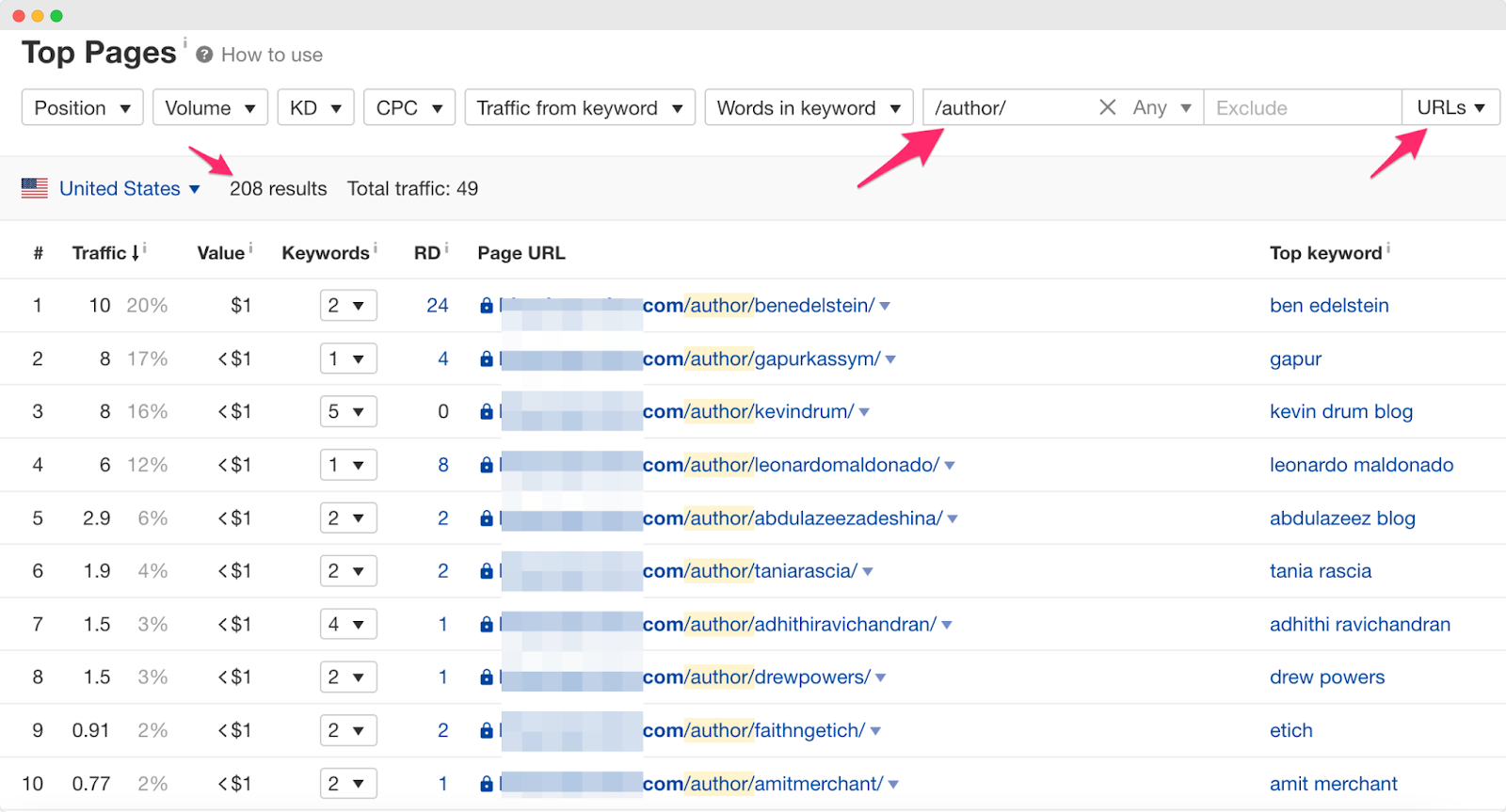 Then they exported the results from Ahrefs into a Google sheet.
If you're lucky, every author has an email, Twitter, and LinkedIn profile in their bio.
But you're not always lucky.
The author profiles didn't have contact information, so they handed the process off to a virtual assistant to Google "[Author name] QA/writer/freelancer LinkedIn".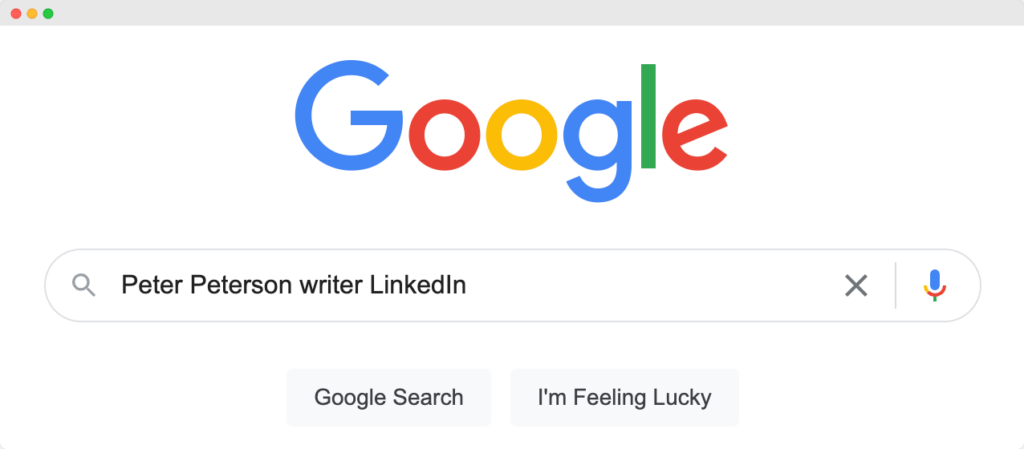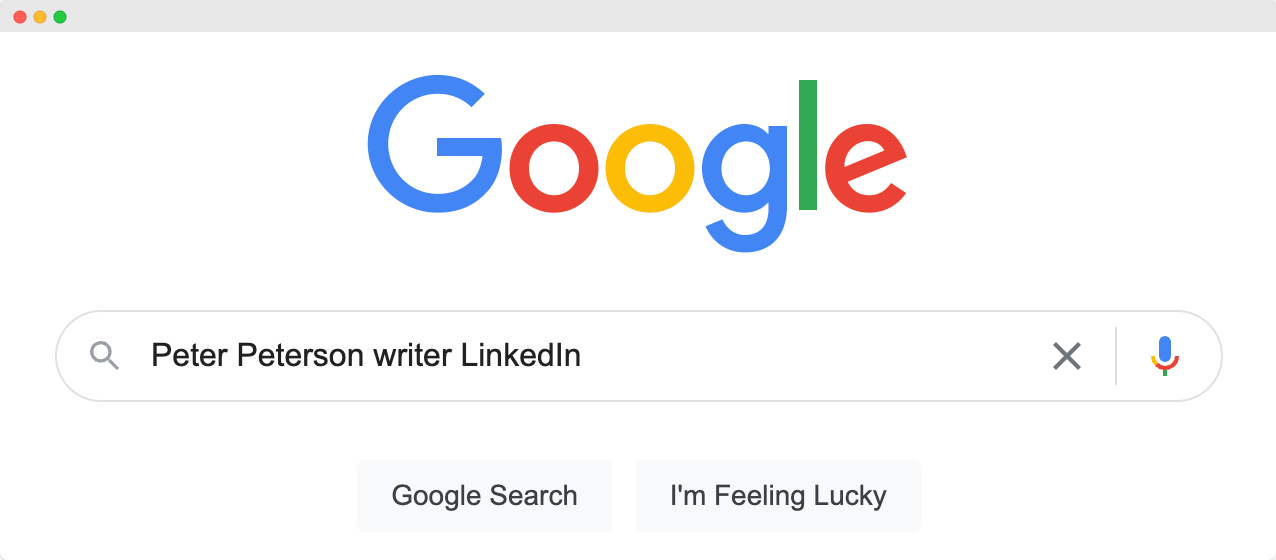 Their assistant tracked down the correct profile and added them to the spreadsheet. Any time their VA couldn't find the author's LinkedIn profile, they called it out in the sheet.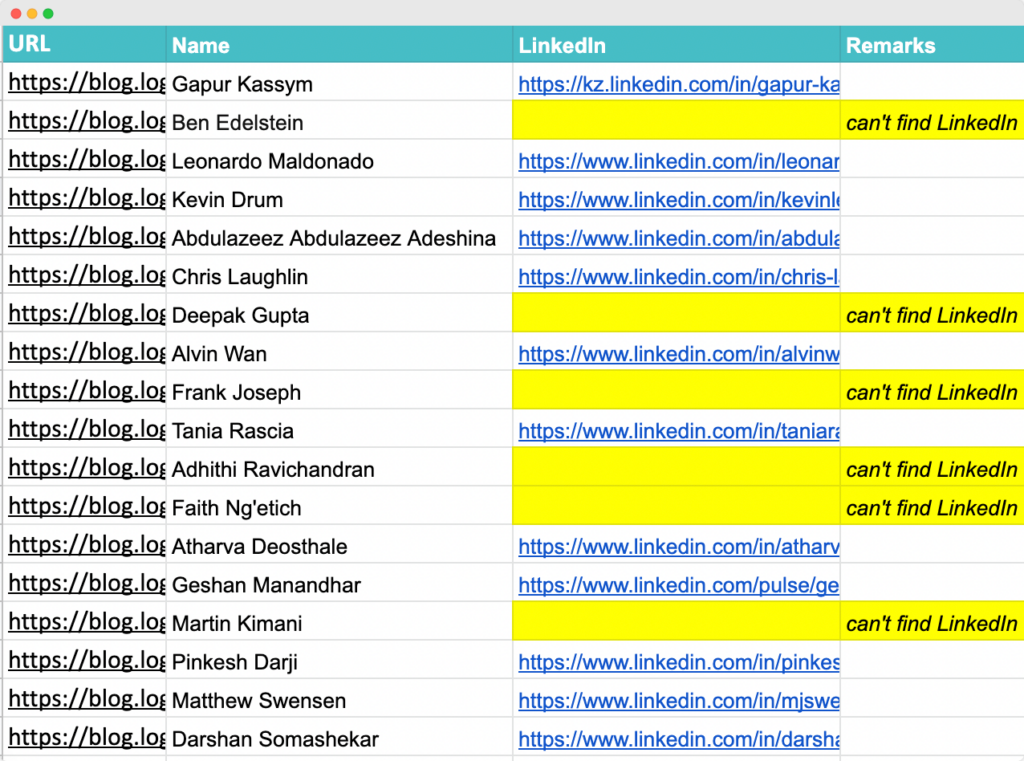 The results

Of the 208 authors we identified, they found contact information for ~190 authors
Of the 190 writers they reached out to, 69 completed their application
32/69 writers were invited to take a pre-screen assessment
16/32 completed the assessment
5/16 passed the assessment
Workello just works.
Need more help?
Earlier this year, we began secretly helping companies build and scale in-house content teams. It turns out, content velocity doesn't just work when we do it – it works when anyone follows our SOPs.
Must-Read Content Ops Playbooks