CopyAi is one of the leading AI content tools, and in just two short years CopyAi has grown to $10m ARR with 70 employees and $14m in VC funding.
CopyAi's approach to AI content doesn't mean no humans.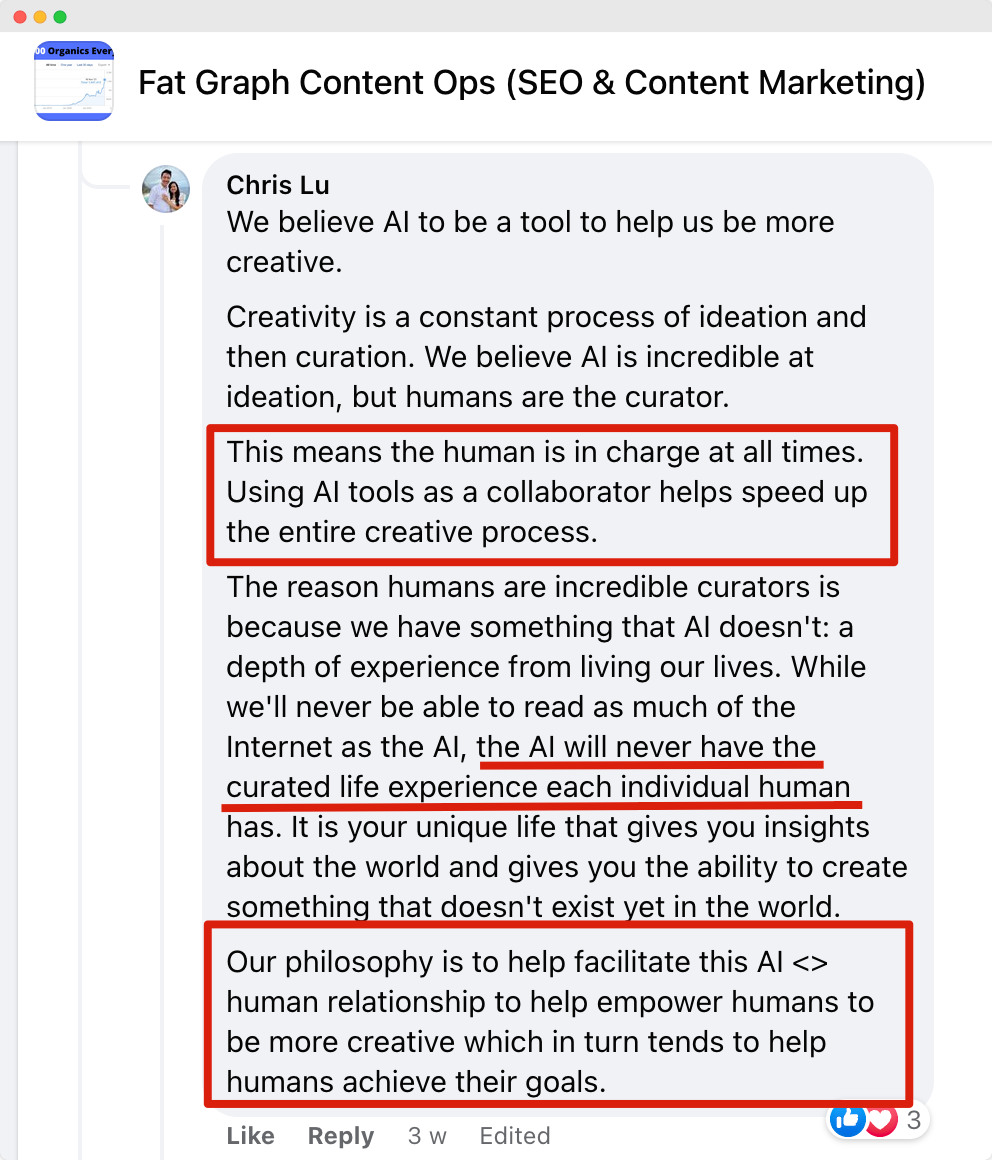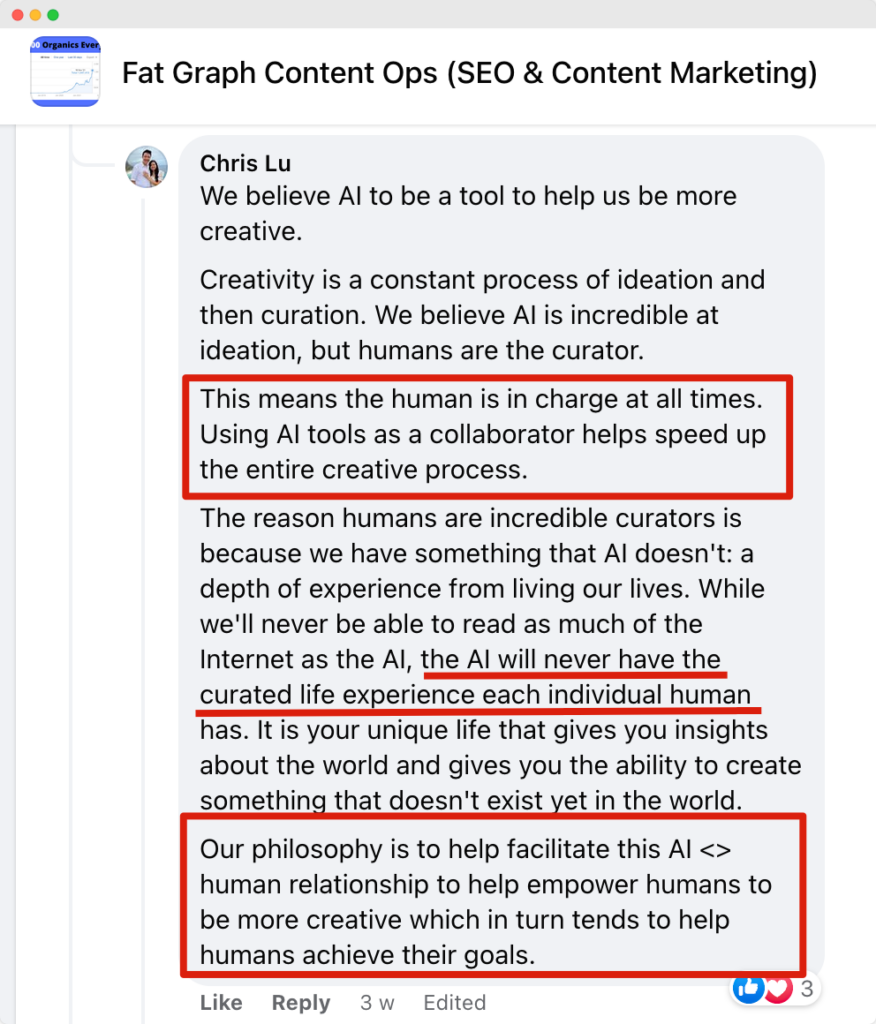 CopyAi needed writers to grow their blog and used one of our favorite recruitment strategies – recruiting from your own community.
If you have a community, use it!
This is where you will find your company's biggest fans, and that fandom will only increase when you ask them to work with you.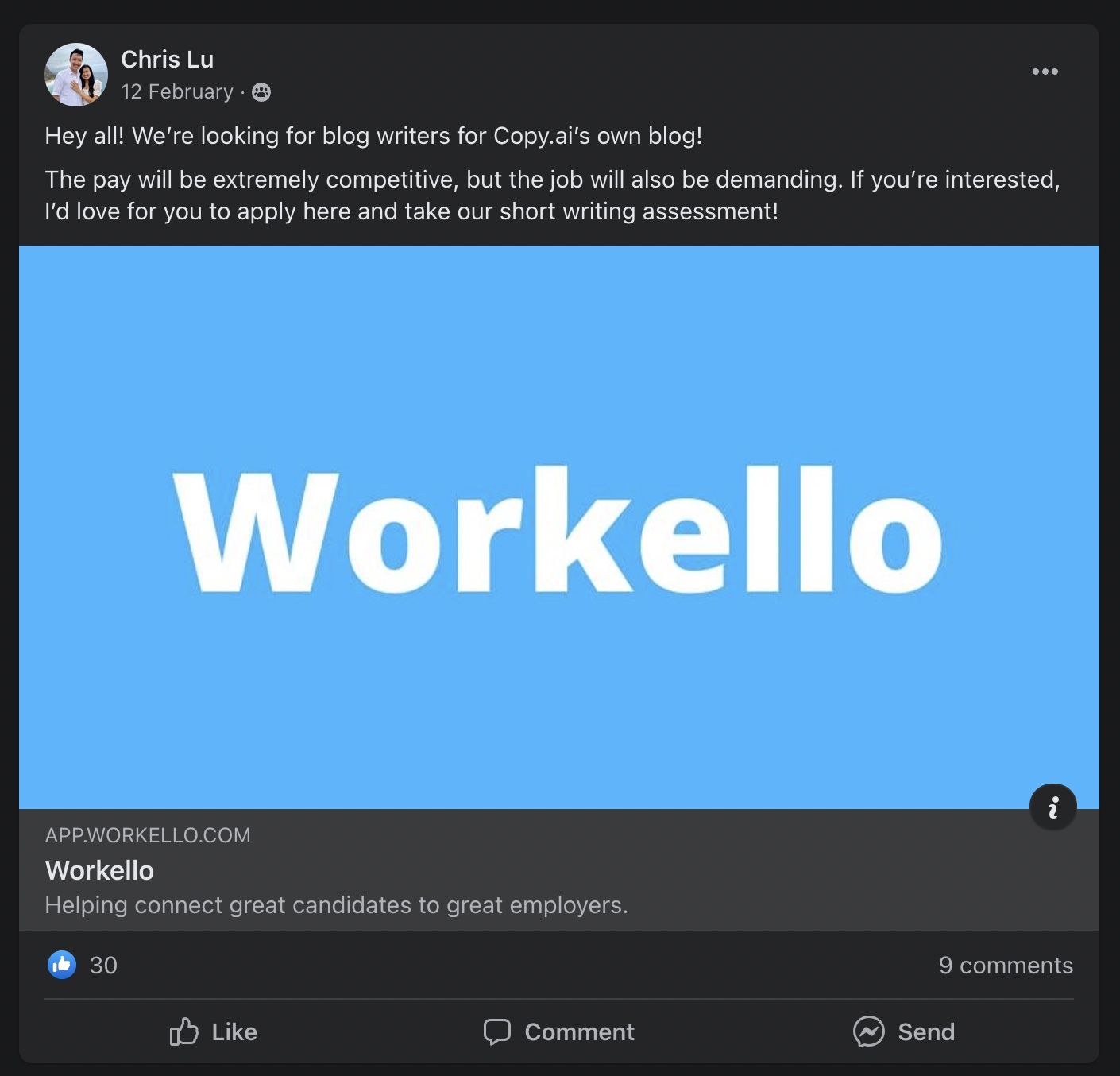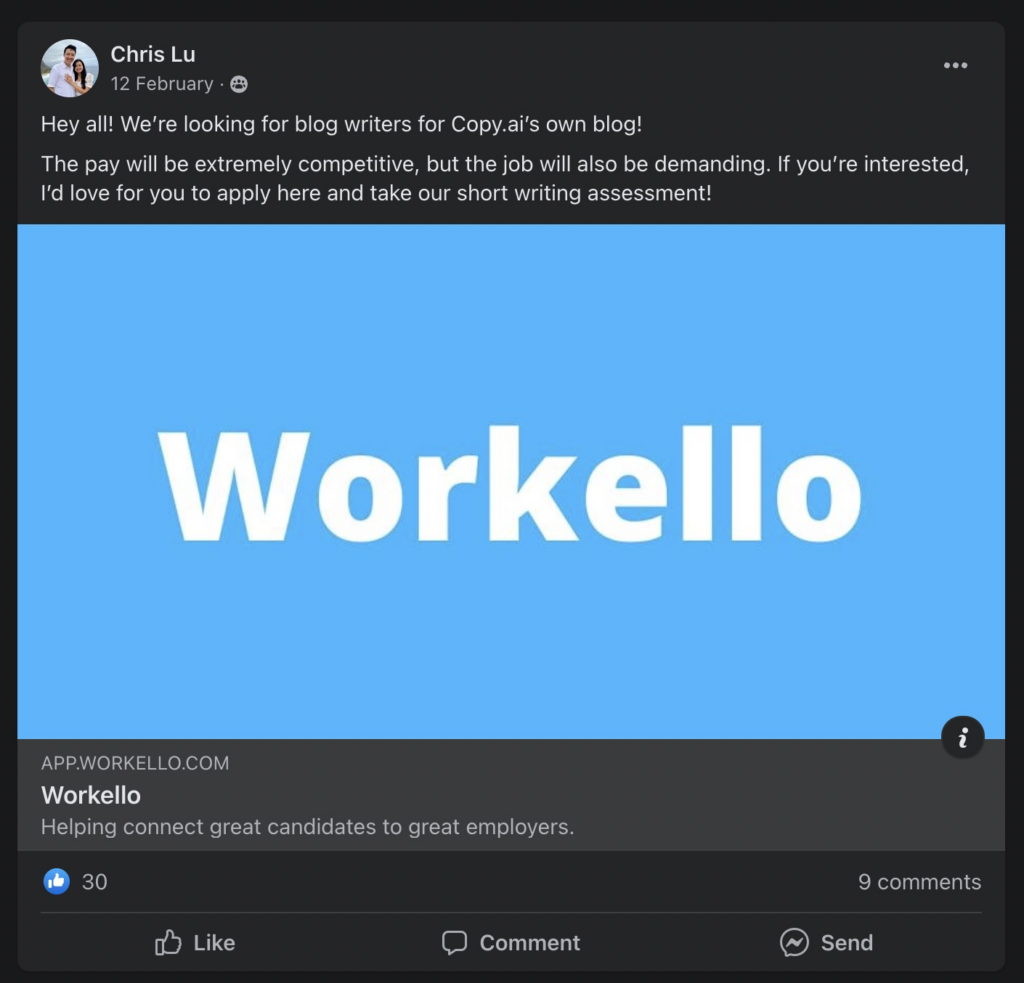 Chances are you don't have a community. Most of our customers don't.
Use our step-by-step sourcing guides to hire great writers on auto-pilot using popular job boards:
Results
CopyAi received 26 candidates, invited 25 to take their writing assessment, with 16 candidates submitted a completed test. Of the those 16 candidates they hired 5.
And CopyAi did it with just a few minutes spread across a few days.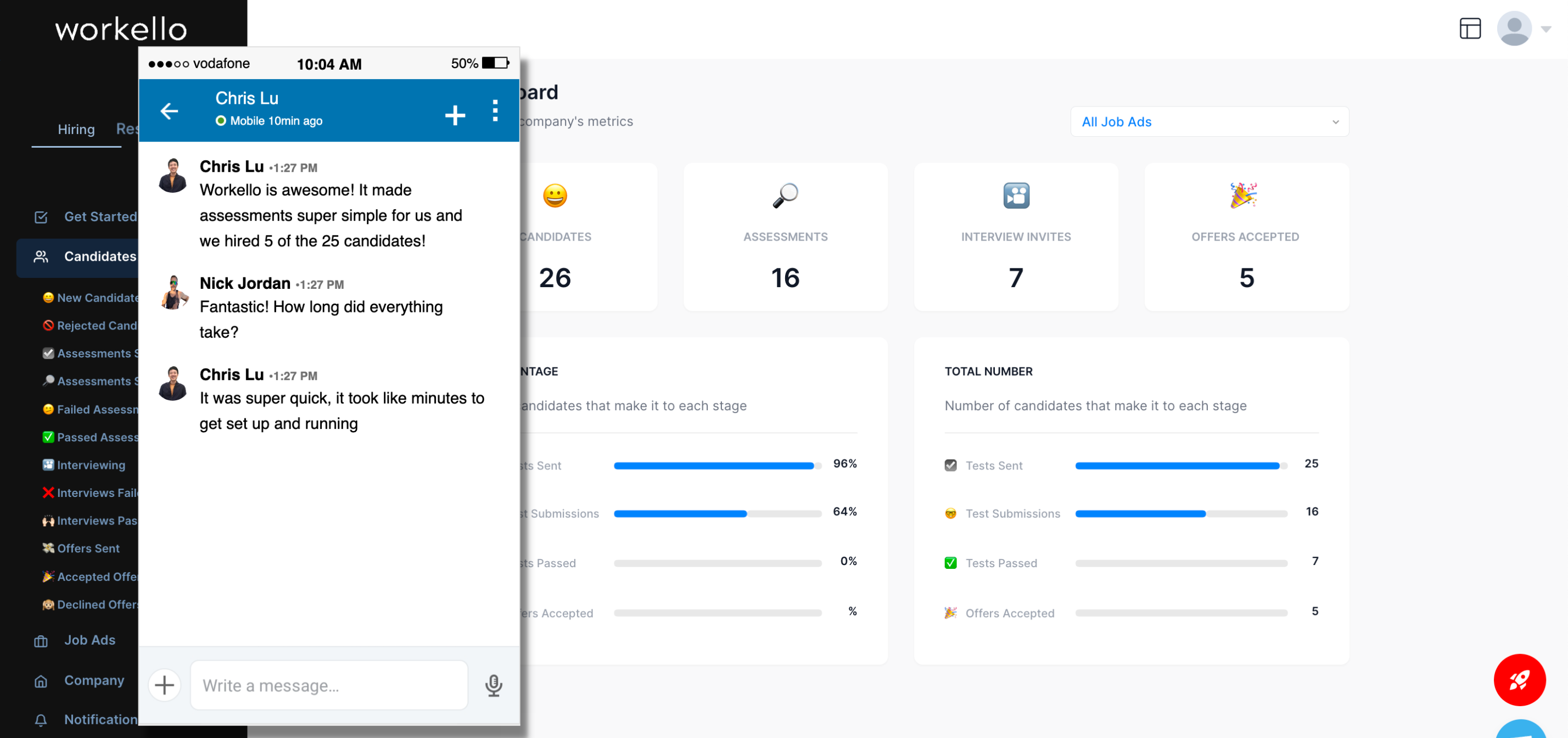 Using Workello, CopyAi didn't have to:
Respond to candidates manually
Let candidates slip through the cracks
Click between half a dozen apps to test candidates
Spend hours managing the process
When you're recruiting from your community, it's extremely important that you provide a fanatical candidate experience. Chances are you're not going to hire most of your candidates, and you want them to walk away feeling good about the application process.


Workello's candidate experience is designed to keep your best candidates engaged and invested in the process and provide a good experience, even for candidates that aren't hired.
This includes fielding questions from candidates.
If you ignore candidates, they'll walk away with a sour taste for your brand.
But candidate's ask a lot of questions, and most of the candidates asking questions won't be hired.
Workello's candidate status page reduces candidate questions by 95% by answering all of their questions – before they ask:
Did you receive my application?
Did you review my application?
Did you receive my test?
Did you review my test yet?
What happens next?
How long should I wait to hear back?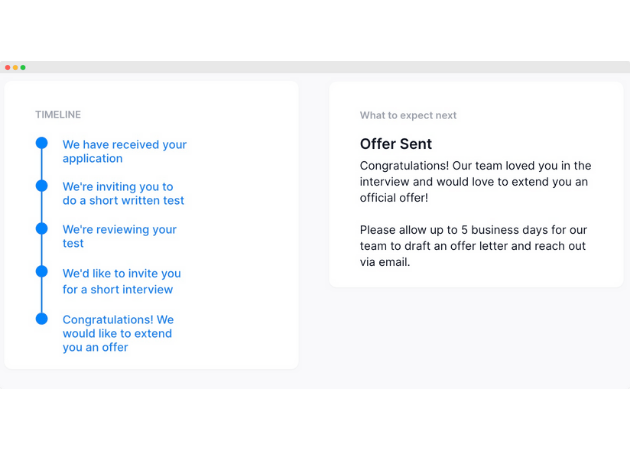 Want to hire writers like CopyAi?
Workello helps high-achieving teams organize, identify and hire the top 1% of their candidates using skills-based assessments.
Getting started is easy because we've already done all of the heavy lifting:
We've written your job ad
We've created your skills assessment
We've designed your hiring flow
We've prepared interview questions
All you have to do is follow our sourcing guides and sit back and relax while candidates complete your skills assessments.
Sign up for Workello, and start accepting candidates in less than three minutes.