Better Than a Writer Marketplace
Better Than a Writer Marketplace
Workello is a simple assessment platform that helps you filter through hundreds of writing candidates to identify and hire the top 1%.
Better then a writer marketplace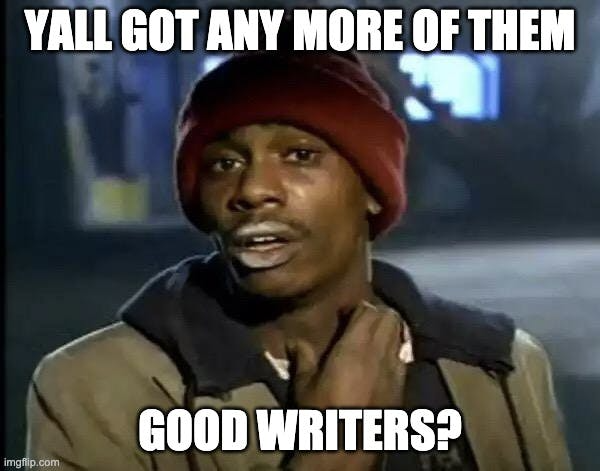 Workello isn't a marketplace. It's better.
One of the most frequently asked questions we get is, "do you have a list of pre-vetted writing candidates?"
The short answer is no.
Workello is not a marketplace. Workello is better than a marketplace.
I can get 200+ writing candidates in the next 72 hours by spending 10 minutes posting an ad on ProBlogger — the same amount of time it takes to create a job ad on Upwork or Fiverr.
The hard part of hiring writers is not getting candidates.
Getting candidates is the easy part.
Filtering through the candidates to identify and hire the top 1% is the hard, tedious, and time-consuming part.
Workello Versus Marketplaces
| | | |
| --- | --- | --- |
| Feature | Marketplaces | Workello |
| Custom Pre-Employment Testing | Marketplaces provide generic assessments and review systems that aren't accurate and don't reflect what you would grade as quality. | Custom writing assessments enable you to choose the talent that is best for you and your business, not someone else's. |
| Hiring specialists | You get what the marketplace has. Good luck finding specialists. | Seek out the exact type of candidate you're looking for, and only them. |
| Talent Pool | Marketplaces give you the option of 25 – 50 writers to choose from. | Evaluate and test hundreds or thousands of writers to identify and hire the top 1%. |
| Promote other jobs to your talent | Marketplaces are incentivized to promote the good writers you find to every new employer who signs up. | Workello will never promote another job to a candidate you assess. |
| UX designed for speed | Marketplace UX isn't designed to pre-vet their talent even further. Managing the process is tedious, manual, and time-consuming. | Workello makes it super simple and fast to filter through hundreds or thousands of candidates to identify and hire the top 1%. |
Good for a marketplace doesn't mean good for you
Marketplaces like UpWork and Fiverr vet talent and have a review system to help you assess the quality of the talent you're hiring.
But all 5-star ratings are not created equally.
The problem is, you have no idea who left the glowing 5-star review.
What are the chances it was from an employer just like you, with the same niche and quality standards?
Not likely.
More likely than not, the 5-star review you're reading was left by an employer is a completely separate industry and a completely different understanding of what "good content" is.
Workello enables you to create custom assessments to vet your potential hires specifically for your business and your requirements – not someone else.
Marketplaces aren't set up to pre-vet talent
Marketplaces claim to pre-vet talent for you, so the entire hiring process is designed as if every candidate you receive is perfect.
We both know that isn't true.
When you post a job on UpWork, you're going to get 25 – 50 candidates.
They're not tracked by status.
Conversations are jumbled and shift depending on who responded to you most recently.
And going through and testing each candidate you receive is manual, tedious, and probably the worst part of your job.
When candidates apply on Workello, you can send them a pre-employment writing test in one click.
And as soon as the candidate has submitted their completed assessment, they appear under 'Test Submitted', so you know exactly what to do next.
Workello makes it simple and fast to filter through hundreds, or even thousands of candidates, to identify and hire the top 1%.
Marketplaces don't give you enough talent to choose from
A job ad on UpWork will typically return between 25 – 50 candidates to choose from.
A job ad on ProBlogger will typically return 200 – 300 candidates to choose from.
Regardless of where you hire from or how much you pay — 95% of candidates will be unqualified.
There is no magical hiring oasis where all of the writers are qualified.
Because writing is the lowest barrier WFH job, and everyone with a crummy job (retail, service, construction, etc.) is applying to your job so they can WFH, whether or not they can write.
Even in America, the Department of Education indicates that 54% of Americans read at an 8th-grade reading level or below.
So, if there are no magical hiring channels where all candidates are good — what's the secret?
The secret is the #1 lever to hire better, more affordable writers is to evaluate and test more writing candidates.
That's literally it.
And marketplaces don't give you enough surface area to uncover the right mix of experience, talent, and affordability.
Check out the hiring stats from this Workello employer.
1,200 candidates ⟶ 21 candidates passed to choose from.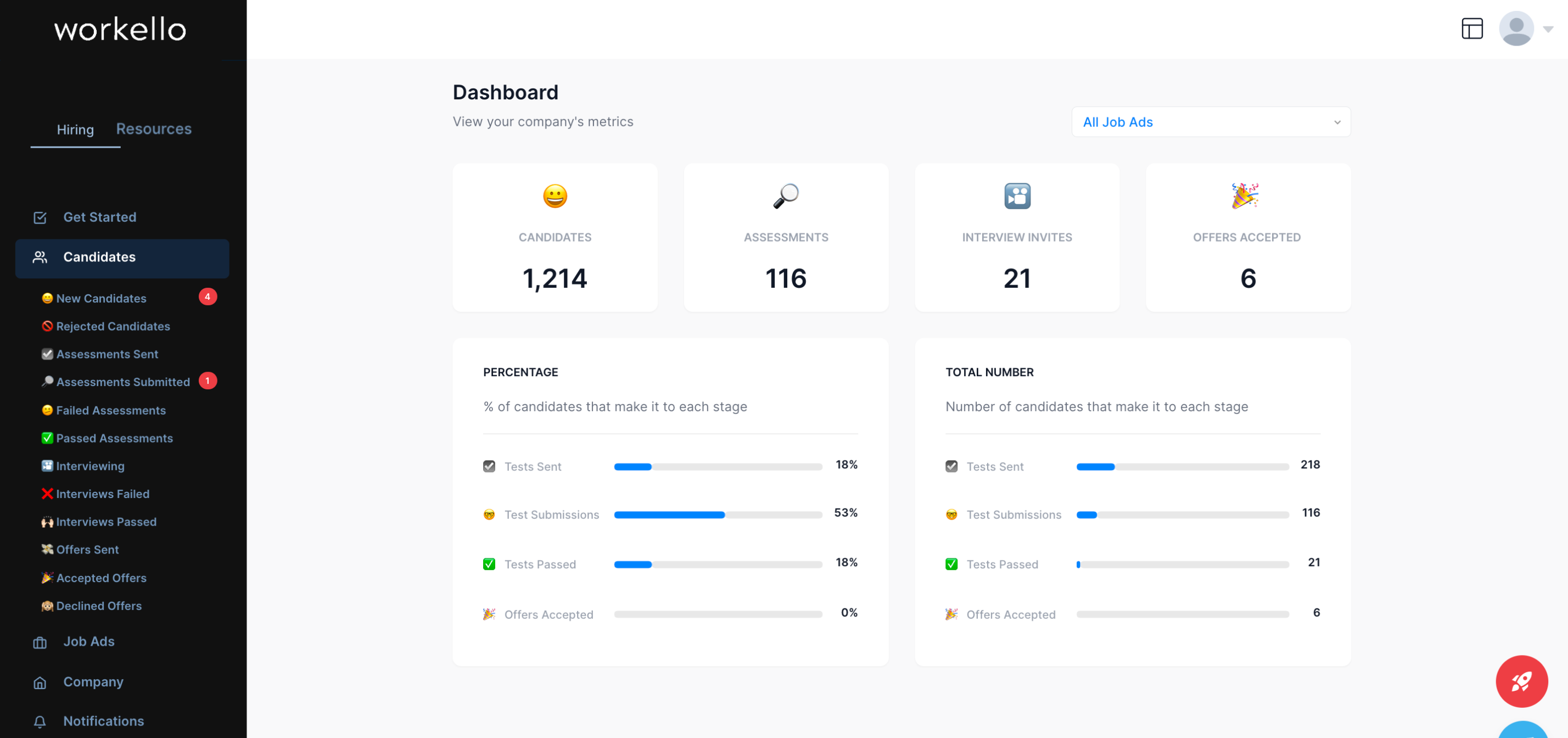 Filtering through 1,200 candidates to find the 20 best candidates means hiring the best possible writers you can afford.
Content is expensive, bad content that requires complete re-writes is even more so, and you deserve the absolute best writers you can afford.
Marketplaces promote other jobs to the writers you find
Imagine this.
I have a list of 100 pre-vetted writers, and I'm willing to give it to you – for free.
But I've already given this list to the 1,000 employers who signed up before you. And I'm going to give this list to the 1,000 employers who sign-up after you.
How likely is it to find a good, pre-vetted writer still available?
Not likely.
If you contact all 100 writers from my pre-vetted list and do manage to find a writer interested in working with you, how likely is it you will keep them?
Well, if I'm promoting this pre-vetted writer to the next 1,000 other employers…
Not likely.
This is how a marketplace works.
When you use a marketplace to find a good writer, that marketplace will promote new jobs to that writer every time they log in.
The good writers you find on marketplaces are not yours for long.
Workello is a personal marketplace.
You find the candidates.
You choose how you'll test them.
We will never promote other jobs to the candidates you bring into Workello.
The talent you find is yours to keep.
Marketplaces lack specialist writers
Marketplaces collect talent. You do the hiring.
This works if you're looking for a popular skillset but stops working as soon as you need something specific.
Think:
Keto recipe writers with cooking experience
Writers with software development experience
Veterinarians for pet healthcare content
Marketplaces have a global talent pool, not a niche talent pool.
But using Workello, you can limit your criteria to only candidates that match your experience.
Because you post your job ad to get candidates into your Workello hiring portal — you can choose the exact type of candidates you want to evaluate.
How?
By sourcing from interest-based communities.
Get our list of 307 communities to hire niche writers.
Workello is your own personal marketplace
Pick the exact type of candidates you want to hire
Judge the candidates on your terms, not someone else
We'll never promote a new job to the candidates you assess
Getting started is super easy because we've done all the hard work:
We've pre-written your job description
We've pre-written your writing assessment
We've optimized our email delivery to get an 89% link click-rate
We've A/B tested and optimized the candidate experience based on 10,000+ candidates
All you need to do is:
Get candidates.
Send pre-hire writing tests to your candidates with the best portfolios
Sit back and relax while candidates take your test
Hire the top 1% based on a real writing sample
Getting candidates is easy too.
It takes just as long to post a job ad on a writer marketplace like UpWork as it does ProBlogger, LinkedIn, or Indeed.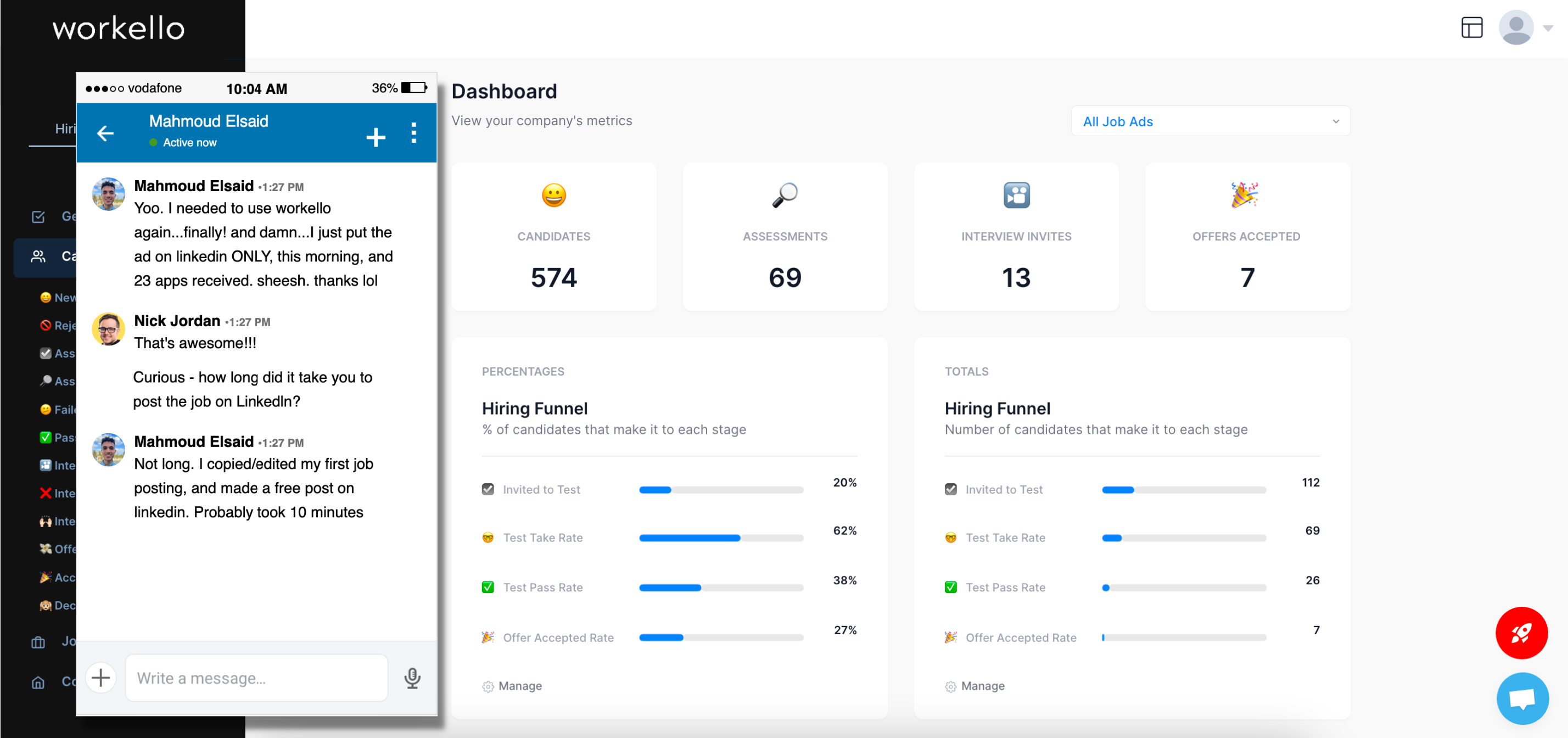 Solve your hiring problems once and for all.
Hiring Playbooks
Hear from Workello Customers