Why Writer Marketplaces Don't Work
Why Writer Marketplaces Don't Work
Workello is a simple assessment platform that helps you filter through hundreds of writing candidates to identify and hire the top 1%.
Why you won't find a writer on Upwork or any other marketplace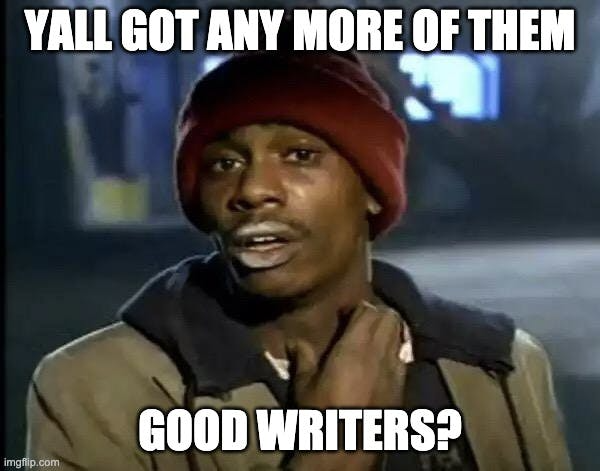 I've spoken to a lot of people that have used content marketplaces and were left feeling unhappy about inconsistent work quality.
Every writer marketplace struggles with the same fundamental issue. 
Good writers become fully booked or are hired off the platform faster than these platforms can replace them with new, good writers. 
And over time, regardless of vetting, the quality of these marketplaces trends downwards. 
Imagine this for a second.
Imagine I told you: Get a list of 100+ pre-vetted writers.
Well, you're the 1,000th person to get your hands on this list of pre-vetted writers.
By the time you get the list — all of those 100 writers will already have jobs.
And if you contacted all 100 of those pre-vetted writers and managed to hire one or two?
I'm going to give that same list of writers to the next 1,000 employers. 
And they're all going to contact the writers you just hired.
How long do you think you would keep those writers?
Not long.
Now let's say you wanted a specific type of writer.
Keto recipes, CBD, cat food, martech – whatever.
There are thousands of different niches and industries.
Now these marketplaces not only need to consistently find good writers.
They need to consistently hire tons of good writers in thousands of verticals.
It's a hard problem.
Which is why you can't find a consistent writer marketplace.
No Magical Hiring Channel
There is no magical hiring platform where all of the candidates are qualified. All of these writer marketplaces recruit writers from the same place everybody else does.
LinkedIn.

Indeed.

Facebook.
They have the same problems you do. 
Most candidates are unqualified. 
Writing is the lowest barrier to work-from-home jobs on the internet. 
Anyone with an unfortunate job (e.g. retail) and has any level of English is applying to WFH as a writer.
Hiring only American writers won't solve your quality problem either.
According to the US Department of Education, 54% of Americans have an 8th-grade reading level or below.
How about raising your rates to attract better candidates?
Well, low-quality candidates still apply to high-value jobs.
Filtering candidates based on their portfolio?
Candidates submit published work, and published work has gone through an editor.
It's never clear how much editing it took to get that work live.
Was it a total rewrite?
Did it take hours of editing?
More often than not — yes.
Hours and hours of editing that you didn't expect because they had a good portfolio.
Regardless of where you recruit from, 95% of your candidates will be unqualified to write for you.
So, what do writer marketplaces do?
They spend hundreds of thousands of dollars developing a custom assessment platform that helps them quickly filter through thousands of writers to identify and hire the top 5%.
And what they end up building is something that looks an awful lot like Workello.
Workello enables anyone to deploy an automated hiring strategy that allows you to filter through hundreds of candidates to identify and hire the top 5%.
In less than 90 seconds.
Because we've done all the hard work:
We've pre-written your job description

We've pre-written your writing assessment

We've optimized our email delivery to get an 89% link click-rate

We've A/B tested and optimized the candidate experience based on 10,000+ candidates
All you need to do is:
Get candidates.

Send pre-hire writing tests to your candidates with the best portfolios

Sit back and relax while candidates take your test

Hire the top 1% based on a real writing sample
So, if you're unhappy with your writer marketplace.
You're just a couple of minutes away from solving your problem.
Hiring Playbooks
Why Teams ❤️ Workello
Read all of our customer case studies.
"With Workello, we were able to test so many candidates that now we are absolutely confident that we hired the best people for the job." – Alexander Heinle, Zavvy.io
"Never in my life have I managed to filter through 200 candidates in a space of two weeks, and actually get to a point where I'm ready to hire someone, and that for me was a game-changer" – Andrew Kemp, Managing editor, State of Digital Publishing
"With Workello, I can have a consistent stream of candidates that I can always reach out to very quickly and find new writers to help with our stories fast." – David Adler, Net Influencer
"Our first hiring round with Workello has been our most successful hiring round so far. In the span of two weeks, we received about 140 candidates, tested 30, we shortlisted 15 interviews and hired seven new writers that joined our existing team." – Dr. Mark Coster, Founder, FairyDigital
"With Workello it's been so much easier to hire writers and video editors. The testing part is what really shines and makes our process more streamlined." – Joey Daoud, CEO, NewTerritoryMedia
"Workello just brings it all into one easy place. I don't have to chase around messages and portfolios in various different channels anymore, which was a nightmare to keep up with" Jacob Andra, Founder, CustomerFaucet
"Almost overnight, we had 100+ candidates that we could quickly filter through, and in about 2 weeks we hired 10 writers." – Kiril Kirilov, Founder, Rush App
"Workello has changed the game for us. In just under 2 weeks, we hired 4 really amazing, good-quality writers." – Alan Martin, Founder, RNKD
Hear from Workello Customers