Attract & hire top 5% marketing talent
The most important decision you'll make as a manager is who you decide to hire.
After that first decision, everything is either easy, hard, or impossible.
In 2019 I was launching my first SaaS product, ClusterAi, and I hired an unknown content marketer named Ognjen Boskovic from Belgrade, Serbia.
Ognje led ClusterAi's growth to $15,000 MRR within 8 months post-launch, and in that same period 20X'd our email list and Facebook community from 200 ⟶ 4,000 members.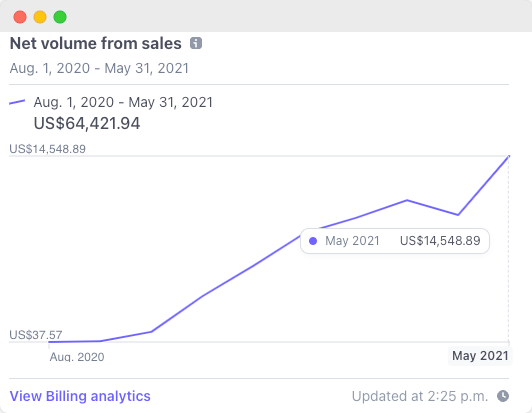 And because he was an unknown marketer living in Serbia, I hired him for a comp level that a bootstrapped startup can afford.
How did I do it?
I developed a hiring strategy that uncovers hidden talent passed over by better funded companies.
And this will work for any kind of organic marketer; including content marketing, copywriting, and growth marketing.
Ognjen absolutely crushed it, and eighteen months after joining our team, he caught the attention of CXL, and when CXL knocks on your door and asks you to run their marketing – you don't say no.
The thing is though…..
Ognjen was CXL good all along.
CXL just didn't know it yet.
But I did.
Keep reading for my step by step recipe to identifying and hiring hidden marketing talent your better funded peers are sleeping on.
📋 The Process
From a high level, the process involves:
Use our marketing job description
Use our marketer skills test
Post your job
Review candidates and invite the best to take your skills test
Sit back and relax while candidates take your test
Review the test
Interview
Hire
Onboard
🤔 Decide if you're ready
Good marketers want to work for organizations that give them leverage on their skillset to achieve more then they have before and move their career up-and-to-the-right.
There are a lot of things that can screw up, slow down, or prevent a great marketer from creating great impact and great marketers don't want to work in organizations with bottlenecks that minimize their talent and potential.
This means customers, existing demand, an acquisition channel that's working already, a strong opinion on the industry and product category, case studies, an email list, community – a foundation that they scale, not one they need to build themself.
We had:
A strong voice
15 pieces of 'indoctrination' content
A handful of great case studies
200 people on our email list and in our community
10k views on YouTube
Maybe 20,000 impressions per month on LinkedIn
The more of this you have, the easier it will be to attract top talent.
🚀

Beat better funded competitors

Compensation is the best lever to get higher quality candidates, but it's not the only lever.

If you can't afford to compete on compensation, you can still find and hire great marketing talent – you just need to put more effort into the areas you can compete.

Here are the areas we're going to optimize and invest extra effort into to increase our chances of hiring the best person in our budget:

Planning:
Job description
Skills assessment
Sourcing strategy
Then we're going to execute
Post your jobs
Interview
Paid test
Hiring
Onboarding
⭐

Prep work

If you can't compete on compensation, you can still be a great place for talented marketers to spend their career – if you can sell them on something else they want.

Besides compensation, the best marketers are motivated by impact, employer brand, and level up potential.

Identify which areas your company can create a compelling narrative, and hone in on it.

Put more work in, get better results.
Job Description
Workello's job library includes many pre-written job description templates, designed to speak to and attract the best candidates.
Select the most relevant job
Use our pre-written template
Align it with your company and role
Here's a high level overview of how to create a job description that speaks directly to the top 5% of marketers.
Benefit
Details
Example
Employer Brand
You don't have to be Drift to have a cool employer brand. Identify the coolest aspects of what you're working on and sell it – customers, influence, etc
Workello has helped content teams organize and evaluate more than 40,000 writing candidates. Our customers include CopyAi, Work Week and Veterinarians.org.

Our team has built the #1 Content Ops Community on the internet with more than 10,000 members from brands like SimiliarWeb, Ramp, Quora, SEMRush, Ahrefs and more.
Impact
What kind of scale has your brand achieved? How much autonomy, decision making and budget will your hire have?
We generate 20,000 visitors/month via SEO and forecasting 1m per month by end of 2023.

Our #1 opportunity is better converting this audience to signups, newsletter subscribers, and community members. We have the traffic at scale, we need your help converting it.
Team Members
Communicate how awesome your team is, and how unique working with this level of talent is.
Prior to Workello, our founders built a 45 person content team for an A16z portfolio co, and grew their organic traffic from 0 to 1.5m organics/month in two years.
Unique Benefits
What can your company provide most companies can't?
Workello provides 38 days of PTO and paid travel to co-work in person 1-2x per year. We've done Barcelona (2x), Greece (2x) and headed to Thailand in 2023.
Cool: See an example job description for Chief Social Media Copywriter @ Thirsty Sprout.
Level up potential
This doesn't have to be a specific section in your job description, but it should be what your marketing candidates feels after reading it – the feeling you want to convey should be something like,
"Wow, these guys have an incredible foundation to grow on. It looks like they've got all bases covered, so I can come in, hit the ground running, and with my skills, create a massive impact. Their team looks incredible, and it would be awesome to work with and learn from them." – Ogjen, probably.
Impact Timeline
An impact timeline communicates growth in responsibilities over key time-based milestones.
Going through this exercise does two things.
It gets you thinking about, and helps you develop a set of expectations that are both ambitious and realistic.
But it also communicates scale, impact, and level up potential to candidates.
Here's an example you can steal:
1 month
Consume all of our best performing content across our blog, YouTube, newsletter and social.
Begin to compile and summarize our key messaging, and you'll write and publish one blog post, five tweets, and three emails.
Identify two growth experiments you can run
Brainstorm 10 low effort, high value resources we can create to grow our newsletter
3 months
Compiled and summarized all of our key messaging, gone through reviews with stakeholders, and have built out a knowledge base of key copy / messaging / positioning and media assets.
Taken over ownership of our social accounts, email list, and YouTube and are responsible for identifying, implementing, and reporting on growth experiments.
Written four product led, JTBD blog posts that showcase our product are the solution to the problem.
Created and scheduled at least one month of content on our core acquisition channels
Created at least 2 marketing SOPs that allow you to delegate, or consistently do a specific responsibility in a specific way
Hire a freelance writer to begin growing our SEO traffic
6 months
Developed, performed, and reported on more than 10 growth experiments
Created and scheduled at least 3 months of content across our core acquisition channels
Demonstrated consistent MoM growth across our blog, social and YouTube
Begun developing your brand and building a relevant audience on social
Taken over reporting for all key marketing metrics
Created at least 10 marketing SOPs that allow you to delegate, or consistently do a specific responsibility in a specific way
Hire one full time freelance writer to begin growing our SEO traffic
12 months
Most marketing processes have been documented and existing processes have been kept up to date
You've re-written all of our email sequences at least twice
You've created one new core acquisition channel that did not exist or ineffective when you joined
Hire two full time writers to continue growing our SEO traffic
Marketing Skills Assessment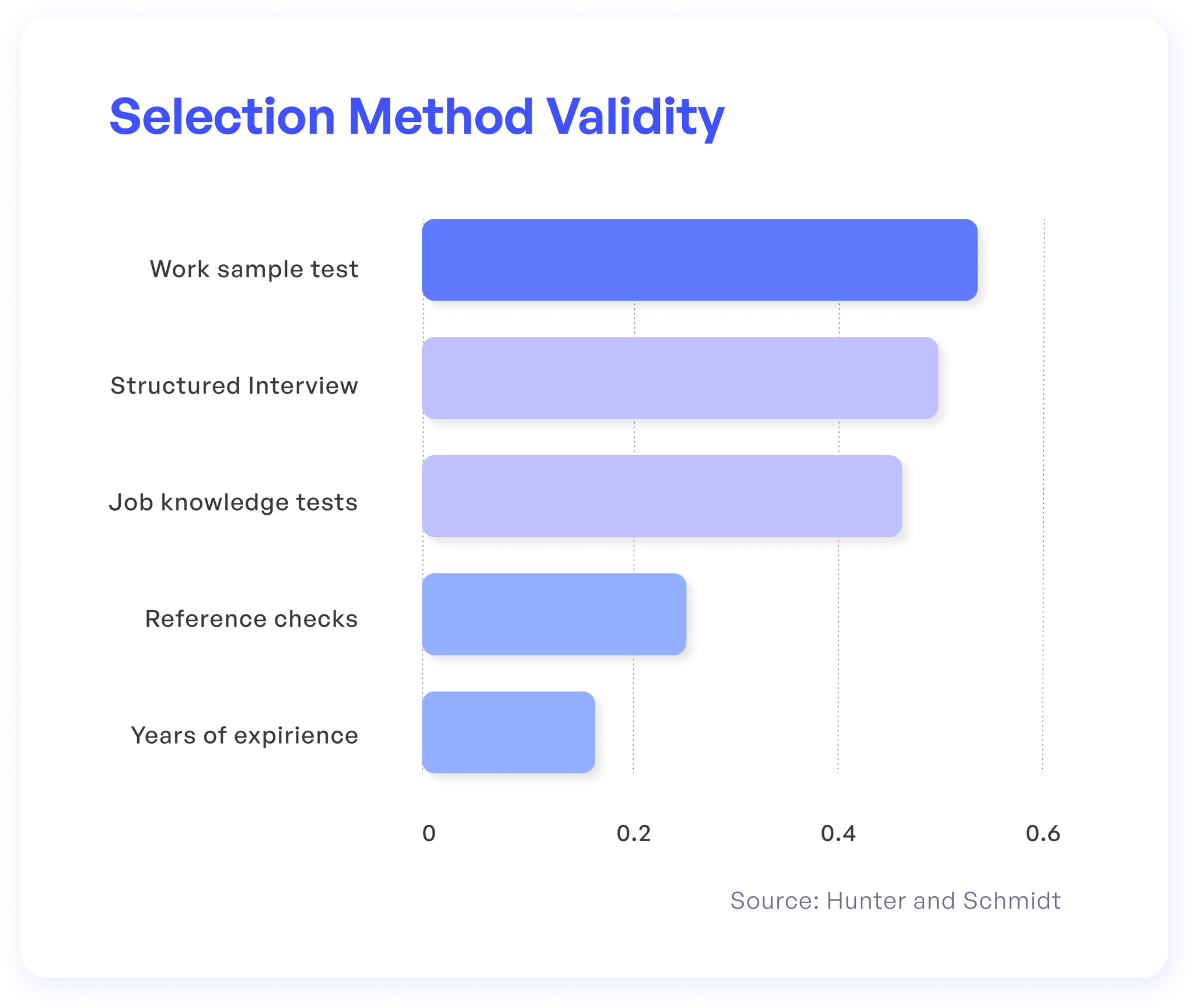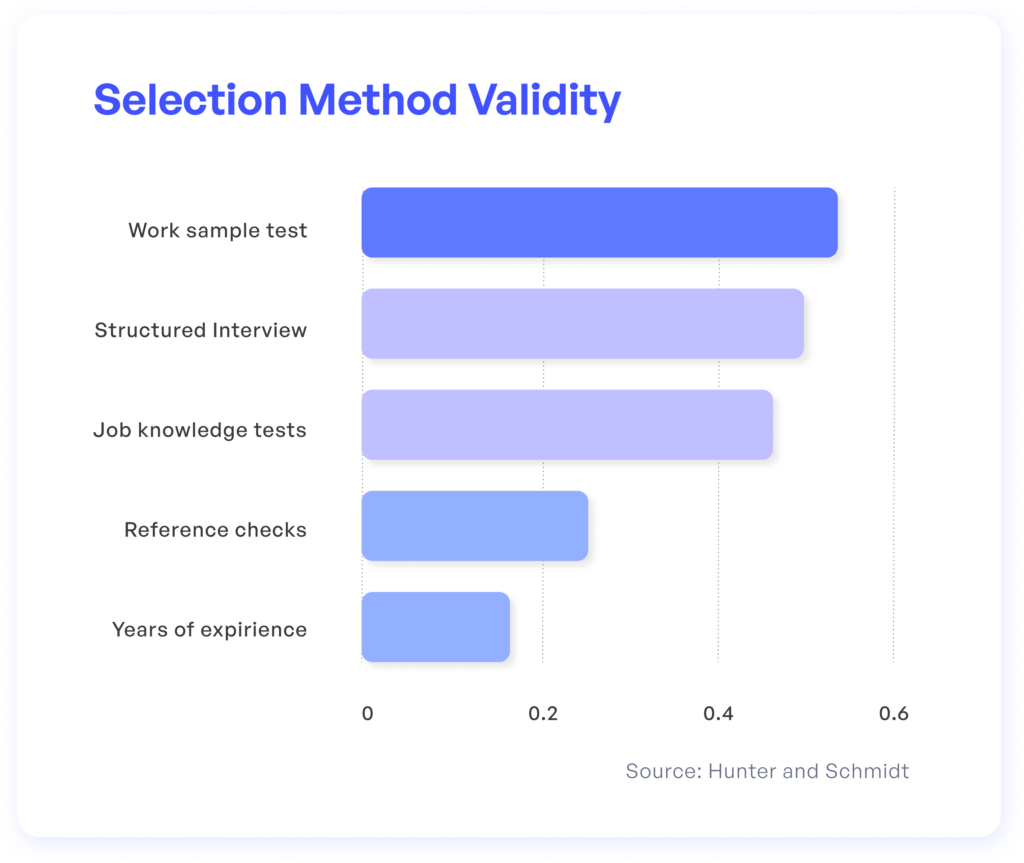 Skills testing is one of the most important components of uncovering hidden marketing talent. While your competitors are hiring their marketers based on who they've worked for in the past, and their interview skills – you're hiring on raw talent.
According to Harvard Business Review, pre-employment skills tests correlate more closely with post-hire performance than any other variable in the hiring process.
More than past employers, work experience, and interview skills.
Workello has helped employers evaluate more than 40,000 candidates, and here's what we've learned:
The average test completion rate is between 60% and 90%
Factors that influence this metric include employer brand, interview process, compensation, and test completion time
Tests that take longer than 30 minutes to complete have a much lower completion rate than tests that can be completed in 30 minutes or less.
The average pass rate is between 5% and 30% depending on the role
Designing the perfect test


Regardless of which channel you're using – it all just content:
| Channel | Skill |
| --- | --- |
| Content Marketing | Content |
| Social Media | Content |
| Email Marketing | Content |
| Thought Leadership | Content |
| Webinars | Content |
Content, content, content.
All content, all of the way down.
This means that the best way to evaluate marketing talent is with a writing test.
If you can't write well, overwhelmingly the chances are you're also not a good marketer.
This is even true for senior marketing roles.
If you're not a good writer, how can you be good at (content) strategy?
We'll, generally, you can't.
Good writing is a critical component of good marketing.
The secret to designing a pre-hire marketing test is to balance comprehensiveness to determine the candidate's true skill level, and the time it takes to complete the test.
The best candidates are being evaluated by multiple employers, so you need to convince them to invest their valuable time into taking your skills test so you can hire them before your competitors do.
This means asking candidates to create huge marketing plans is not the best way to evaluate their skillset.
First of all, they don't have the information they need to develop a useful plan.
But second of all, it takes too long, and the best candidates aren't going to do it.
How I test content marketers
After a lot of trial and error, we think we've built the perfect test for content marketers.
And growth, and social, and email marketers.
Here's how it's structured:
First, we ask a couple of broad questions to help during screening:
What's your biggest marketing win?
Where are you strongest?
What skills do you want to develop the most?
Are you familiar with X (X = email marketing, etc)? Describe your experience.
Then we provide a link to a 1 – 5 minute video of someone from our team on a podcast, webinar, conference, or even a Loom, capturing our strong thoughts on something related to our industry.
Then we ask the candidate to take a video and create:
Tweet thread using Chirr.App
LinkedIn post
Email promo
Example Video: https://www.youtube.com/shorts/KQjtB4d4x98
This allows us to evaluate our candidate's writing skills across a few of the most important formats, while limiting the time it takes to complete the assessment to 30 – 90 minutes.
Anything longer then this, you'll start seeing lower test completion rates.
Important: Don't give the candidate a 10+ minute recording, unless you tell them to limit their viewing to a specific timestamp.
🔎

Sourcing strategy

Most companies all look in the same place – LinkedIn and Indeed. These are hiring channels for 'the average marketer.' To beat them on candidate quality, you need to seek out marketing specific job boards.

Marketers that embed themselves and participate in niche marketing communities are often times better than marketers who don't – and our sourcing strategy reflects this.
Niche communities
SuperPath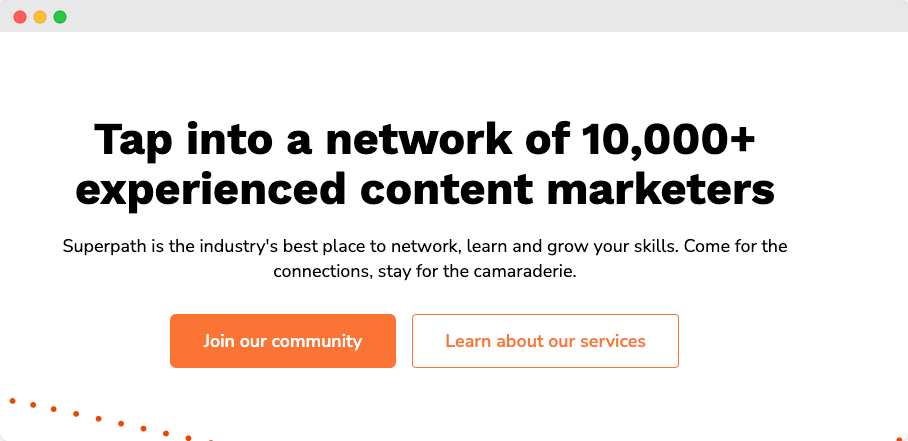 SuperPath has more than 10,000 content writers and marketers and is the #1 place to look for marketing talent if you are in SaaS.
Their members have written for, and worked for, brands like GoDaddy, ClearScope, Udemy, ClearBit, Podia, HubSpot, Airtable, Intercom, Buffer, Databox, Shopify and more.
SuperPath has killer brand marketing and clout within the SaaS content community giving it a huge inflow of both newer but talented, and experienced candidates to hire.
👉 Post your job on SuperPath now.
Exit Five by Dave Gerhardt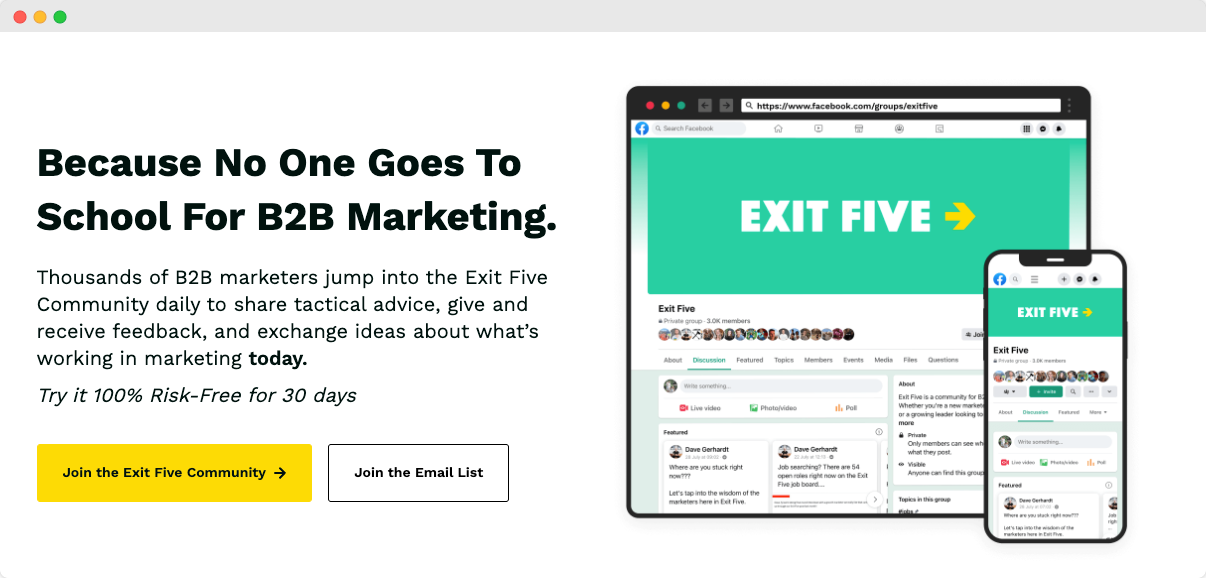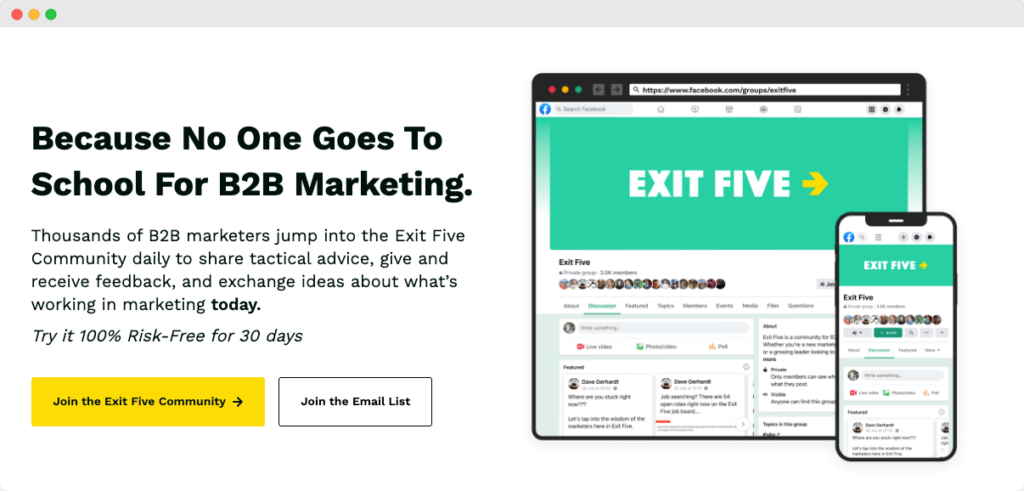 Founded by Dave Gerhardt, former CMO of Privy and VP of Marketing at Drift, Exit Five is one of the best job boards to hire content marketing professionals.
Like SuperPath, Dave's incredible reach and influence within the marketing community ensures a consistent stream of unproven but hungry, and battle proven marketing pros to hire.
👉 Post your job on ExitFive now.
Angel List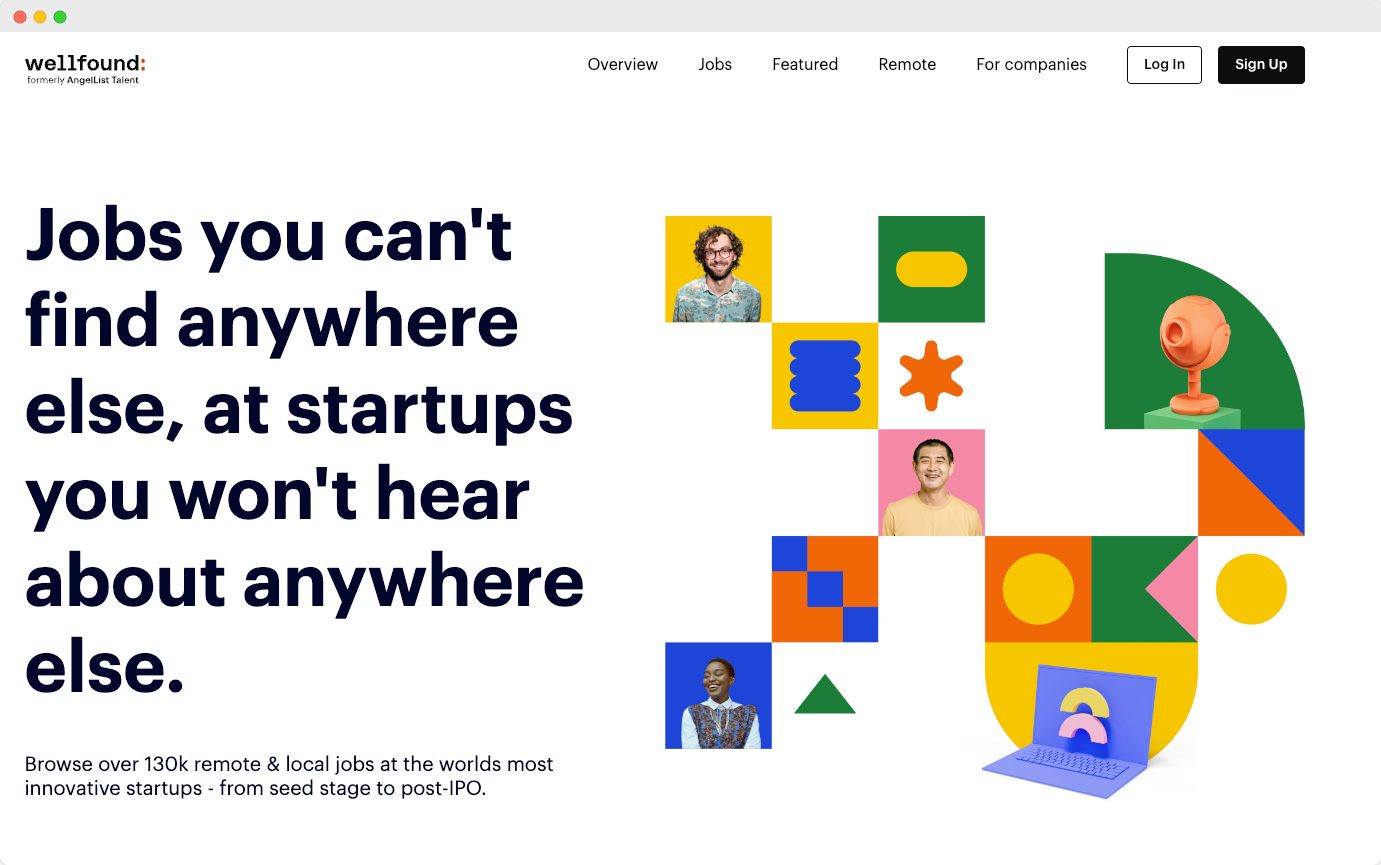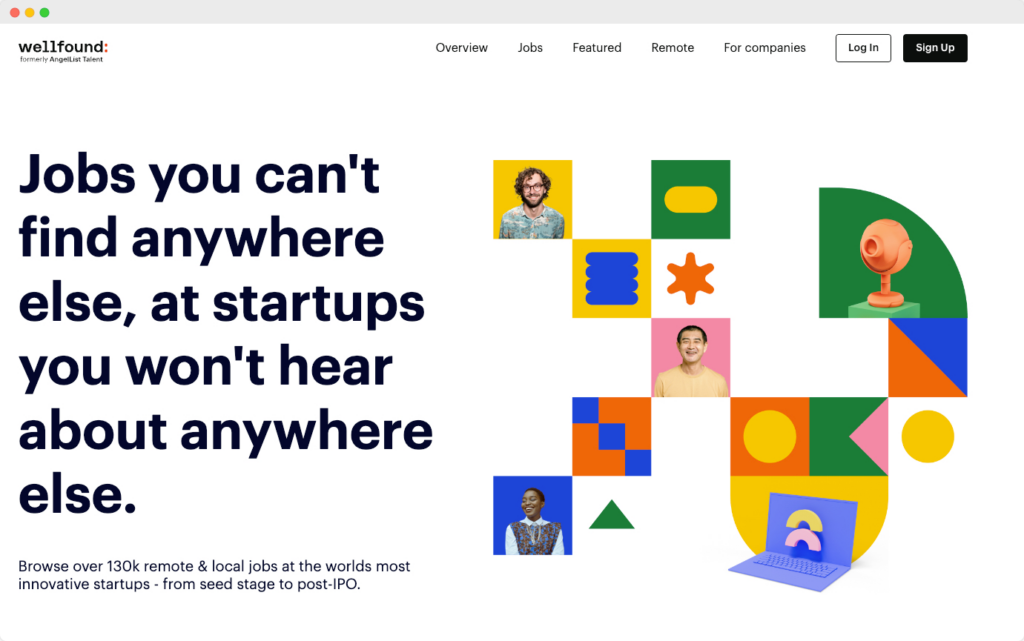 Angel List is the OG job board for startup marketers.
A good friend of mine, and an awesome marketer – Alejandro Rioja joined Samsara, one of the fastest growing private companies ever from Angel List.
Huge win for Samsara, Alej is a beast.


Facebook Groups
For the same reasons SuperPath and ExitFive are great places to recruit from – so are a handful of other marketing communities.
Today, communities are built on Facebook Groups. It used to be forums, and in the future maybe we'll all move to dedicated community apps like Circle.so, but until then – it's Facebook Groups.
Here are a few of my favorite:
👉 Check out our step-by-step guide for hiring in Facebook Groups.
If you're serious about hiring the best content marketer, the more of these places you post, the higher likelihood of uncovering great talent.
If you want the best, post on all of them.
But if you just choose one – choose SuperPath.
Your own community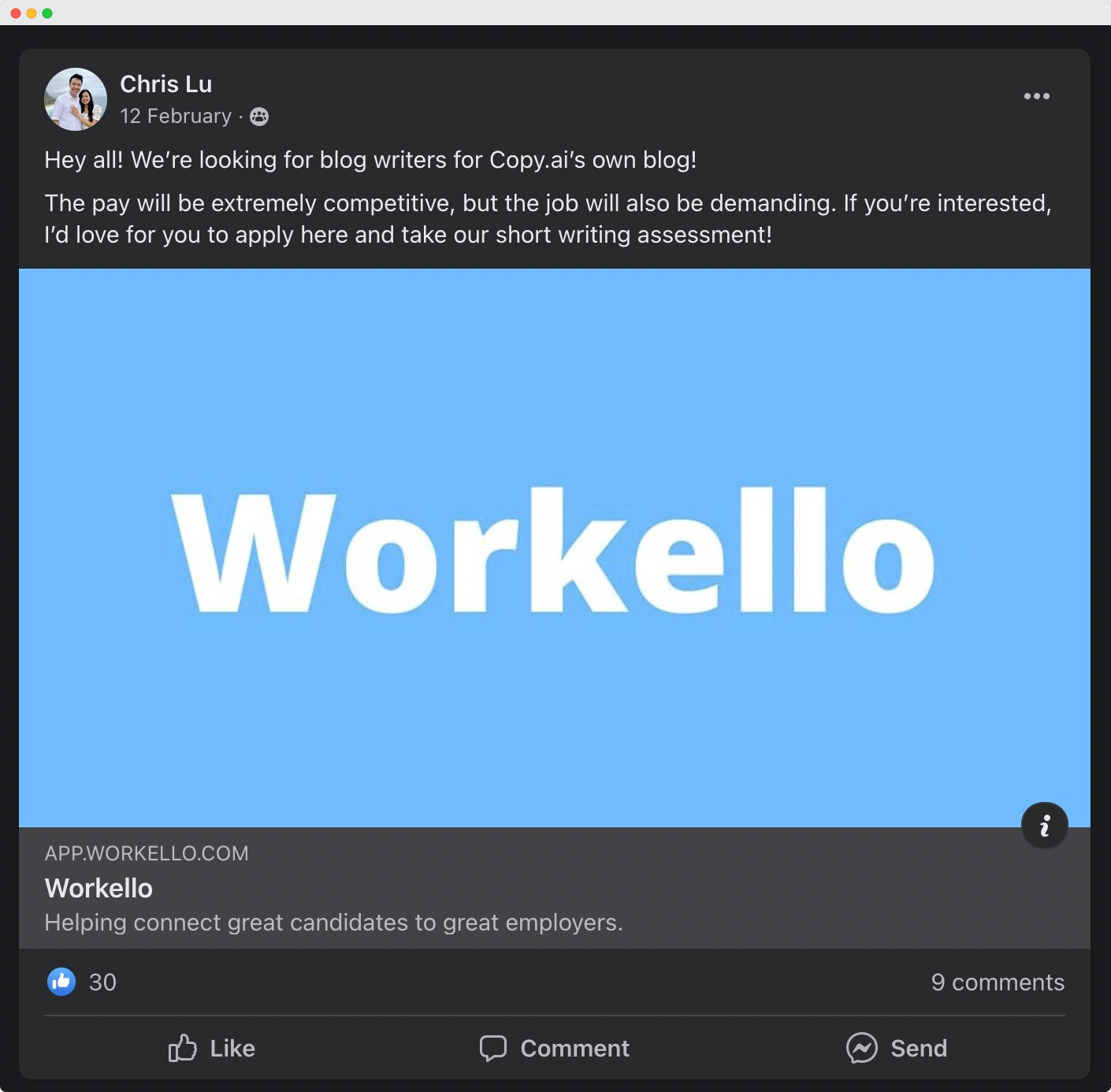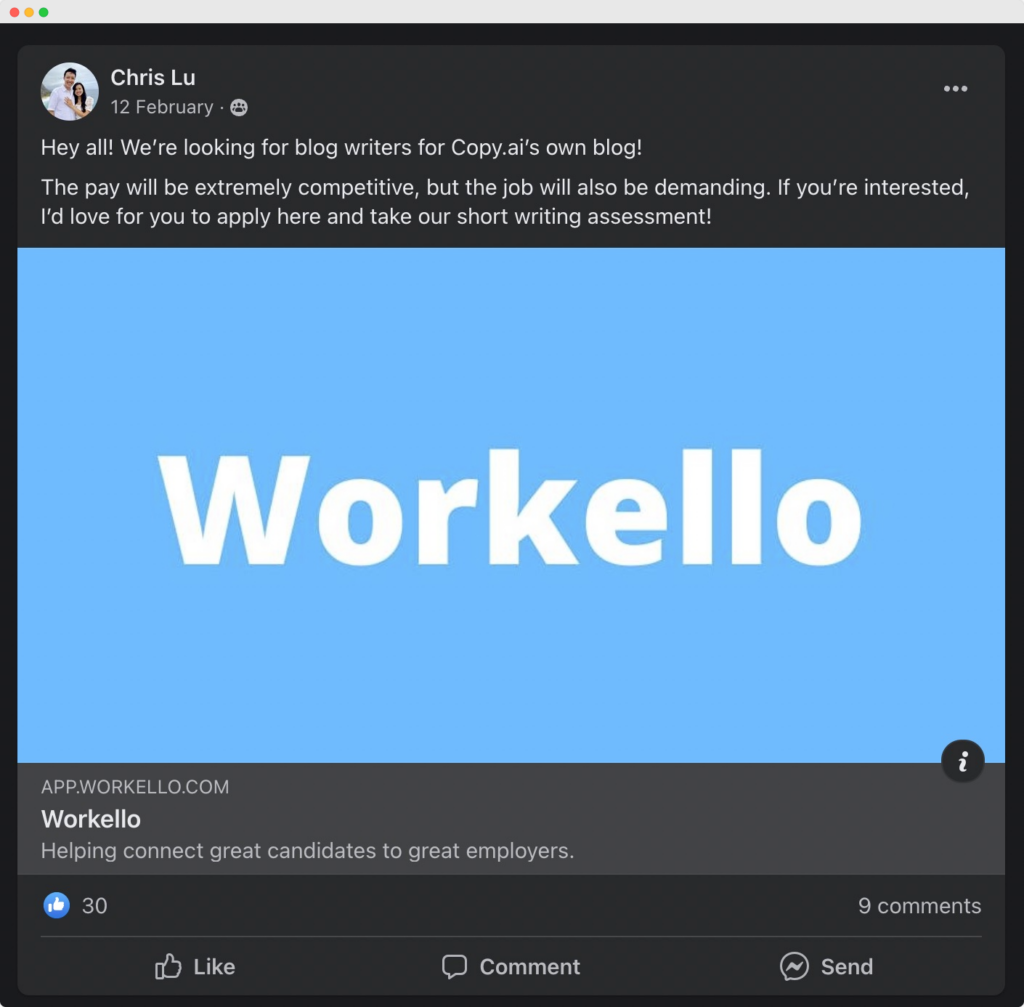 If you have a community or email list, it's an excellent place to recruit from.
Your community will include your brand's biggest super fans who would jump at the chance to work for you. Learn more about our
Cool: Check out the Workello + CopyAi case study.
Evaluating Candidates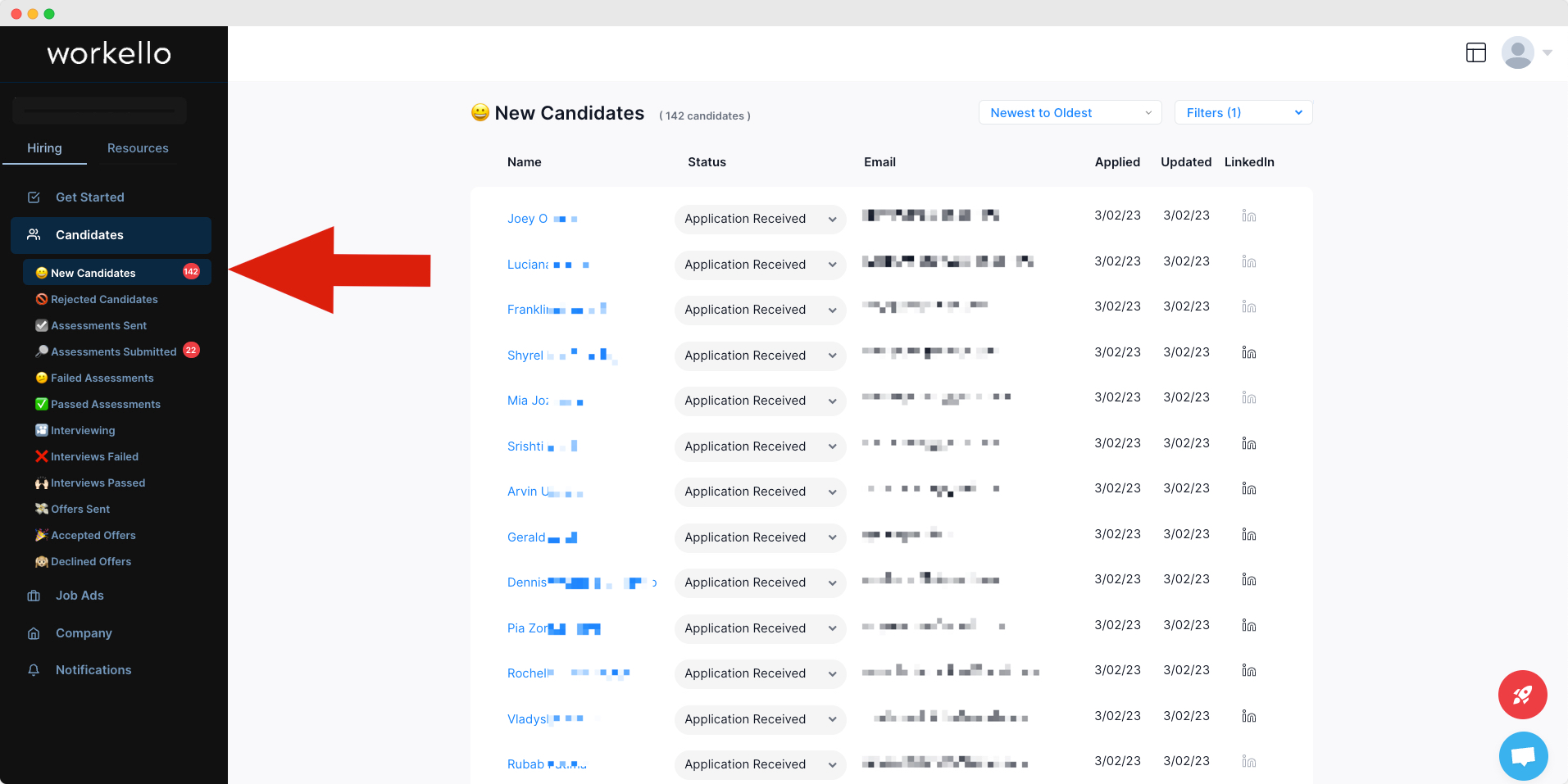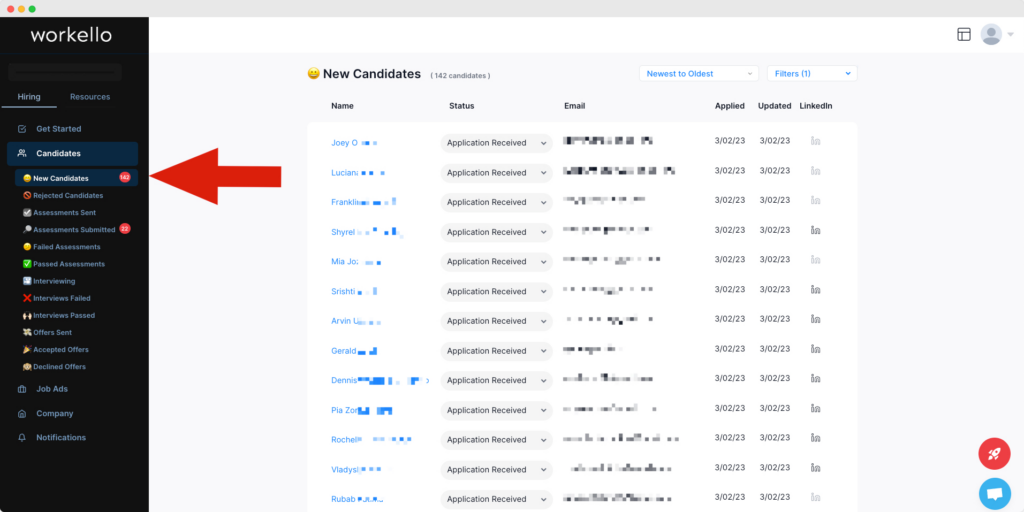 When you post your job ad on the platforms above, make sure that candidates complete their application on an external URL – your Workello application form.
Example URL: https://app.workello.com/application-portal/content-distribution-b2b-and-b2c-content-writer-entry-level-and-seniors
Candidates find your job ad on your sourcing platforms.
They click through to your Workello application form.
And they submit their application.
Candidates from all of your hiring channels stream into your Workello dashboard – and from here, everything is on easy mode.
Important: One of the biggest benefit of Workello is centralizing all of your candidates, from all of your hiring channels in a single dashboard. Don't forget to tell candidates to apply using your Workello application URL.
Important: If the job board does not provide a dedicated form to copy/paste your application URL, put it into the job details.
All it takes is 1-click to move candidates through your hiring funnel.
1-click reject to send a polite rejection email thanking the candidate for their time
1-click test to send an email inviting the candidate to the next stage of your hiring process
When you take an action, Workello will auto-scroll to the next candidate for review.
Running through a few hundred candidates should only take 30 -60 minutes.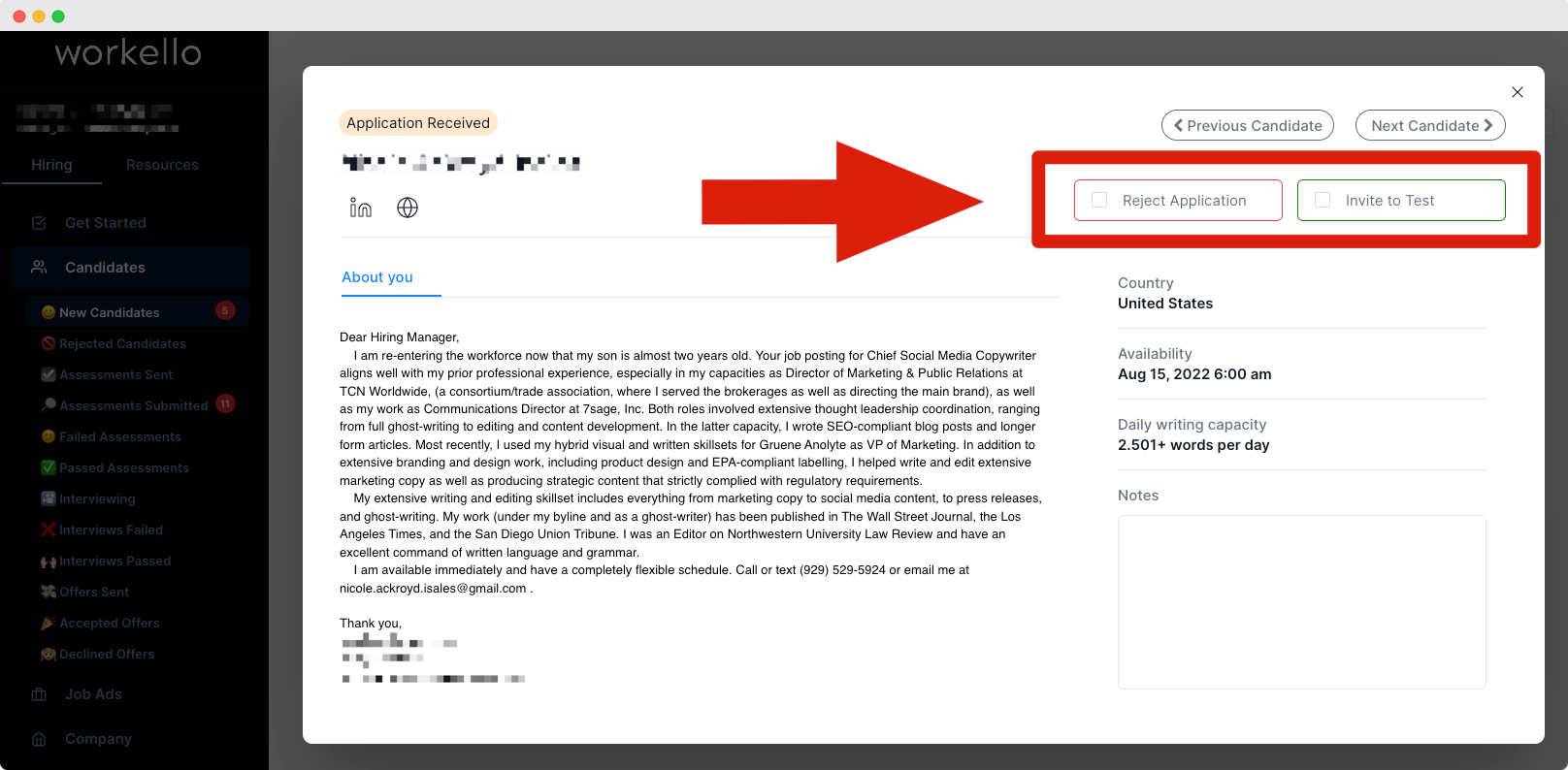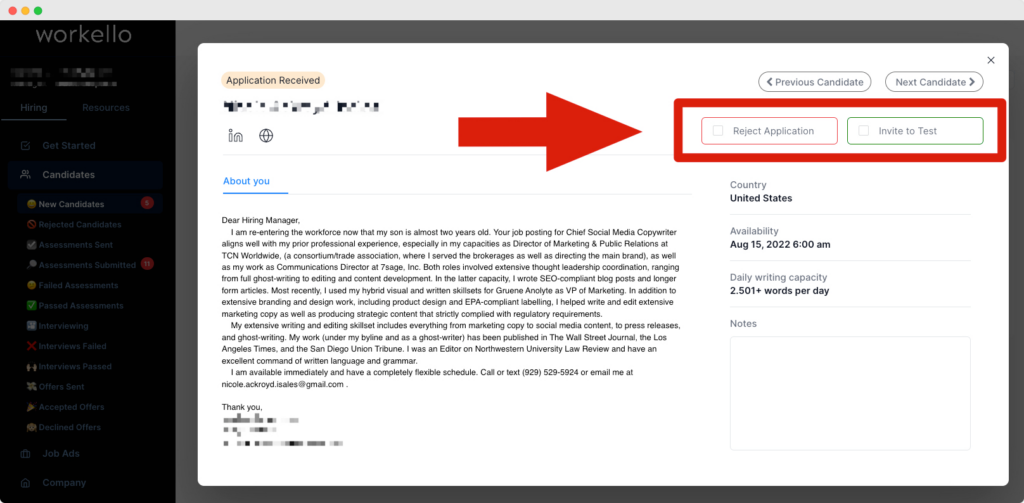 Skills Test
Once you've run through all of your new candidates, it's time to sit back and relax, while you wait for candidates to turn in completed tests.
Just like the prior stage, Workello makes this process super easy.
1-click to send the candidate a polite rejection thanking them for their time
1-click to send the candidate to a holding status while you review the other tests
1-click to send the candidate an invitation to interview via Calendly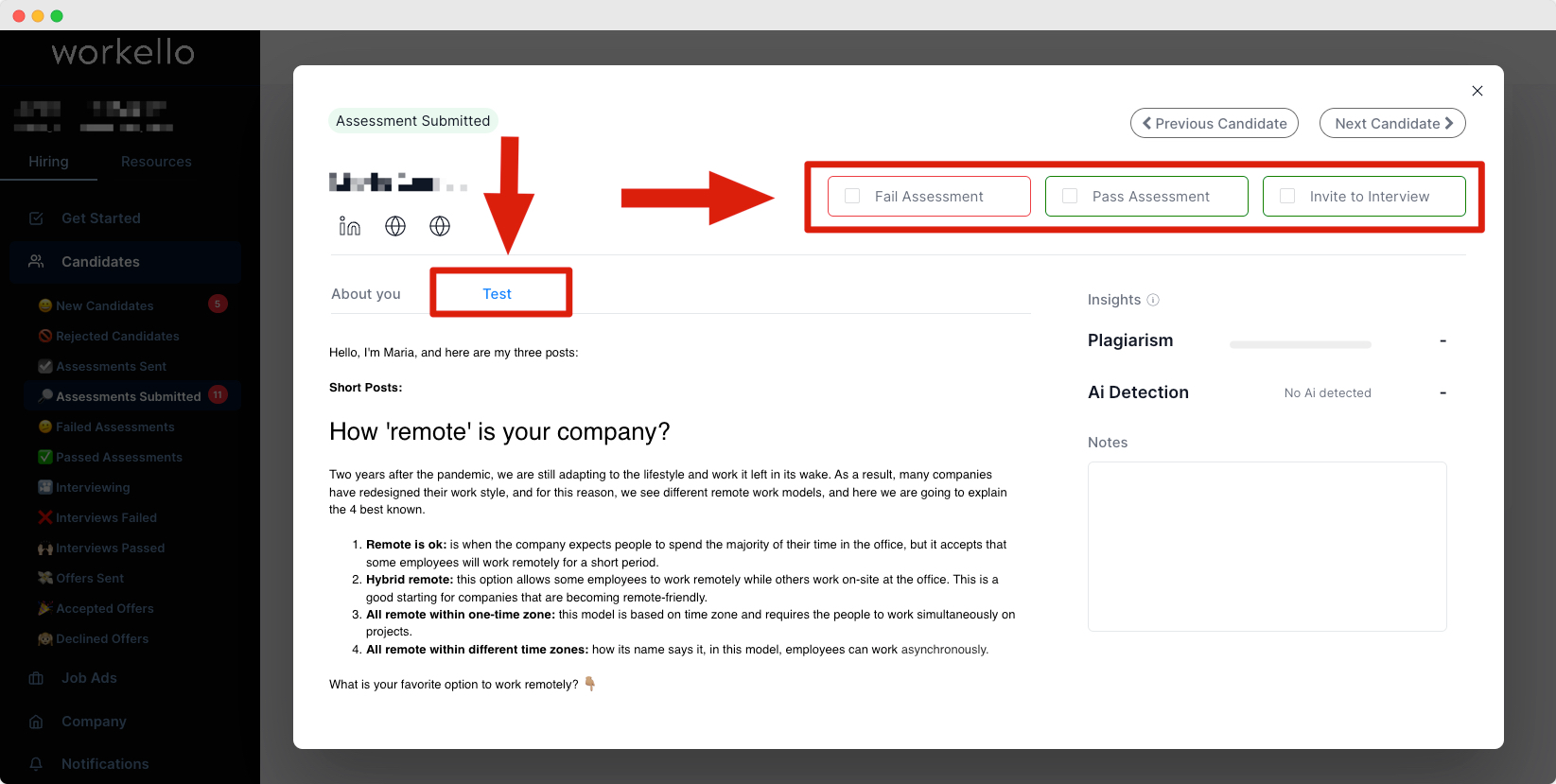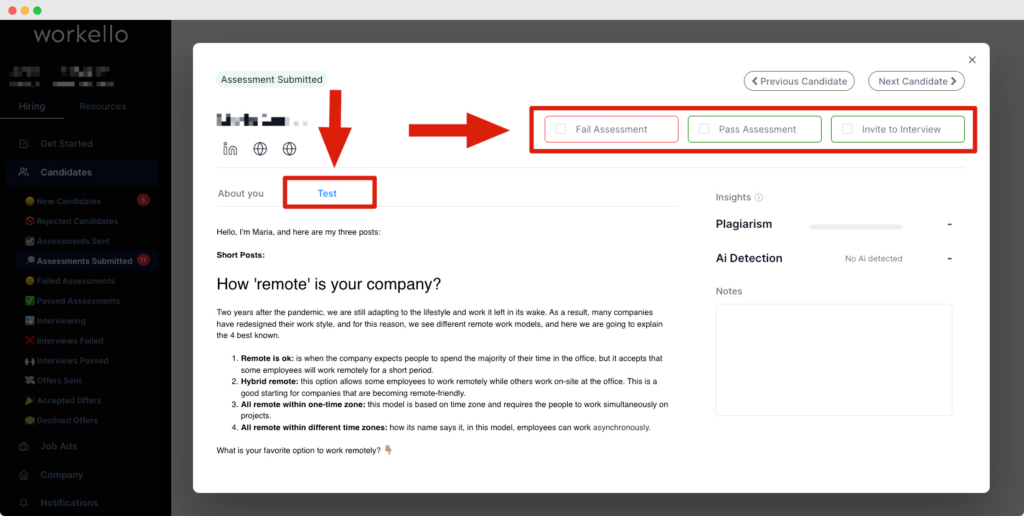 ✅

Interviewing

During the interview, I try and do three things:
Learn more about their experience and skills
Figuring out what the candidate wants and gets them excited.
Learn how they approach work, their career, and self learning
Sell them on why our company is the perfect place to spend the next stage of their career
What the candidate wants
Compensation, benefits, cool experiences, colleagues that will level them up, scale they haven't worked at before, cool customers their friends have heard of – figure out what it is by asking questions like:
What gets you motivated?
What do you want to accomplish over the next 3 – 5 years?
What skills do you think are your best?
What new skills do you want to most develop?
What's your least favorite part about marketing?
Based on the orgs you worked on in the past, what kind of org would you like to work in today?
How do you want to collaborate with your manager and colleagues in marketing, and in sales, product, etc?
What are you personal goals outside of work?
What are you most recent big wins there?
What are you working towards now?
Approach to work, career, and self learning
The best marketers are self learners who are constantly tinkering and iterating. I'm asking questions to identify this innate curiosity.
How did you get into marketing?
How have you chosen your prior roles and what did you like most?
How do you learn?
What industry leaders / influencers do you follow and like the most? Why?
What marketing communities do you participate in?
What resources do you consume the most? Whose blogs, YT videos, etc are you watching?
What kind of active side projects have you worked on outside of work?
Selling the job
The first 50 – 66% of the interview is very candidate focused, the back-half is when I'll use all of the information I've learned to sell the candidate on the role.
Whatever they want, I'm going to figure out why my company is a great place that can give them those things.
Often times I will sell the role and our company even if I don't think the person is the best fit.
Sounds weird, but interviewing is a learned skill and I want practice selling and getting my reps in for when I end up on a call with a great fit.
And two, I would rather decline a runner up candidate later in the hiring process then be declined by the best candidate because I couldn't communicate we were the best place they could spend the next stage of their career.
🤞 (Optional)

Paid test

By the time you're finished interviewing, you should have a short list of candidates to choose from. You could just choose someone and commit, but this role has a lot of leverage and the right person can create a 10x better outcome than the wrong person.

For all of these reasons, you might decide you want to do a paid test.

There are a lot of types of tests you can do.

But we prefer a testing format very similar to the pre-screen test – except longer and more comprehensive.

So, that might be one of the following:
Create a long form blog post based on a video
Create a 6 – 8 email sequence based on a video / tweet thread / blog etc
Create 5 – 10 tweet threads based on X number of blog post
The reason we like it is because all of the source material is contained within this defined place. They don't need to know anything about your company, or your industry, or anything – except what you provide in the source material.
It also doesn't depend on paid tools, access to your systems, or privileged information.
In fact, assuming you have source material, it doesn't really require a lot of prep work at all.
If the content in the audio/video clip is strong and compelling, a good marketer will be able to reformat that strong content into another form.
Important: If your source material is dry and bland, the content will be too. It's important you provide content with strong opinions to act as source material.
The compensation and timeframe should be sized appropriate to the workload.
If you're looking for a compelling piece of thought leadership, you should give 2 – 4 weeks for the candidate to schedule against their existing priorities and a compensation that reflects 10 – 20 hours of work.
🪜 Onboarding
Create your onboarding checklist when you create your job ad and impact job description. The more prepared you are, the more leverage your new marketer will have on their skills.
Create a checklist in your document for your new team member to complete:
Deployed all software
Consumed all internal content
Joined communities & subscribed / followed creators
Reviewed policies
Reviewed competitors
Met with X team members
ETC
Customer information
Buyer persona
Best customers
How you acquire them
Why they choose you
Software Stack
List your entire marketing stack
Everything from Google Analytics to Stripe to CMS to ESP to design suite
Provide a brief explanation for how each software is used
Describe access – is it a delegated user, via a password manager like LastPass, and who to ping to request access.
Major projects / channels
Overview of major projects and acquisition channels
KPIs
Goals
Internal Resources
Internal assets
Best content your organization has produced
External
Communities to join
Industry leaders to follow on Twitter, LinkedIn
Podcasts and YouTube channels to listen to
Competitors that are crushing it
📋 Summary
Join hundreds of content teams evaluating tens of thousands of candidates.
Use our pre-written job description
Use our pre-written skills test
Post your job ad
Invite candidates to take your test
Invite candidates to interview
(Optional) Run a paid test
Hire and onboard
🔥 Skills test all your candidates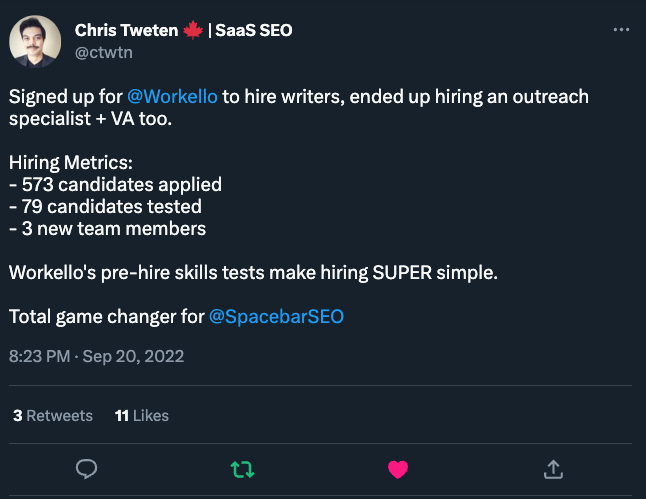 Pre-hire assessments correlate so strongly with post-hire performance once you start testing virtual assistants, you'll start testing all your open roles.