Hiring a Virtual Assistant
Hiring a Virtual Assistant
Workello helps you organize, identify, and hire the top 1% of your virtual assistant candidates.
Hiring the right VA has huge leverage


The most important decision a hiring manager makes is who they decide to hire.
After that first decision, everything is either easy, hard, or impossible.
An "OK" virtual assistant can perform basic admin tasks.
But a great virtual assistant makes working with them feel easy.
They know what kind of questions to ask.
They anticipate bottlenecks and problems.
They level up your processes.
They slide into new responsibilities easily.
They're responsive.
They take fuzzy concepts like "manage my mailbox" and knows what that means.
And it all comes down to that first decision.
Who you decide to hire.
🚀

Prep Work / Process

From a high level, the process involves:
Using our VA job description template
Designing your skills test
Posting your job
Reviewing candidates and inviting the best to take your test
Reviewing the test
Interviewing
Onboarding
Job Description
Workello's job library comes with pre-written job description templates.
Select the type of VA you're hiring, and modify the pre-written template to align with your company and desired role.
We've included examples of some Workello customer VA job descriptions.
E-commerce VA
SEO VA
Lead generation VA
Need a template you don't see? Hit the chat button on the bottom-right.
E-commerce virtual assistant

SEO Virtual Assistant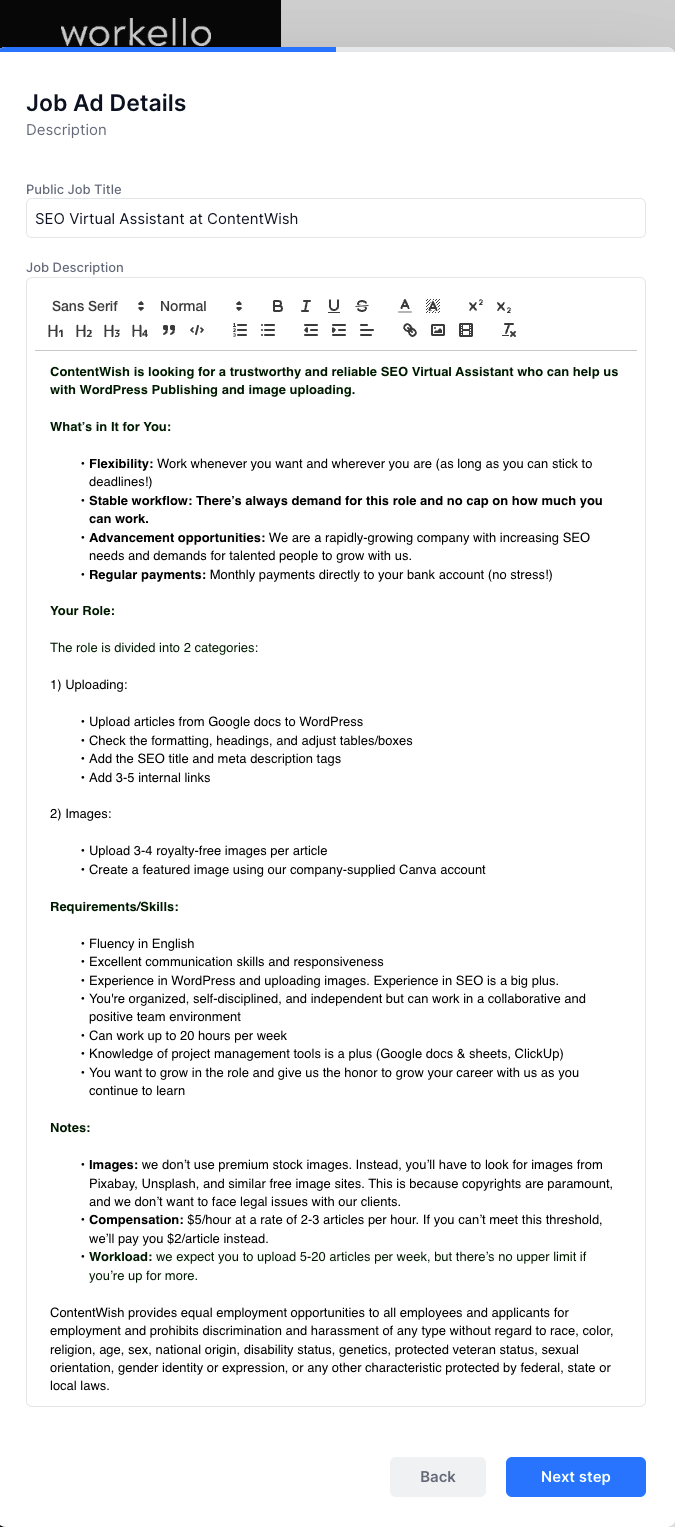 👉 Check out the live job ad and Content Wish case study.
🏆

Skills Test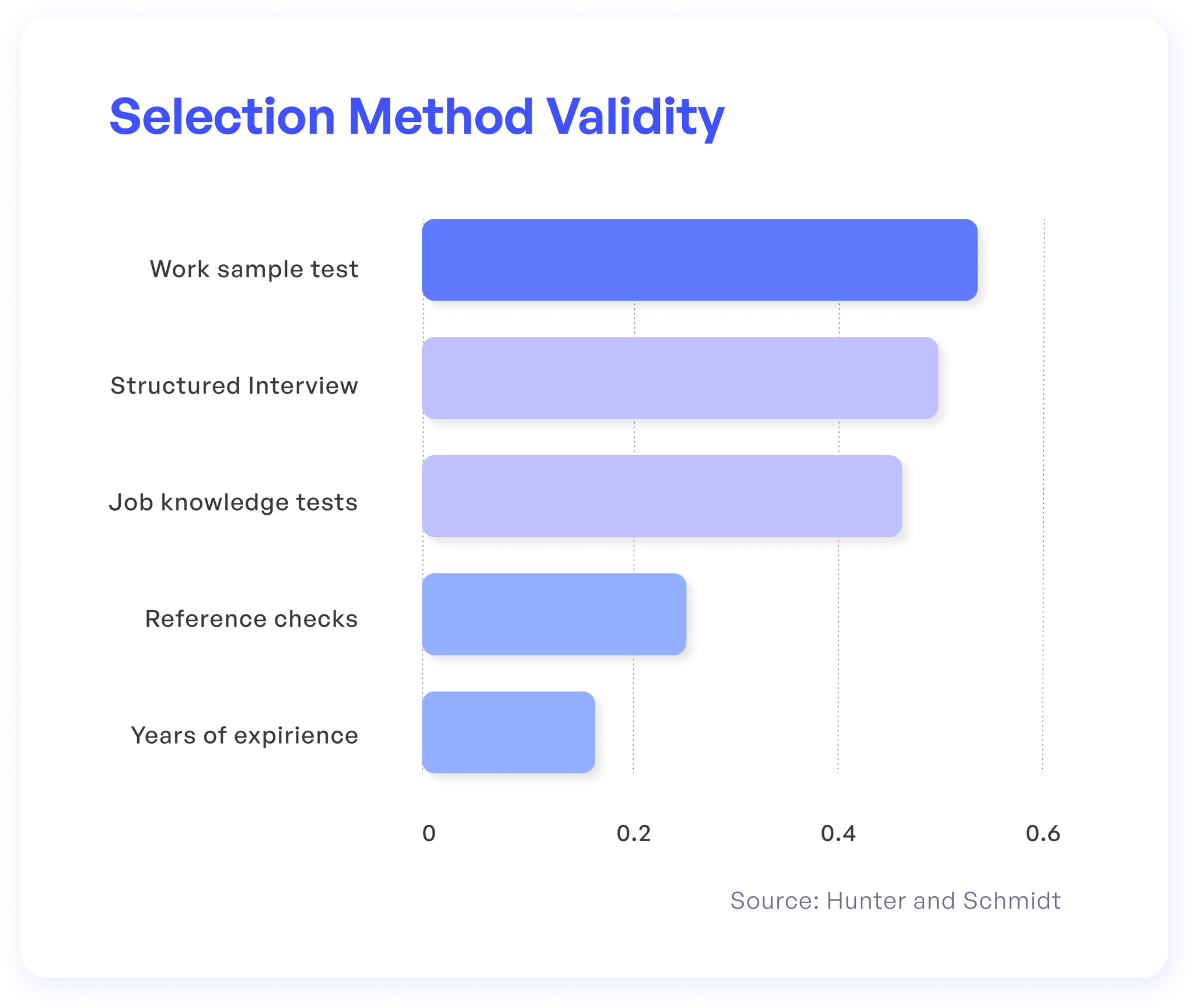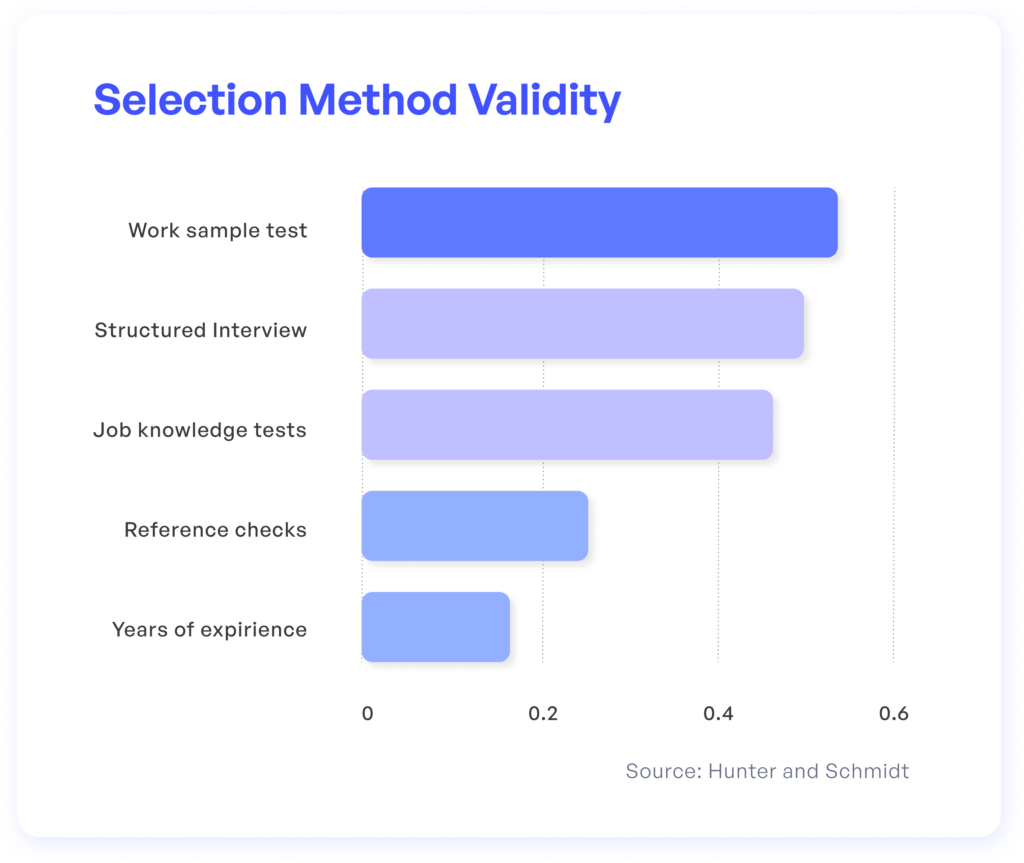 According to Harvard Business Review, pre-employment skills tests correlate more closely with post-hire performance than any other variable in the hiring process.
More than past employers, work experience, and interview skills.
Workello has helped employers evaluate more than 40,000 candidates, and here's what we've learned:
The average test completion rate is between 60% and 90%
Factors that influence this metric include employer brand, interview process, compensation, and test completion time
Tests that take longer than 30 minutes to complete have a much lower completion rate than tests that can be completed in 30 minutes or less.
The average pass rate is between 5% and 30% depending on the role


Let's check out some VA tests from Workello customers.
E-commerce Virtual Assistant

SEO Virtual Assistant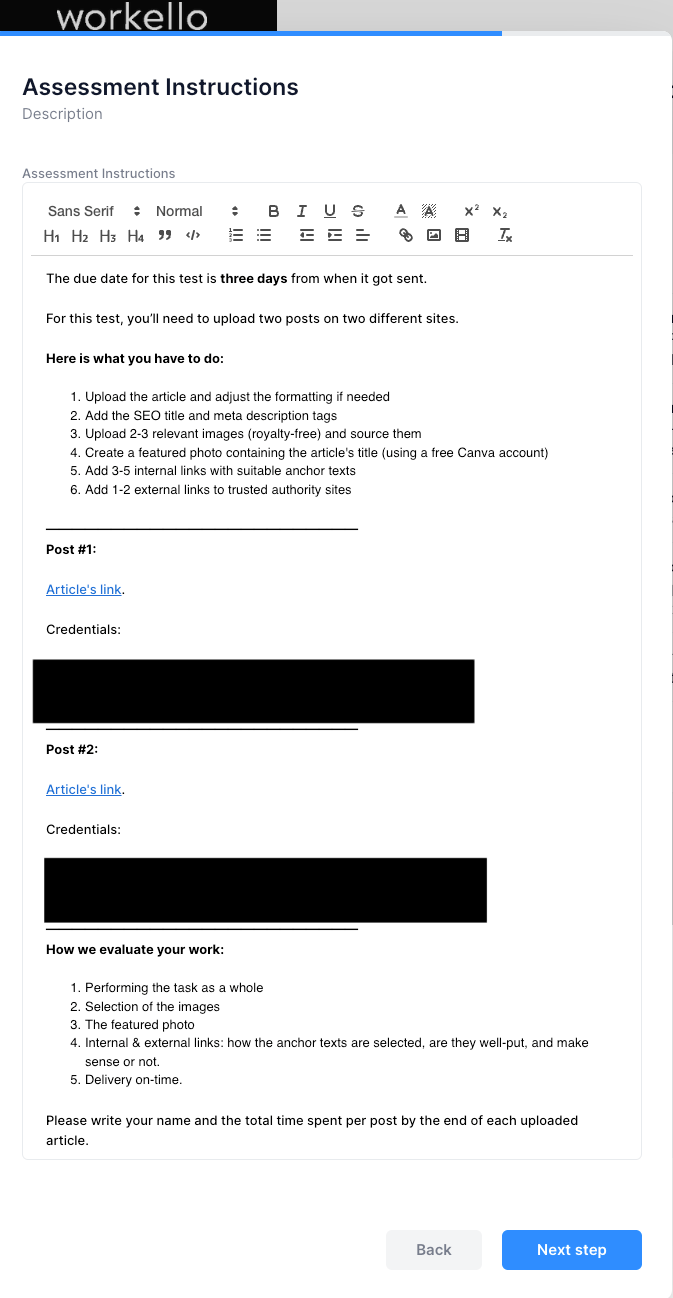 ✅

 Post your job ad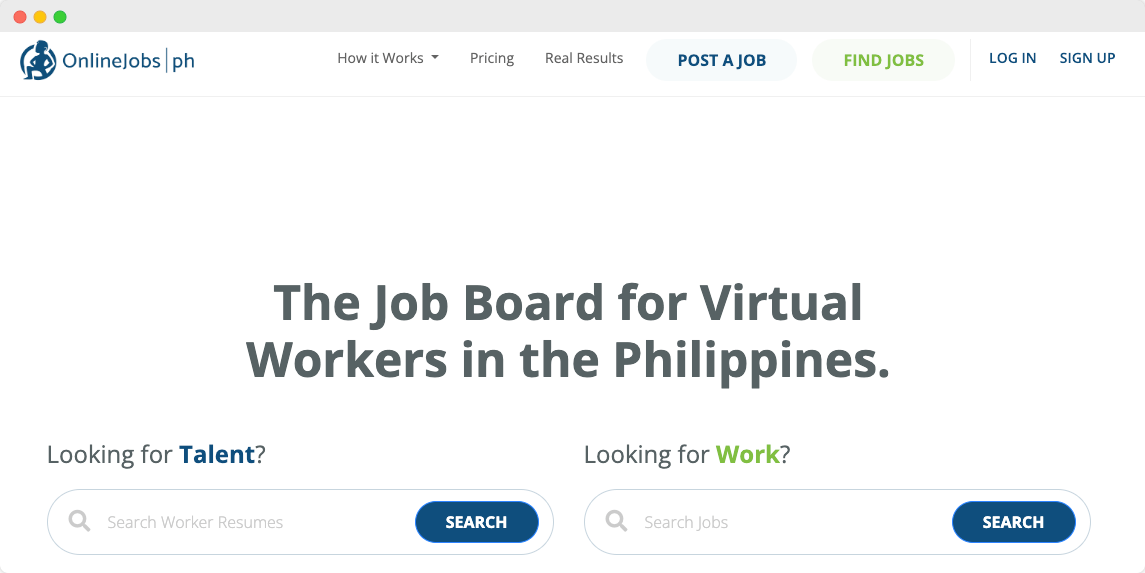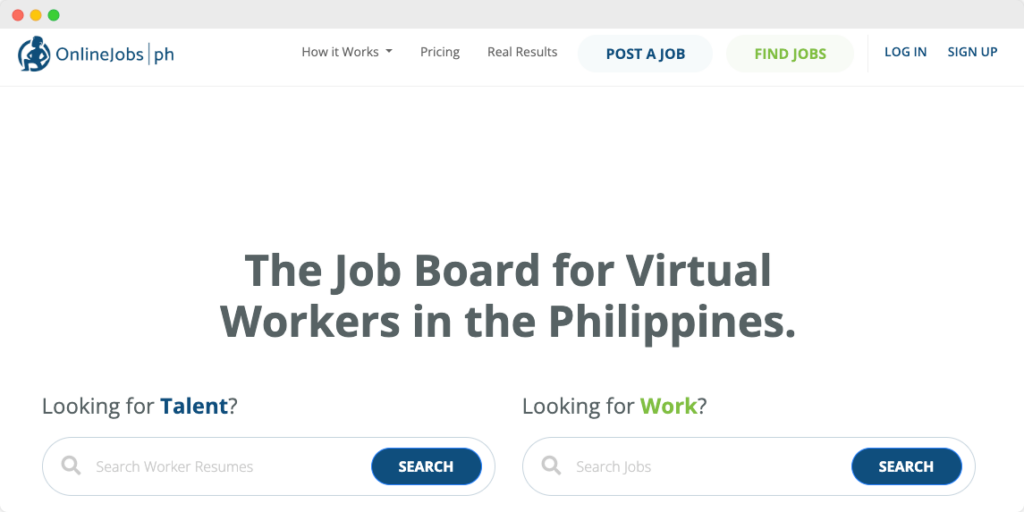 There is only one platform worth posting your job on.
Sign up
Pick the $69 plan
Post your job ad
Link to your Workello job application
The last step is really important.
If you forget, candidates will submit their application via OnlineJobs only. If that happens, candidates aren't sorted by their status, and moving them forward in your hiring process requires manual work and a lot of clicking.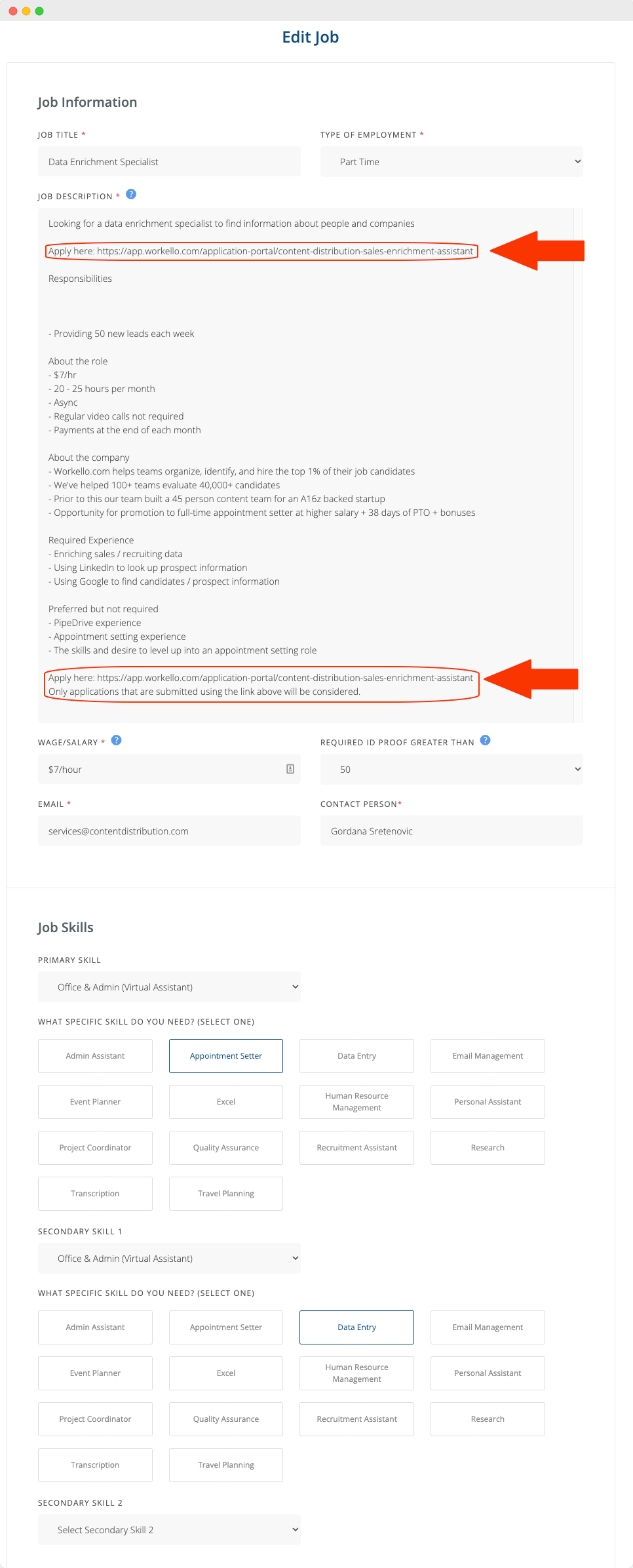 🔎

 Evaluating applicants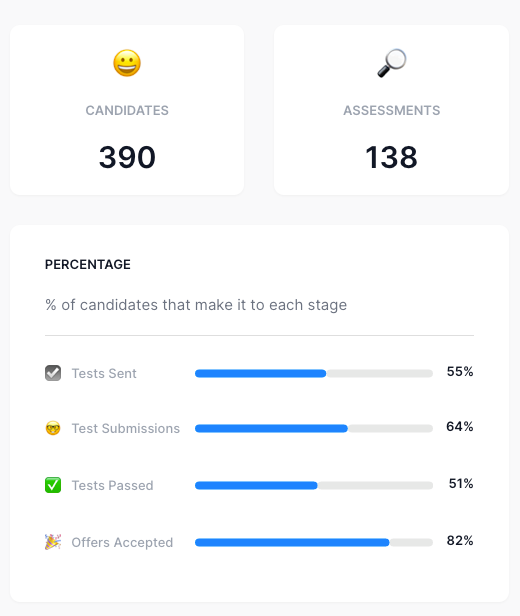 You should receive approximately 200 candidates from your OnlineJobs.ph job ad over the next 48-72 hours.
Take a break, focus on other work, and wait for candidates to roll in.
Once you're ready, log in and start filtering candidates.
Workello makes it super simple to move candidates to the next stage with 1-click.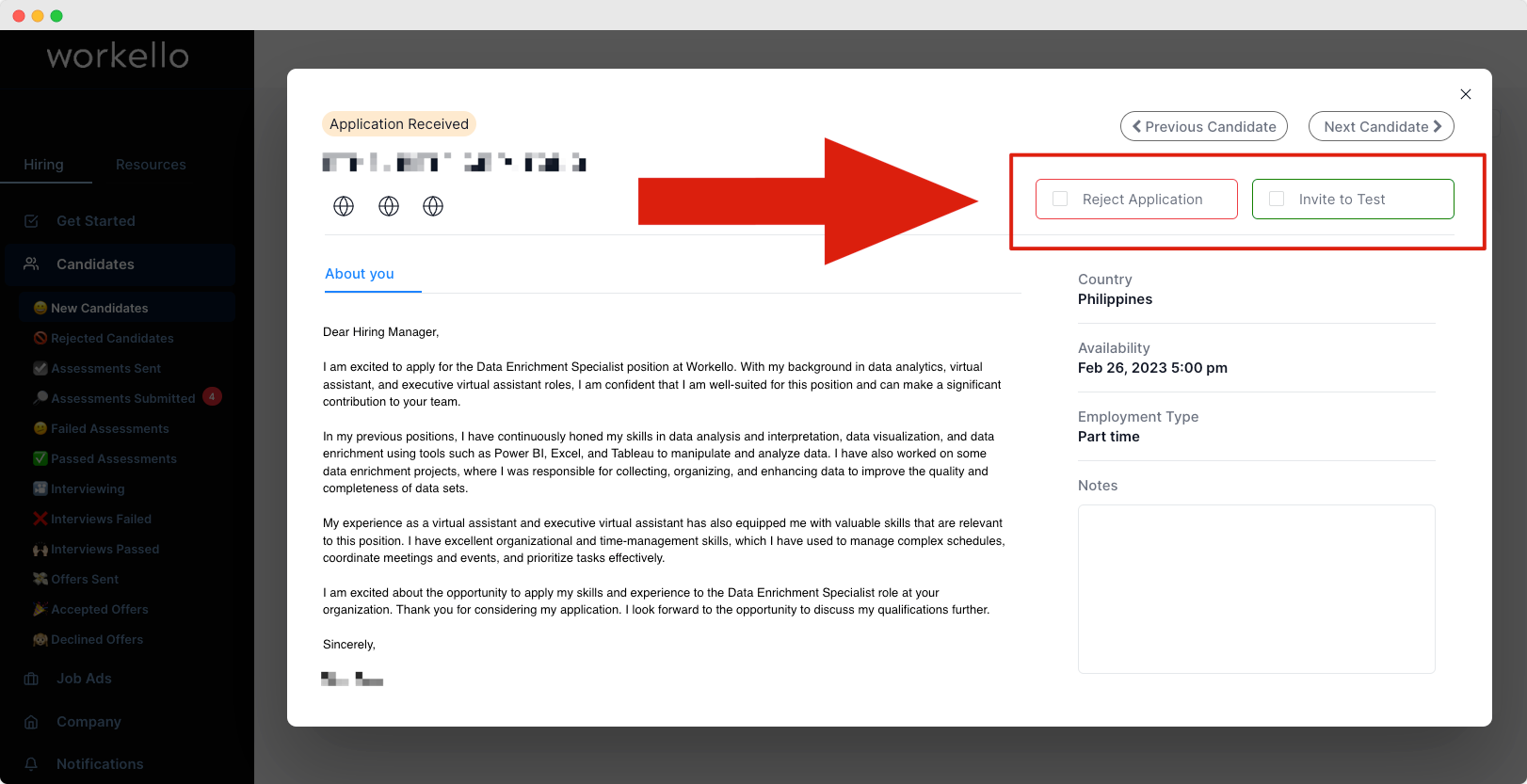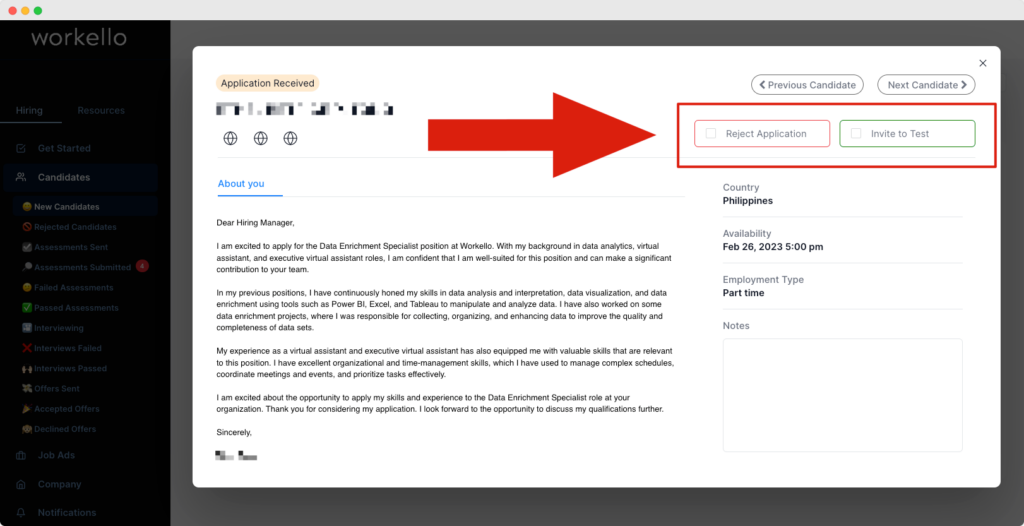 When you click reject, candidates receive a polite rejection email thanking them for their time and interest.
When you click 'Invite to Test,' candidates receive an email with a link to take the skills test you created earlier.
After each action, Workello will cycle to the next candidate enabling you to evaluate hundreds and hundreds of candidates in just a few minutes.

When we're evaluating new candidates, here's what we're looking for:
#1 Did the candidate include relevant information that aligns with the job description in their cover letter.
For example, if I'm looking for a lead generation specialist, I filter out candidates that don't include relevant lead generation experience in their cover letter.
#2 The second thing I am looking for is whether they've included a LinkedIn profile.
This is especially important if you're looking for a full-time role because lack of LinkedIn may indicate the candidate is 'over employed', AKA working multiple full-time jobs.
🏆

Skills test

After you run through the candidates that applied for your job, it's time to sit back and relax again while candidates receive and complete their skills test.

If you've deployed the Workello Botello Slack bot, you'll receive daily reports on new candidates and new skills tests waiting for your review.

Remember, everybody wants the best VAs, so the faster you can bring candidates through your hiring process, the more likely they'll still be available if you choose to advance them to the next stage.
Just like the previous step, every action is just 1-click away.
Fail — sends a polite rejection thanking them for their time and interest
Pass — holding status so you can 'shortlist' candidates before you decide who to interview
Invite to Interview — sends your Calendly for the candidate to book a time on your calendar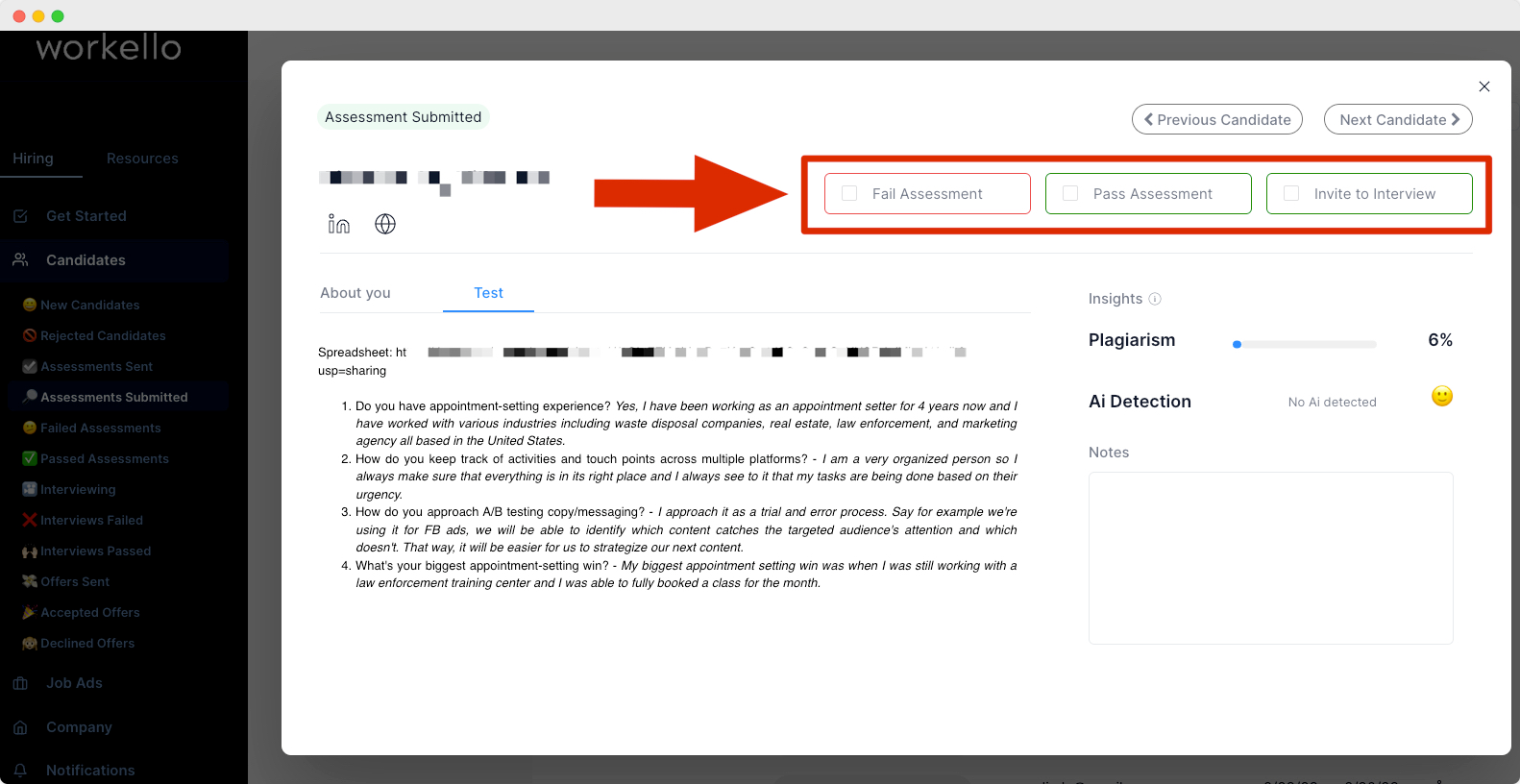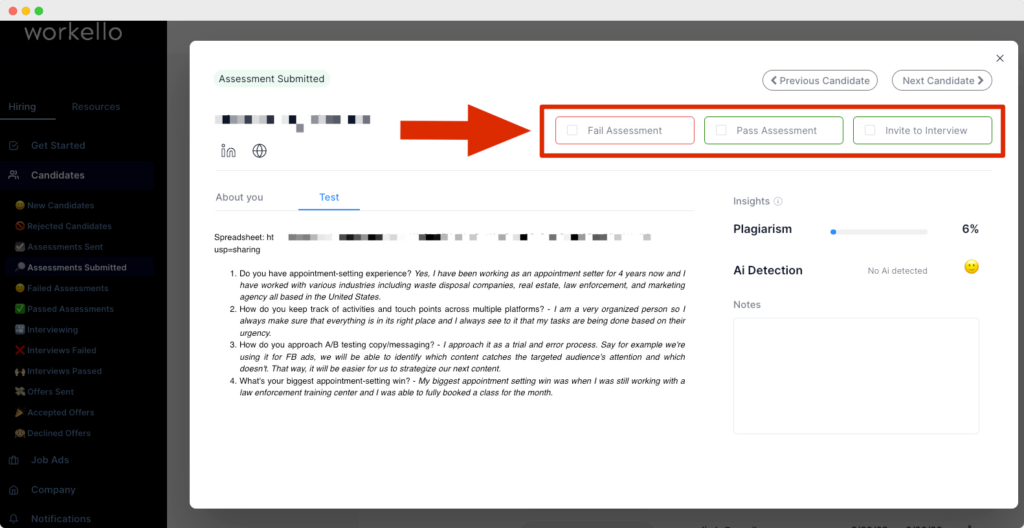 🤞 

Interview

If the role is important enough, you should run interviews.

If you need a VA to do one specific thing, and don't intend on any further increase in responsibilities, you might be able to skip the interview.

In the above examples, ContentWish could skip the interview for a WordPress uploader.

But Leadway Digital has a more complex task, and it seems likely that if they're successful here, there is additional work they could assume responsibility for.

In this case, I would interview the VA.

Here are some questions you can ask:

Reliability
Describe your work environment
What hours do you typically work?
Would you like to work specific days?
How is internet connectivity and electricity?
Do you have another job?
Do you plan on taking on other work?
How many personal days have you taken in the last 3 months?
If you need time off work, how would you communicate this?
Can you tell me about a situation where you saved the day by being proactive?
Professional goals
What kind of skills do you want to develop further?
What kind of work are you not interested in doing?
What does your ideal job / employer look like?
Do you participate in any communities or follow any thought leaders in our space?
What's the last skill you worked on improving outside of work, and how did you approach it?
Confirm the job requirements
Are you OK doing XYZ?
Are you OK with X hours per day / week / month?
Will you join and use our Slack channel?
We pay our team on X via Y. Is that OK for you?
If you need a personal day, you will XYZ, is this OK?
Sell the role
Finish the call by selling the candidate on why your the best possible place they could spend their career
Even if I'm unsure of whether I'll move a candidate forward, I will still sell
The first reason is interviewing is unnatural, and I want to get my reps in for when I'm infront of a candidate I really want to hire
The second is I would rather decline a candidate later then be declined by a great candidate because I didn't sell them on me.


🪜 Onboarding
The last step of a great hiring process is a great onboarding process.
Just like the more work you put into the job description and assessment will drive incrementally higher quality candidates, the more work you put into onboarding, the more likely your new team will succeed in their new role in your organization.
High level overview of their responsibilities

A Loom video walking through the end to end process

Point of contact emails and Slack channels to use for communication

Process for requesting time off

List of apps they'll use and what each app is for

Contextual details, if it's a sales role, a customer persona is helpful

Links to internal assets, projects, folders, etc

A checklist for the new team member to complete indicating they've consumed the required resources and have completed onboarding
🔥 Skills test all of your open roles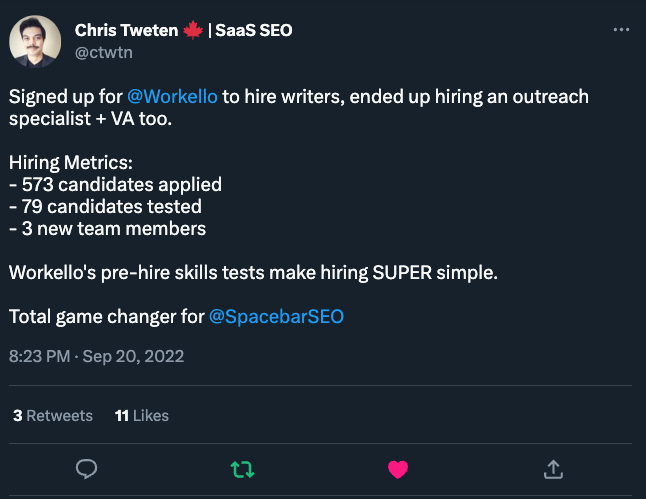 Pre-hire assessments correlate so strongly with post-hire performance once you start testing virtual assistants, you'll start testing all your open roles.