How to Hire Niche Writers
How to Hire Niche Writers
Workello is a pre-hire assessment platform that helps content teams filter through hundreds of candidates to identify and hire the top 1%.
Hiring Niche Content Writers
You know your niche better than anybody. And if you know that the content you need to create is difficult and requires specialized knowledge, you can't expect a generalist to create content at the level you know you need.
SaaS, Dev Ops, marketing, legal, healthcare, or whatever niche you're in, Workello can help you hire highly qualified writers in 99% less time. One of the four strategies in this playbook will work for you, guaranteed.
Interest based communities

Your community

Your email list

Direct outreach 
Use the sidebar on the left to skip to a specific hiring strategy.
Is hiring niche writers hard?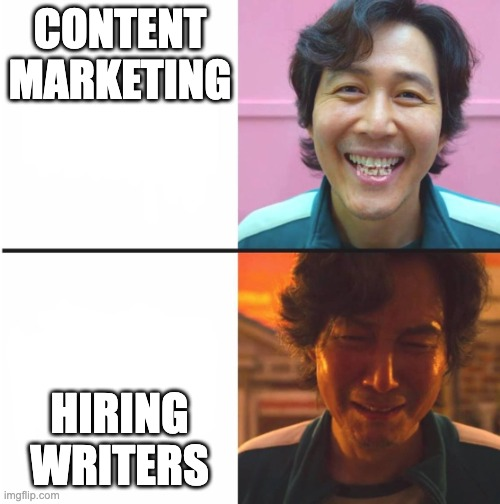 Hiring niche writers used to suck.
It's the worst part about your job.
The whole process is manual and chaotic.
It sucks so much, that you give up once you get a couple of dozen of candidates, and only test a handful.
So what happens is…
You don't hire the best possible writers you can afford.
You hire the best you could of the few you tested.
Then you spend too much time editing because their portfolio was way better than what they're submitting to you, and they inevitably resign or you terminate them.
Here's the deal.
Just like the #1 lever for faster SEO results is publishing more content, the #1 lever for hiring better niche writers is evaluating and testing more writing candidates.
That's it.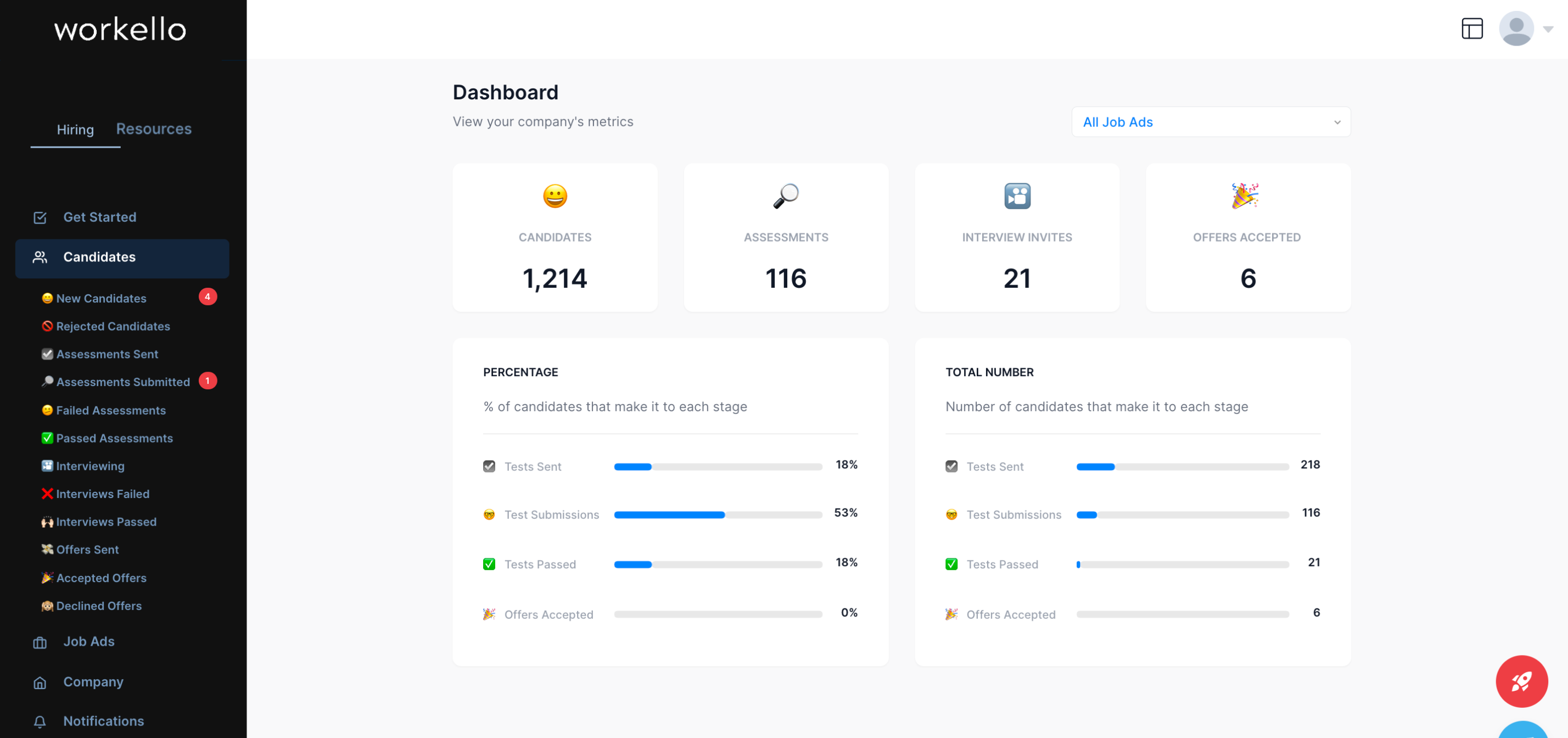 The law of big numbers means that if you put enough candidates into your funnel, you'll always end up with qualified candidates with the right mix of quality and price.
And Workello makes it easy to filter through hundreds of niche writing candidates to identify and hire the top 1%.
It takes approximately three minutes to deploy your hiring funnel in Workello because we've pre-written and pre-optimized everything for you based on our own experience hiring hundreds of writers.
Your job description is pre-written
Your pre-hire writing assessment is pre-written
Your candidate notification emails are pre-written
Everything is ready to go, so you can hire better writers ASAP.
3rd Party Communities
You know how your little cousin is a Minecraft enthusiast and could probably write a dissertation on it? Or how your dad talks your ear off about BBQs and carburetors every time you see him? 
Whatever industry or niche you're in, there are dozens, if not hundreds of communities filled with fanatics that would love to write for you.
If you're hiring a B2B SaaS writer, join all SaaS groups on Facebook and advertise your job there. Or, if you need to produce a lot of legal content, join a few dozen paralegal Facebook Groups.
Here's where you can find these communities:
Facebook Groups

Reddit subreddits 

Discord communities

Slack communities
A brand in the legal industry came to us looking for enough good writers to publish more than 1,000 pages of legal content.
Our recommendation? Facebook Groups.
Here's what that looks like.
Go to https://www.facebook.com/groups/search/groups
Type in a keyword related to your industry, in this case, 'paralegal'
The more ambitious you are, the more communities you should join
Wait a few days to a few weeks
Post your job ad
Here's how you can find paralegal communities on Facebook.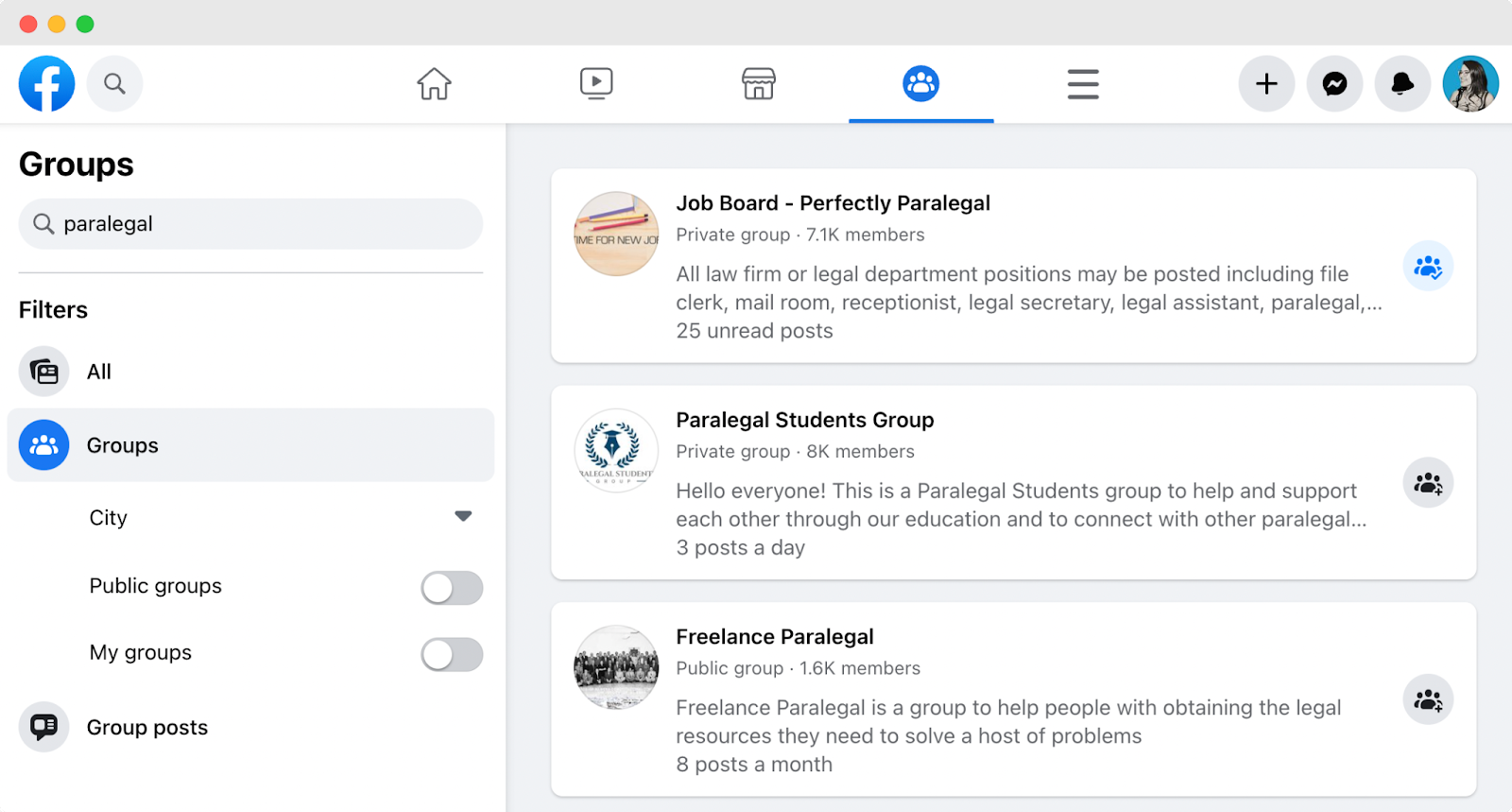 Some pro-tips:
The more ambitious you are, the more Facebook Groups you should join
Skip the generic "Hiring Writers' Facebook Groups — they are filled with terrible writers (except Copywriting Jobs)
Don't link to your Workello job ad in the post, yet. External links reduce visibility in the newsfeed.
Return to the post 24 hours later after it's had a chance to accumulate reach, and respond to each commenter with a link to your Workello application.
Check your 'Other' inbox on Facebook and reply to anyone who DM'd you with a link to your Workello application.
Outsource this process to your virtual assistant. Joining all the groups and posting jobs takes time, and your VA will do a much better job if they are focused only on this instead of everything else you have to do to run your business.
Job ad and test
The job ad this company created was based on the template we provide to all Workello users. They took Workello's pre-written template and spent a couple of minutes editing it to align with their brand and the exact type of writer they are looking for.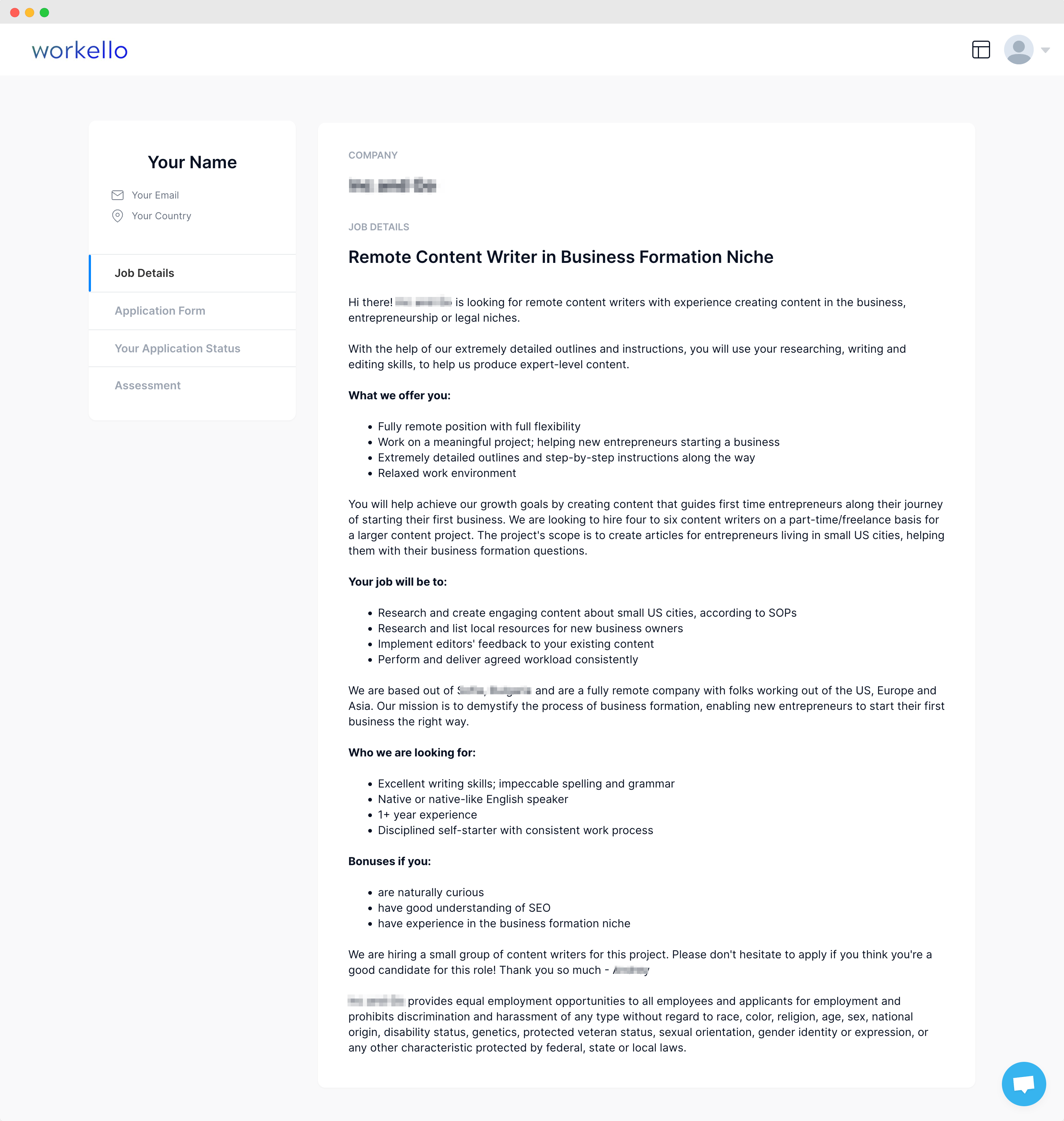 The pre-hire writing assessment they used was also based on the pre-written Workello template, aligned to their brand and the legal industry.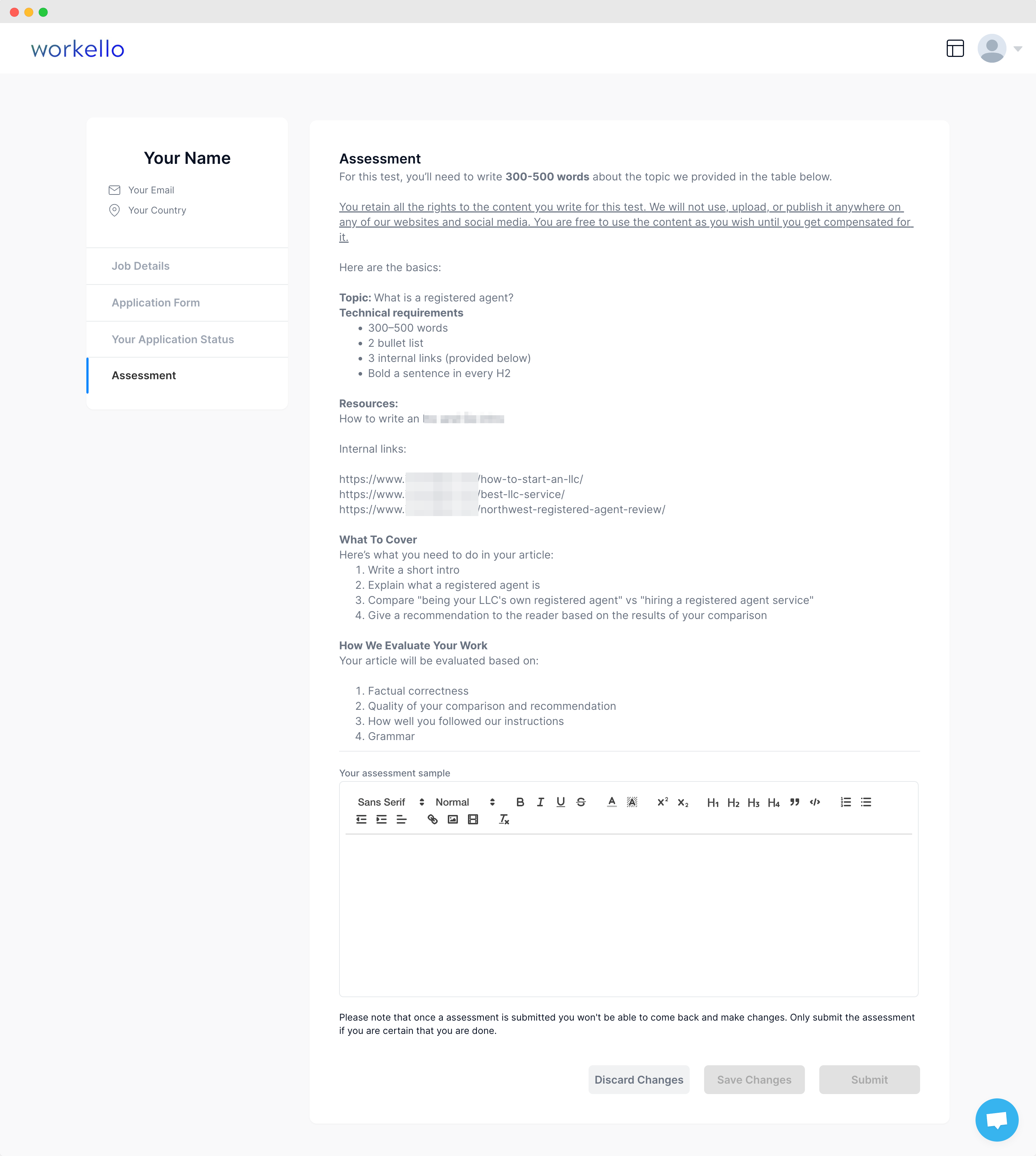 Results?
Insane.

A little less than half of their 571 candidates were invited to take their pre-hire writing assessment.
And 41% of candidates invited to take a writing test submitted a completed test.
Want a pro-tip?
Niche writers can be expensive because you compete with this person's day job.
The higher paid their day job is, the more you need to pay them to write content.
So when recruiting experts in highly paid niches, look for the lowest-paid role in that profession.
Health content? Don't recruit doctors and nurses. Recruit nursing assistants.
Legal? Don't recruit lawyers. Recruit paralegals.
Dev Ops? Don't recruit senior developers. Recruit QA engineers and bootcamp grads.
It's a win/win.
You can match or exceed their compensation at their day job and get the level of expertise you need to create great, high-performing content.
Your Community
Copy.ai is the #1 AI writing tool, and their philosophy is that AI writing tools enhance writer productivity, not replace it.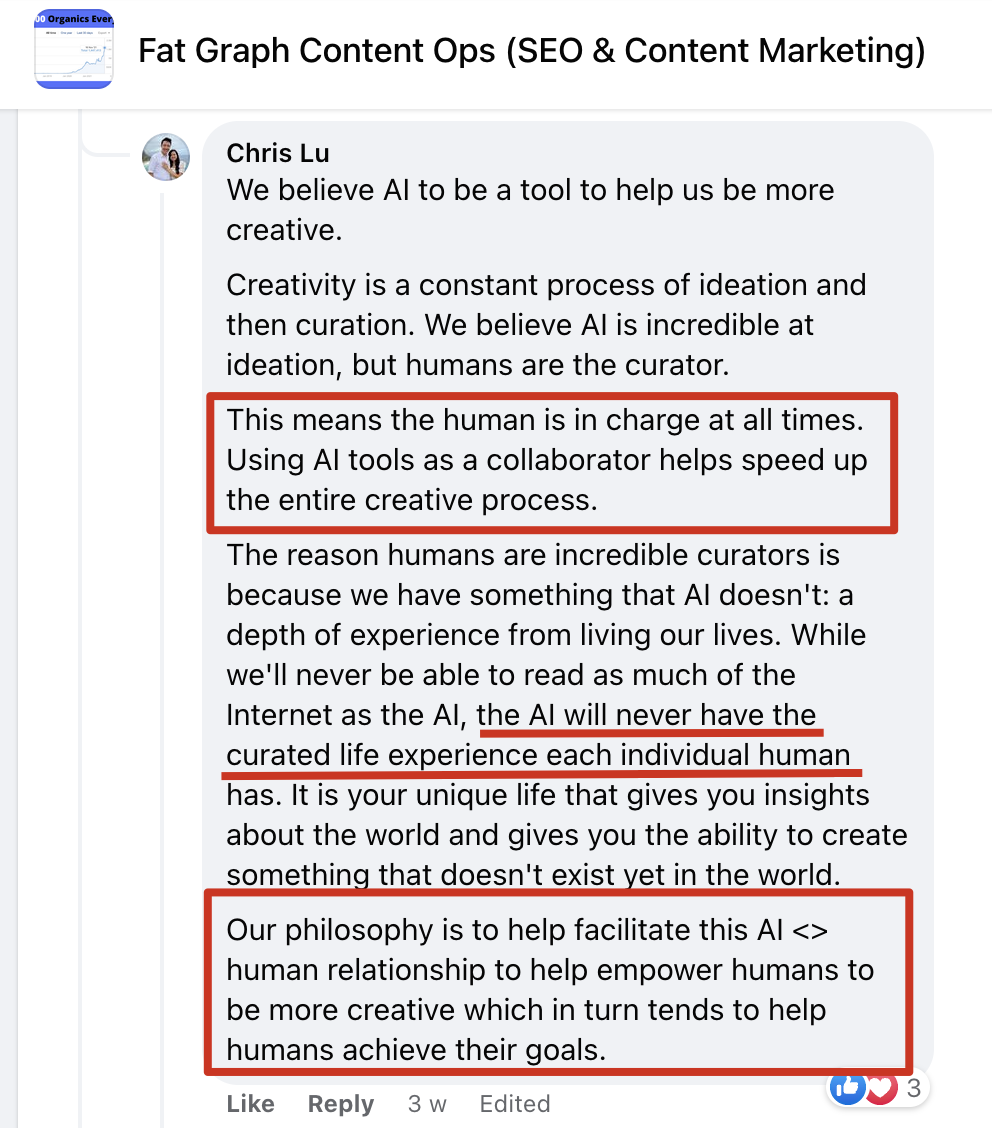 CopyAI has raised $13.9m, has 36 employees, and already uses an applicant tracking system (ATS).
The problem?
Their ATS didn't have assessment capabilities.
And if you've ever hired writers, you know that more often than not, the portfolio content that candidates submit with their application doesn't match what they'll write for you.
So, Copy.ai signed up for Workello for our pre-hire assessment capability and recruited niche writers from their community.
Here's what that looked like.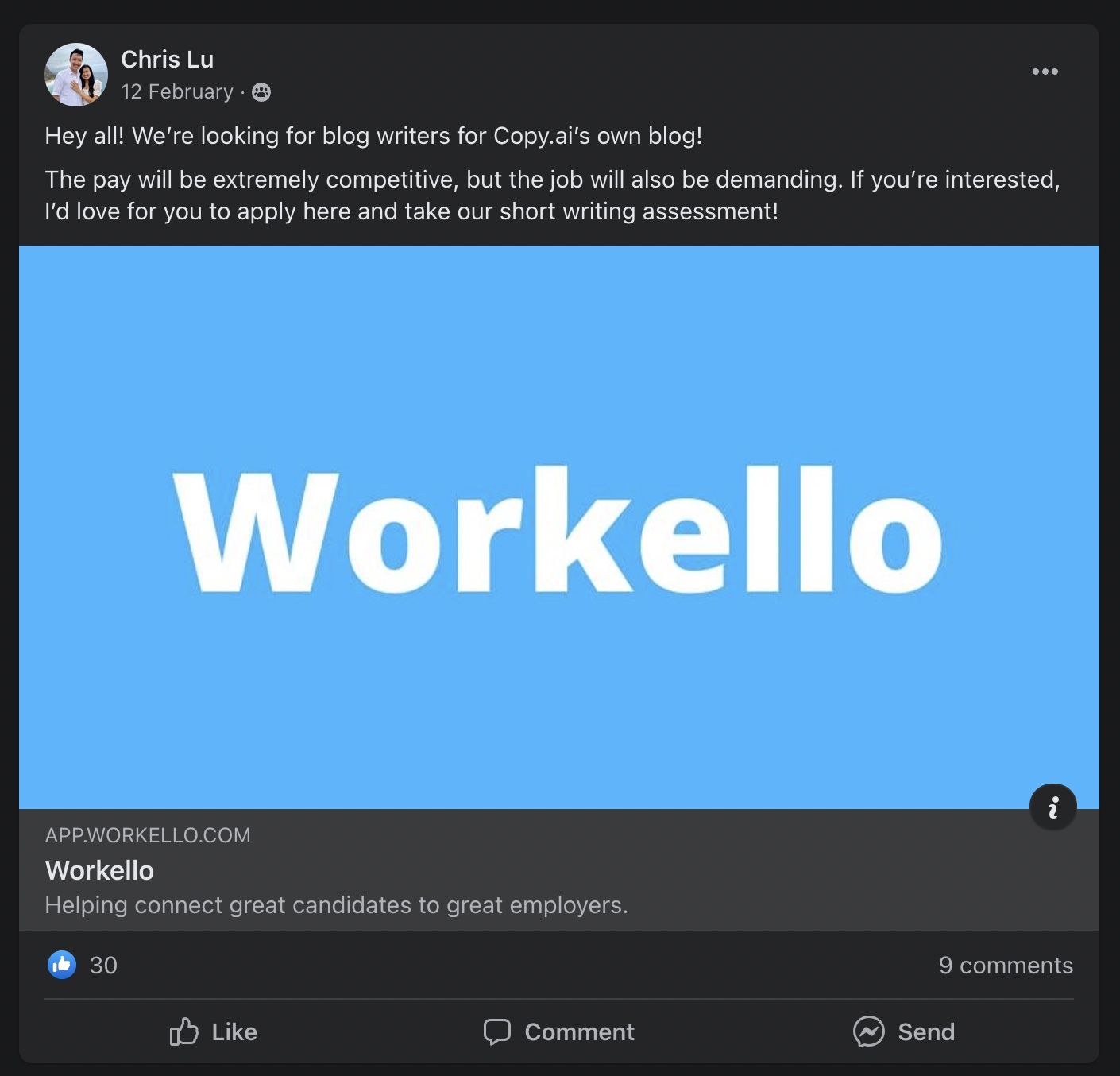 The results?
Crazy good.
Check out the CopyAi case study.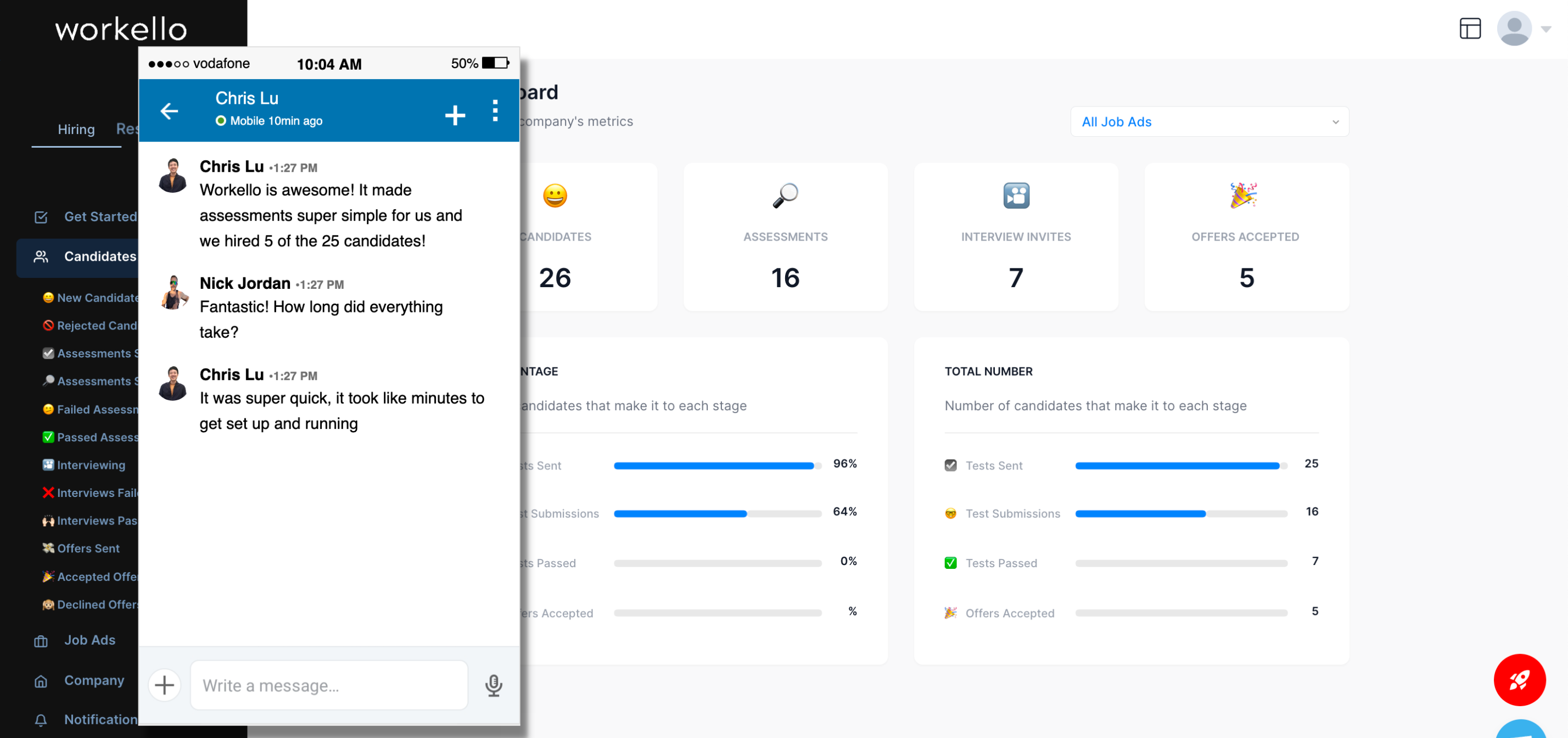 Your Email List
If you run a business, chances are — you have an email list. If you're an e-commerce company, chances are you have tens of thousands of customer emails.
And if you're looking for niche-specific writers, this is your goldmine.
A niche sports equipment manufacturer came to us looking for writers that have played it before.
(I wasn't kidding when I said niche. The sport in question is pickleball. Never heard of it before.)
And we had a lightbulb moment.
"Send an email to your customer list and ask if anyone wants to write for you. You guys are a premium manufacturer, and your customers are some of the most passionate people in this sport. It's not even about the compensation, writing for you is a status thing."
The job ad and writing assessment
Workello is pre-optimized to help you get up and running ASAP. 
Pre-written job description
Pre-written writing assessment
Pre-written candidate notifications
This. e-commerce brand took our default templates and spent a few minutes aligning the copy with their brand.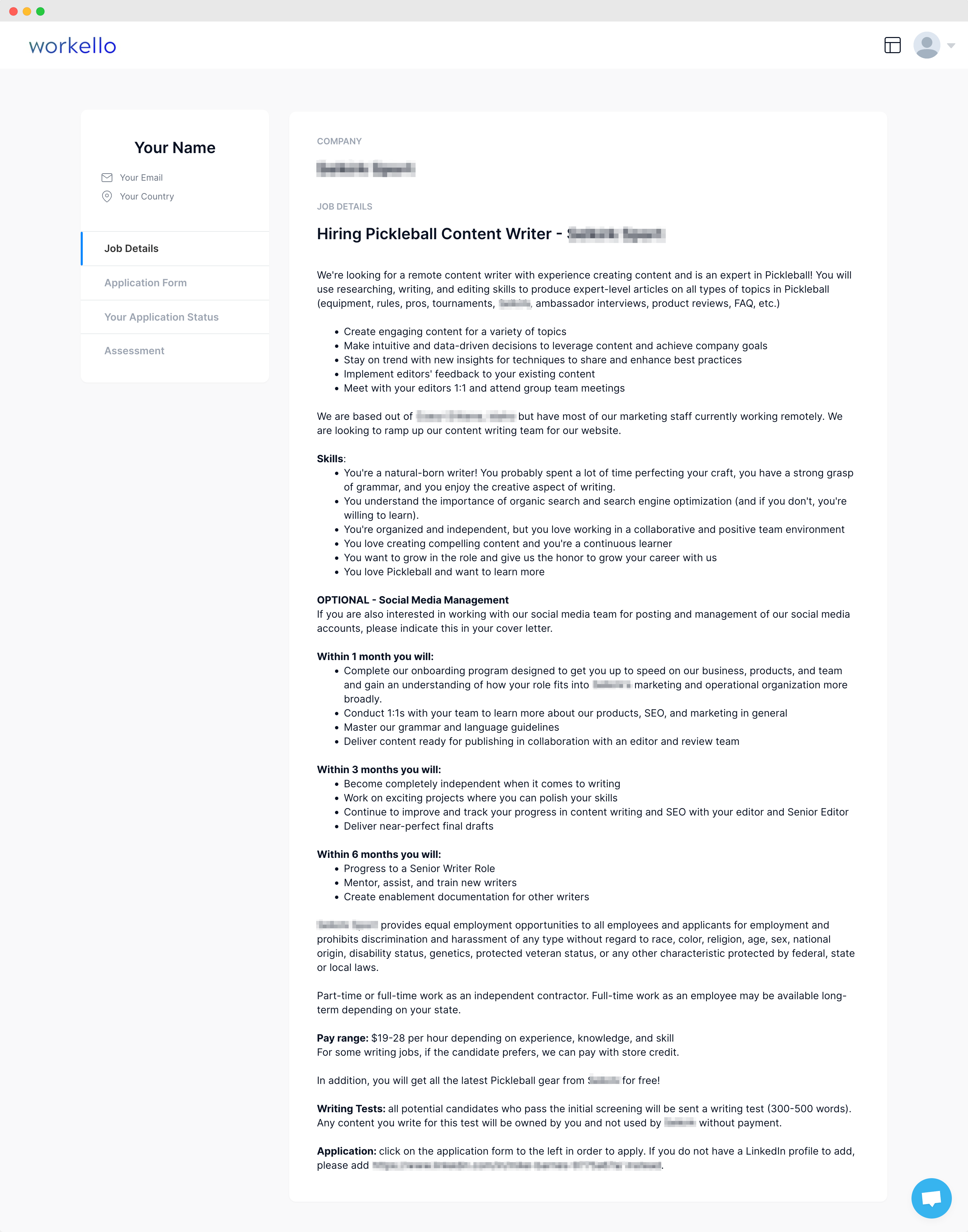 The assessment task they created was also built on the provided template in Workello. They added their keywords and internal links, and additional instructions for the writers.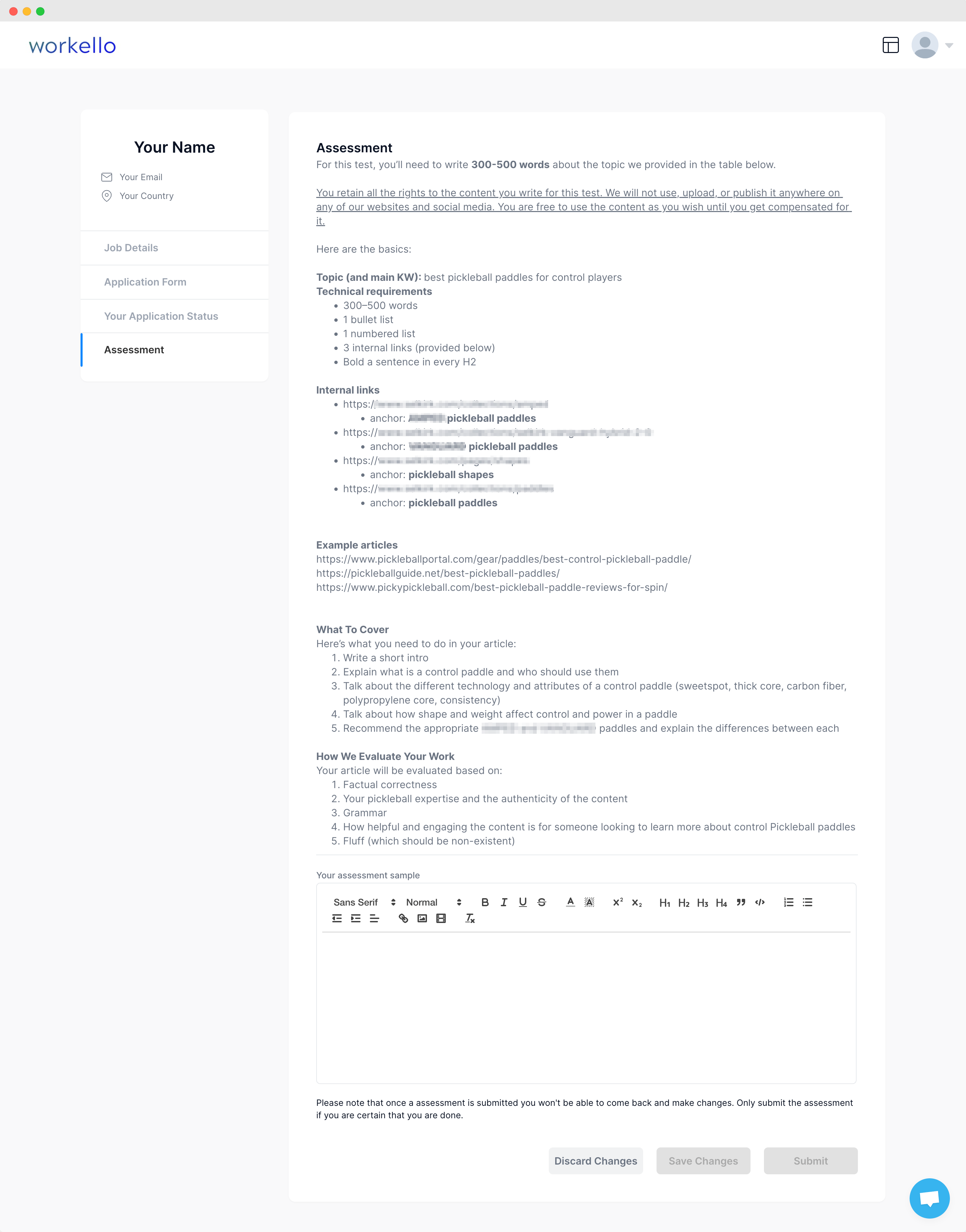 Results
It worked, incredibly well.

They received 94 candidates. If you ever hired writers, you know that this number is not that large. But if you ever hired niche writers, you know that this number is incredible.
They invited 74 candidates to their pre-hire assessment test, meaning only 20 candidates didn't pass the initial screening.
Of the 74 candidates that were invited to the pre-hire assessment, 50 sent in a completed test.
And 19 candidates passed.
If you've ever hired writers before, you know this almost never happens.
It typically takes hundreds and hundreds of candidates to get 19 qualified candidates.
Why was this e-commerce brand's hiring cycle perform so well?
Because there's nobody more passionate about the industry you're in than your customers.
When you're recruiting from your community it's incredibly important that you provide an excellent experience to your most loyal customers — and that's exactly what Workello does.

Competitor Outreach
A developer SaaS came to us looking for writers with QA experience. Here's how they found more qualified writers than they could manage.
No matter how unique or difficult your niche is, I guarantee you that you have competitors. And those competitors have blogs.
That's exactly what this brand did.
They identified a handful of the biggest competitors in their space.
They used Ahrefs to look up their competitor's top pages, then filtered by "Author".
And discovered every single writer that had ever contributed content to their competitor's blog.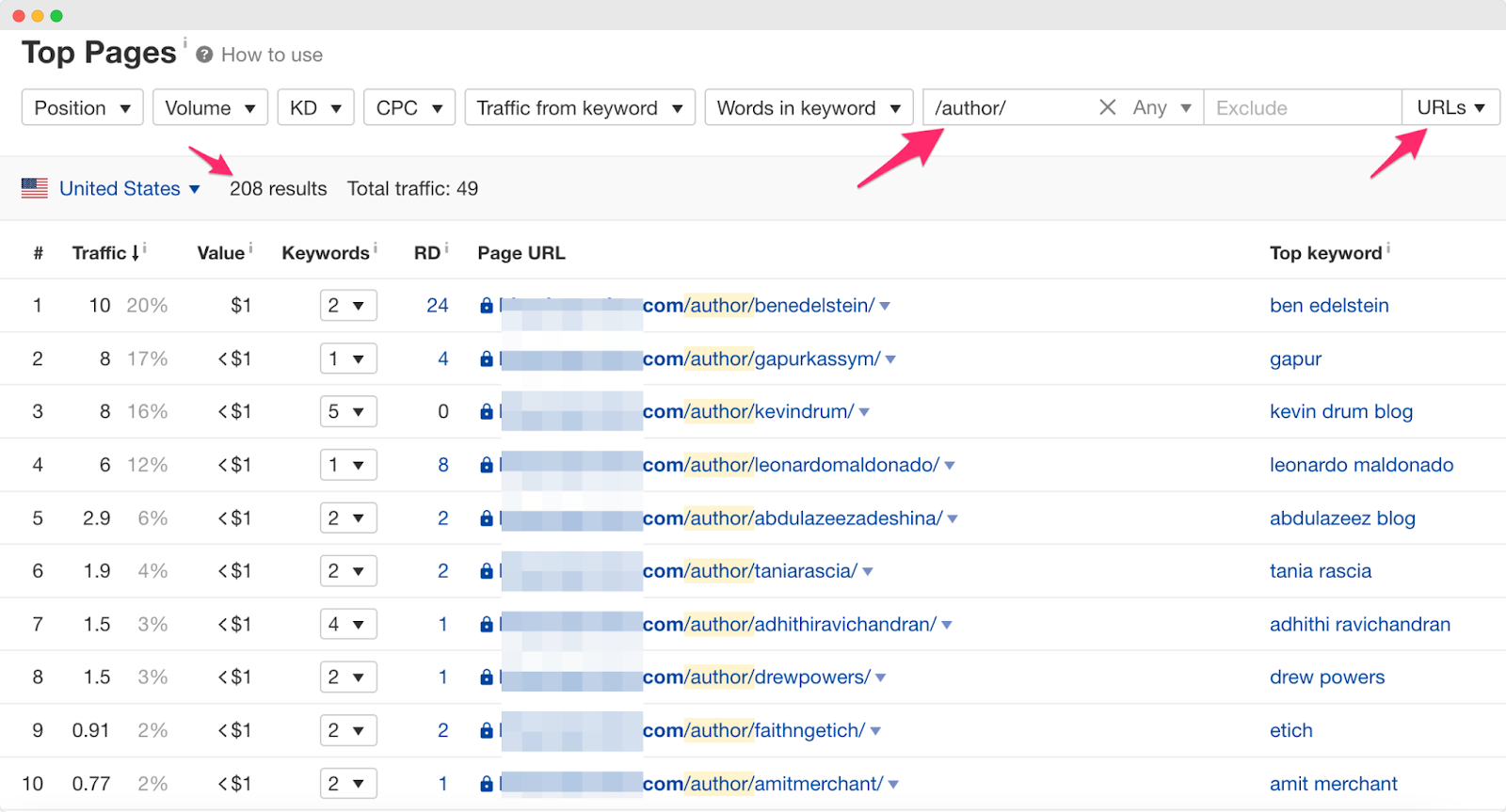 Then they exported the results from Ahrefs into a Google sheet.
If you're lucky, every author has an email, Twitter, and LinkedIn profile in their bio.
But you're not always lucky.
The author profiles didn't have contact information, so they handed the process off to a virtual assistant to Google "[Author name] QA/writer/freelancer LinkedIn".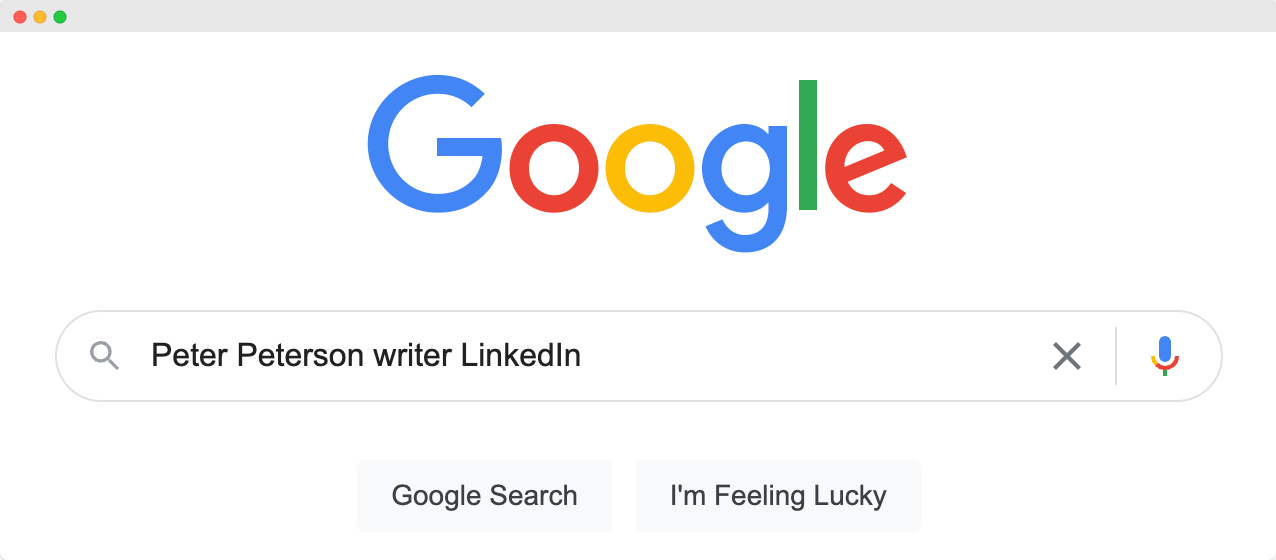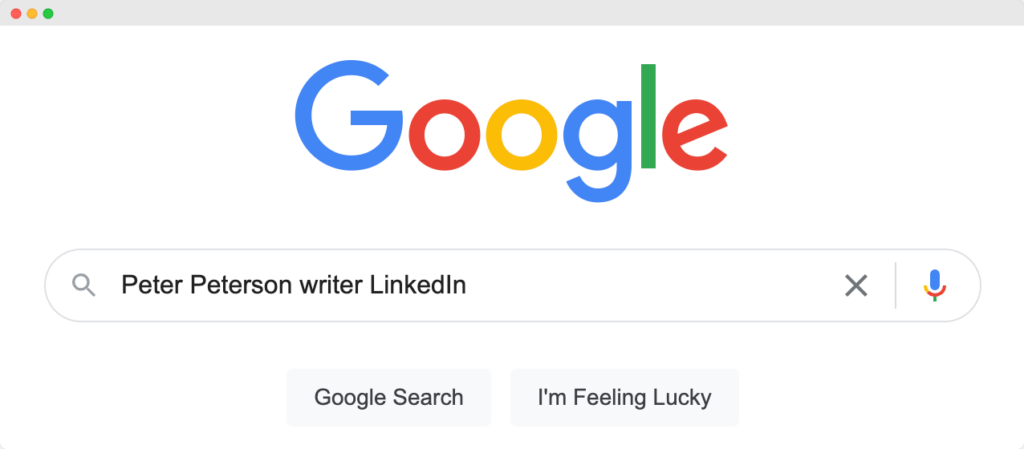 Then the virtual assistant tracked down the correct profile and added them to the spreadsheet. Any time their VA couldn't find the author's LinkedIn profile, they called it out so the brand knew that the VA had looked but couldn't find anything.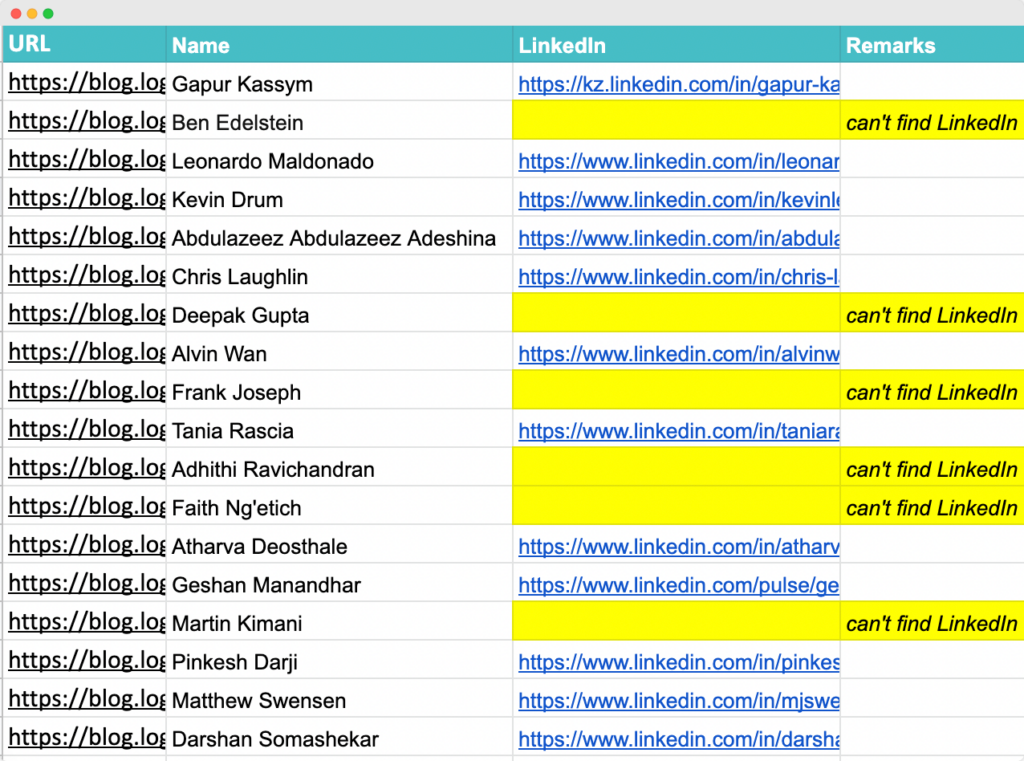 Write a good job ad
Good writers want to work for good companies, and your job ad is your #1 resource for communicating how cool your brand is.
The cooler your brand is, the better candidates you'll ultimately hire. 
Workello's job ad templates are pre-optimized to make you sound like the best place a writer could possibly spend their career.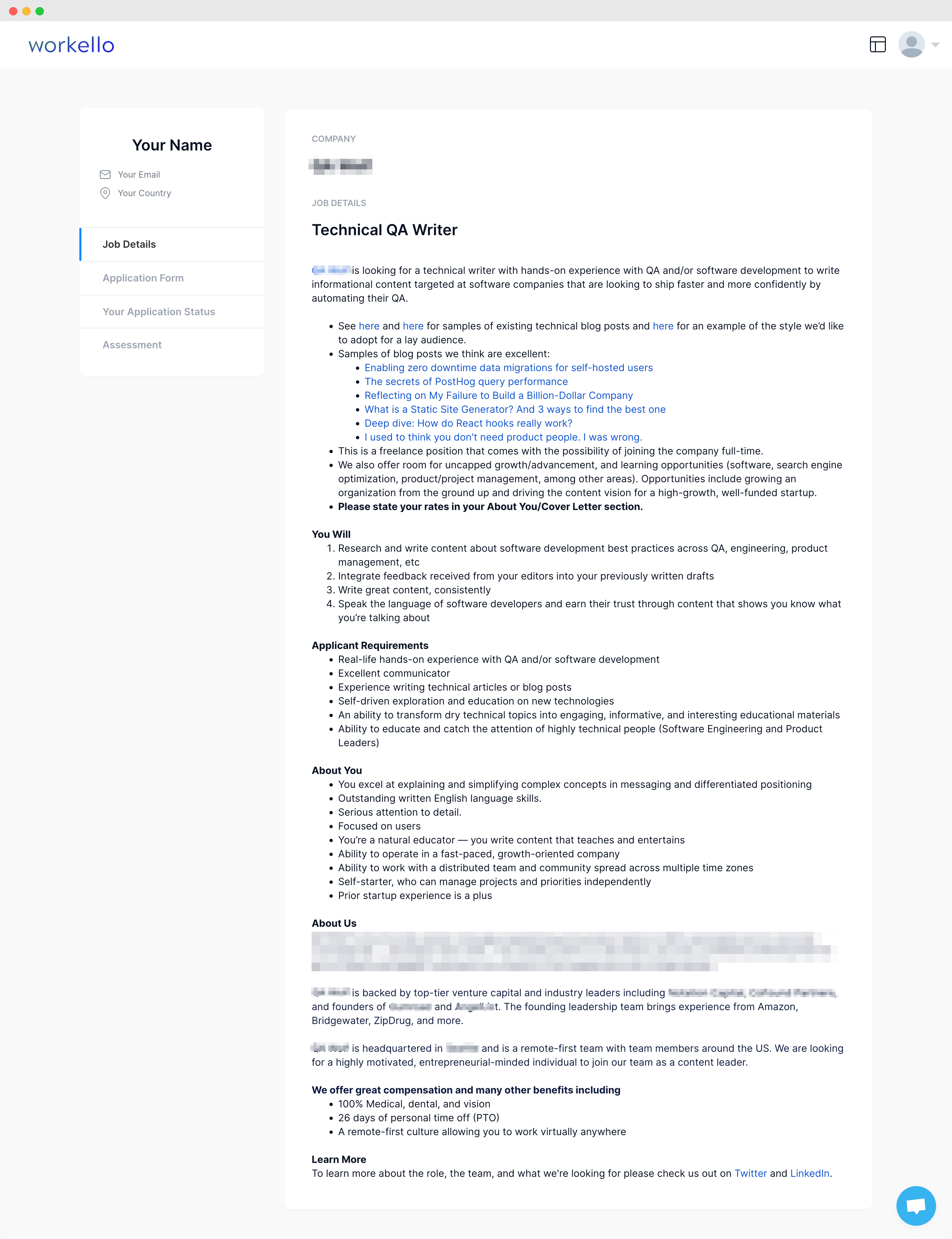 The job ad was a perfect balance of information and benefits for the writer, and it was designed to attract the most ambitious candidates who want to grow their careers with this Dev Ops SaaS startup.
The results

They received 69 candidates and invited about half to take the test, and of that half, exactly 50% sent the test back. Then, all that they had to do is evaluate the tests and hire the best person for the job.
Let's talk about the test for a minute. Traditionally, when you hire writers, you mostly look at their portfolios and decide if they are a good fit for you based on them. The issue is that portfolio content is live content. Editors often make significant changes or even rewrite entire paragraphs to make sure that they publish the best content they can. This is fine, but it means that sometimes portfolios are not accurate representations of your candidate's skills.
The assessment that this developer SaaS opted for was also slightly less traditional than your usual writing test. Instead of giving the writers a keyword and some instructions on how to structure their test article, they wanted to test their level of knowledge in the QA industry. This is a fantastic strategy for assessing your niche writers' real skills.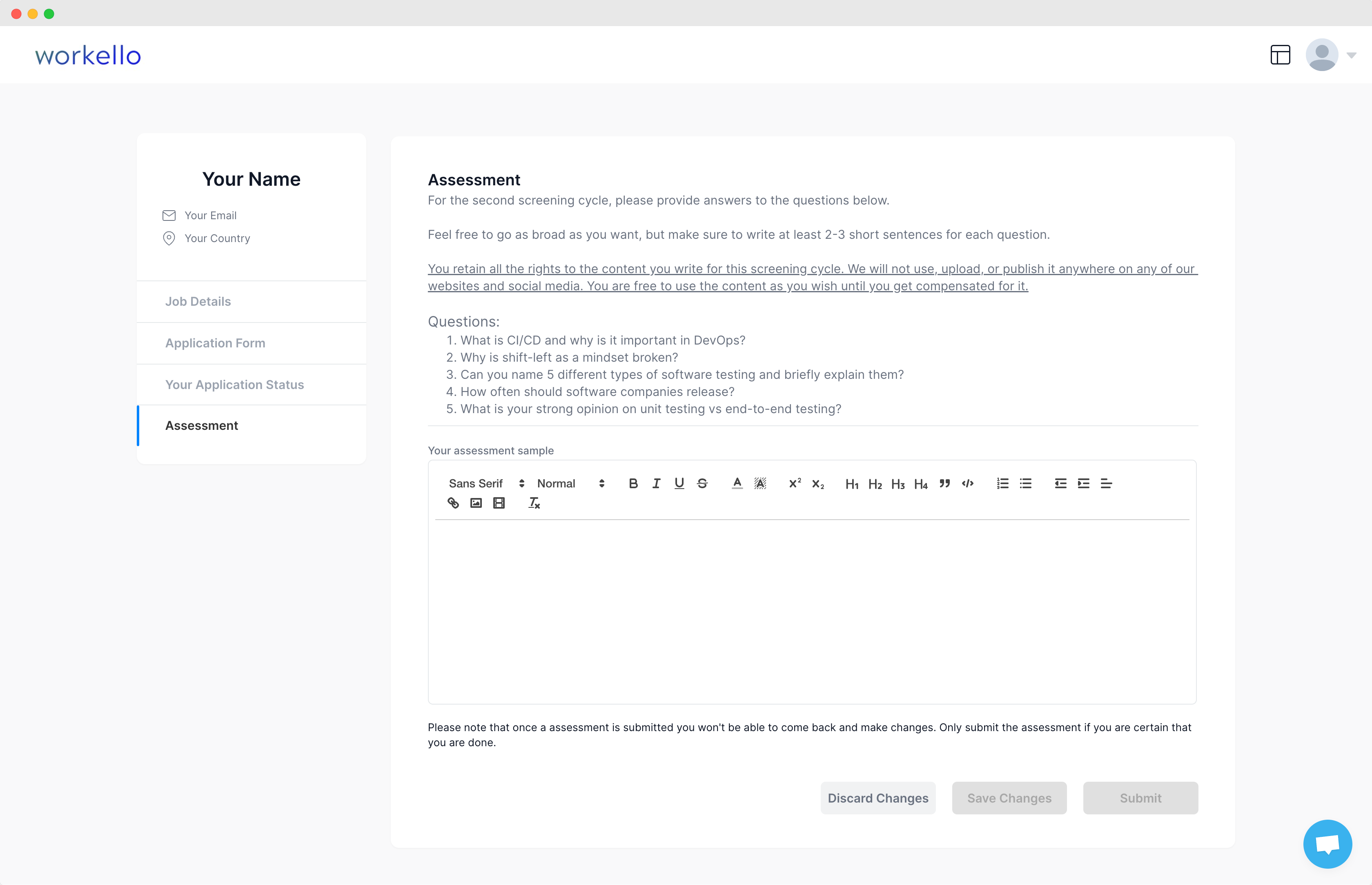 They sent four offers to five fantastic writers that they never could've found if they stuck with the traditional approach. They could assess their candidates' QA and content writing skills and truly hire the best person for the job.
Automate Everything

If you made it this far — congratulations. You're probably 10 steps ahead of your competitors. But let's not forget that hiring niche writers is hard.
It's manual.

It's time-consuming.

And you need to run your business.
So let's automate this.
Workello has helped content teams filter through more than 10,000 writing candidates to find and hire the top 1%.
Getting started is easy – because everything is pre-optimized, you can start driving candidates into your hiring funnel ASAP.
Sign up for

Workello

Distribute your application link

Watch candidates stream into your Workello dashboard

Send pre-hire assessments to candidates in one-click
Spend less time finding great writers and more time on revenue-generating activities.
If you have questions, book a call.
And if you want to see how other teams used Workello to hire writers, check out the video below and read our case studies from Workello users who hired video editors, SaaS writers, and see how startups hire content teams.
Hiring other roles?
Workello is perfect for any role that requires any kind of assessment that is writing-related.
Get more playbooks
Fat Graph Content Ops Community: Join 6,000+ systems-focused content marketers and SEOs, and catch weekly AMAs with marketers from brands like Shopify, Intercom, Quora, Coinbase, and more.
How a 45-Person Content Agency Hires Writers: We spent 1,000+ hours automating our hiring funnel so you can copy us in 3 minutes.
How to publish 100+ pages per month: Systems, processes, and team to scale to hundreds of pages of good quality content, every single month.
How to get 200+ candidates in 72 hours: Don't need niche writers? See our playbook for hiring generalist content writers.
Hear from Workello Customers