RedSwitches is a global hosting provider that specializes in offering Dedicated Servers, Infrastructure As a Service, Managed Solutions, and Smart Servers in 20 global locations. Backed by the latest hardware and premium networks, they serve clients worldwide with their top-tier services. However, like every growing company, they faced challenges, especially when it came to hiring niche content writers.
The Challenge
Nidhi Heda, the experienced HR manager at Redswitches, is responsible for the entire spectrum of recruitment at the company. With over five years in the field, she has always used platforms like LinkedIn and the Naukri portal for recruitment. But when it came to hiring content writers specifically, these platforms often provided a flood of candidates that weren't necessarily a right fit. Candidates would frequently apply after only a cursory glance at the job description, making sifting through applications time-consuming and less efficient.
The Hiring Process
Hiring playbook used: Hiring Niche Writers
After discovering Workello, Nidhi found the solution she was looking for. Instead of manually screening countless applications, Workello provided her with tools to target the right audience and find relevant candidates efficiently. The system also allowed her to assess the candidates, ensuring a smoother hiring process that benefitted both Redswitches and the applicants.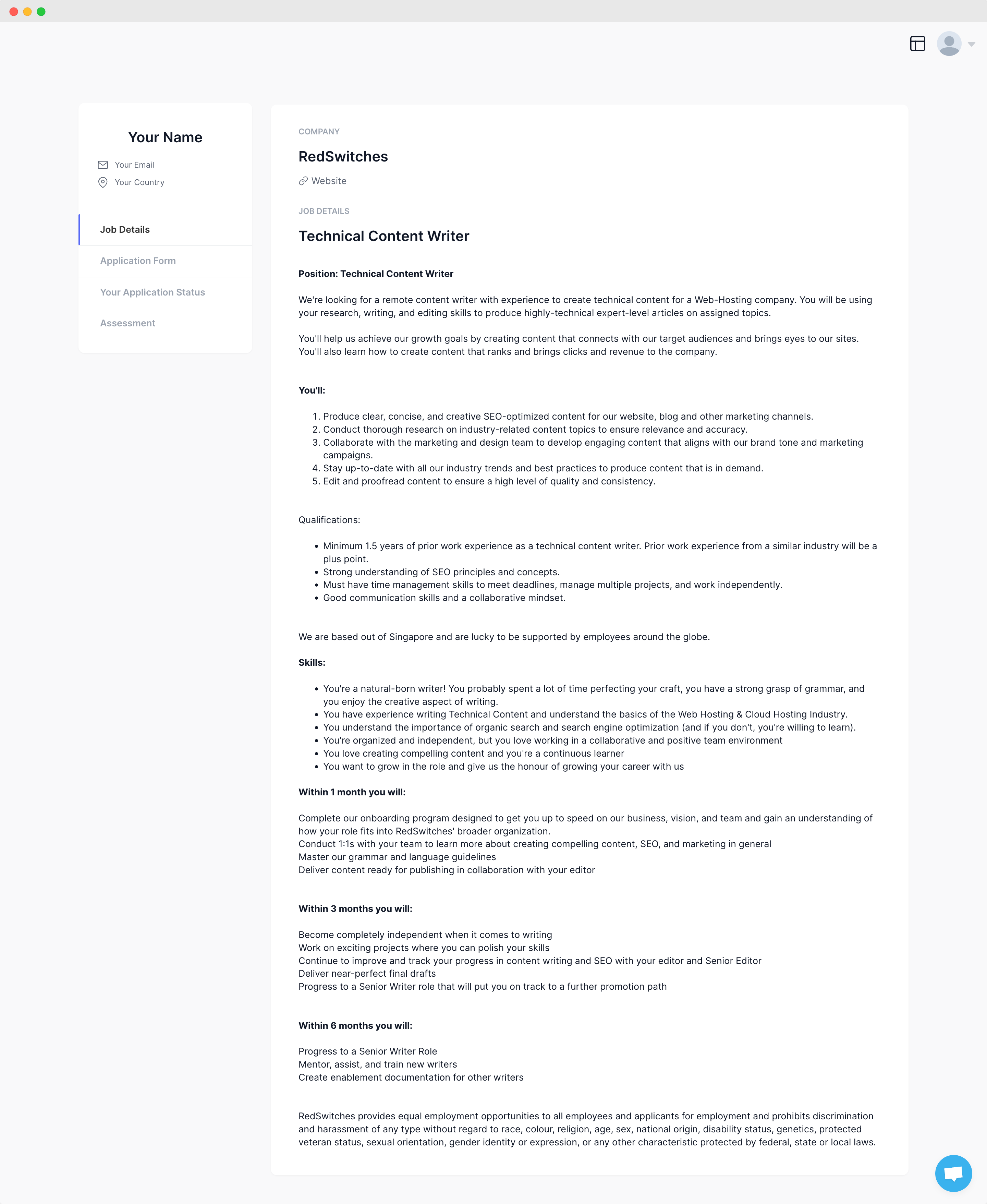 This streamlined approach, combined with the straightforward UI of Workello, enabled Redswitches to hire 12 content writers in just one month. Of these, nine writers have been continuously working with the company for over six months, further attesting to the quality of hires they could get using Workello.
Why Redswitches Chose Workello
When asked about her experience, Nidhi Heda highlighted the relevancy of the candidates as a primary reason for preferring Workello over other platforms. She emphasized the benefit of Workello's system, which filters out candidates who might apply impulsively without a thorough understanding of the job requirements. This significantly reduced the time spent on screening applications. Furthermore, Nidhi appreciated how Workello allowed for broader exposure to their job postings. Redswitches received a surge in applications, further enhancing their chances of finding the perfect fit for their company.
Nidhi's positive experience with Workello has made her an advocate for the platform, especially for hiring content writers and editors. "It helped me a lot and made my life easier," she shared, expressing her intent to recommend Workello to peers in the industry. If you're looking to elevate your hiring process and hire highly qualified team members like Redswitches, sign up for Workello today.