Stack Against creates comparison pages for SaaS companies and helps them attract more leads, get more customers, and generate more signups. Founded by Federico Jorge, Stack Against has worked with some big names such as Jasper (formerly Jarvis), FreshBooks, Signaturely, ProcessKit, Cloudways, and Document360.
As you can imagine, creating comparison pages is not easy. A writer needs to be well-versed in the world of SaaS and know how to create actionable content that can help their readers make some pretty important decisions. However, finding and hiring those writers was not easy.
Hiring woes before Workello
"Hiring writers is really a pain," says Federico Jorge, the founder of Stack Against. "Trusting them that the portfolio samples they sent are truly theirs and also wondering what they look like without any editing takes a big toll and a lot of my time."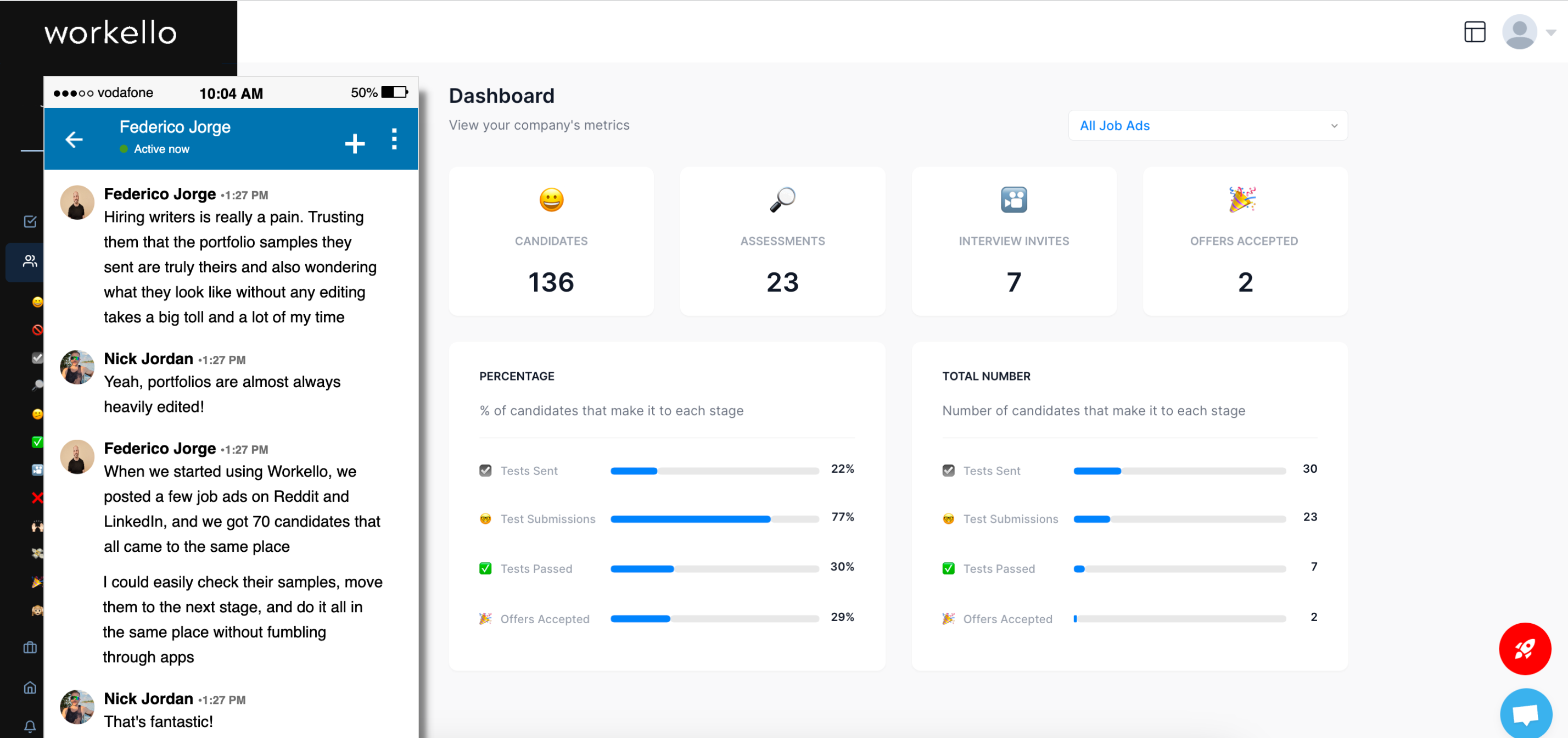 Federico tried to find writers in many places. He reached out to his network and used writer marketplaces and social media, but all the candidates were coming from different places, with unstructured applications, and it was a nightmare to keep up with. He kept a spreadsheet of all the candidates, but spreadsheets are not ATS', and they need a lot of manual labor to keep up to date and useful.
The hiring process
Hiring playbook used: Hiring Niche Writers
The Stack Against team created a job description based on Workello's pre-optimized template designed to attract the highest number of qualified candidates looking for long-term engagements. They provided a lot of insight into the work they do and very clearly explained what their candidates will be expected to write about if they get hired. They also listed the benefits of working with them, clearly stated the compensation, and crafted a list of responsibilities.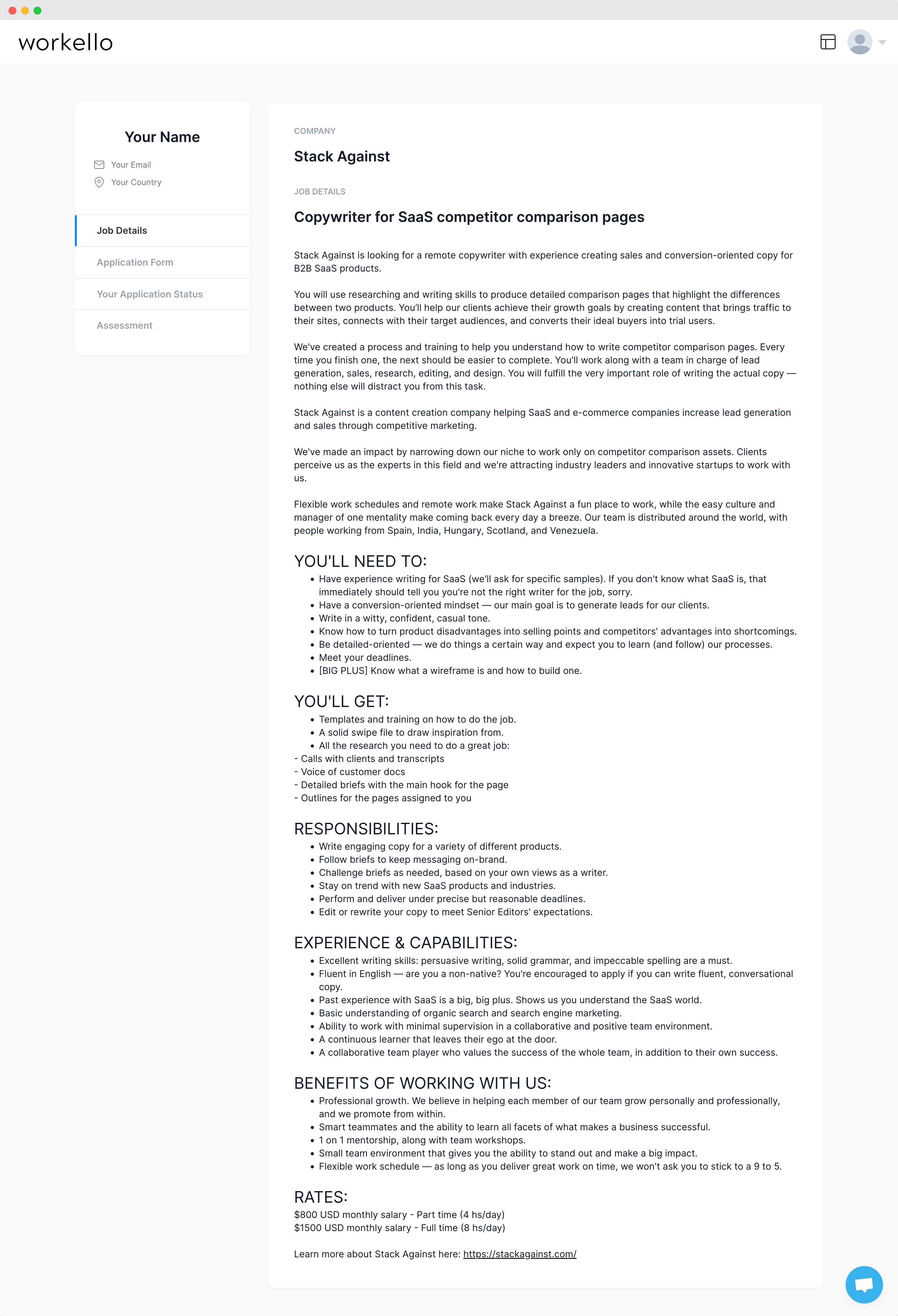 The assessment task Stack Against opted for was in the form of a questionnaire. Federico and his team created a set of five questions that their candidates needed to answer to advance to the next stage of the hiring process. The questions range from candidates' familiarity with copywriting frameworks, knowledge about optimization, and the ability to recognize good copy.
They posted their application forms on Reddit and LinkedIn and got around 70 candidates, tested 15, and hired 2 copywriters that joined their team and created fantastic comparison pages for their clients!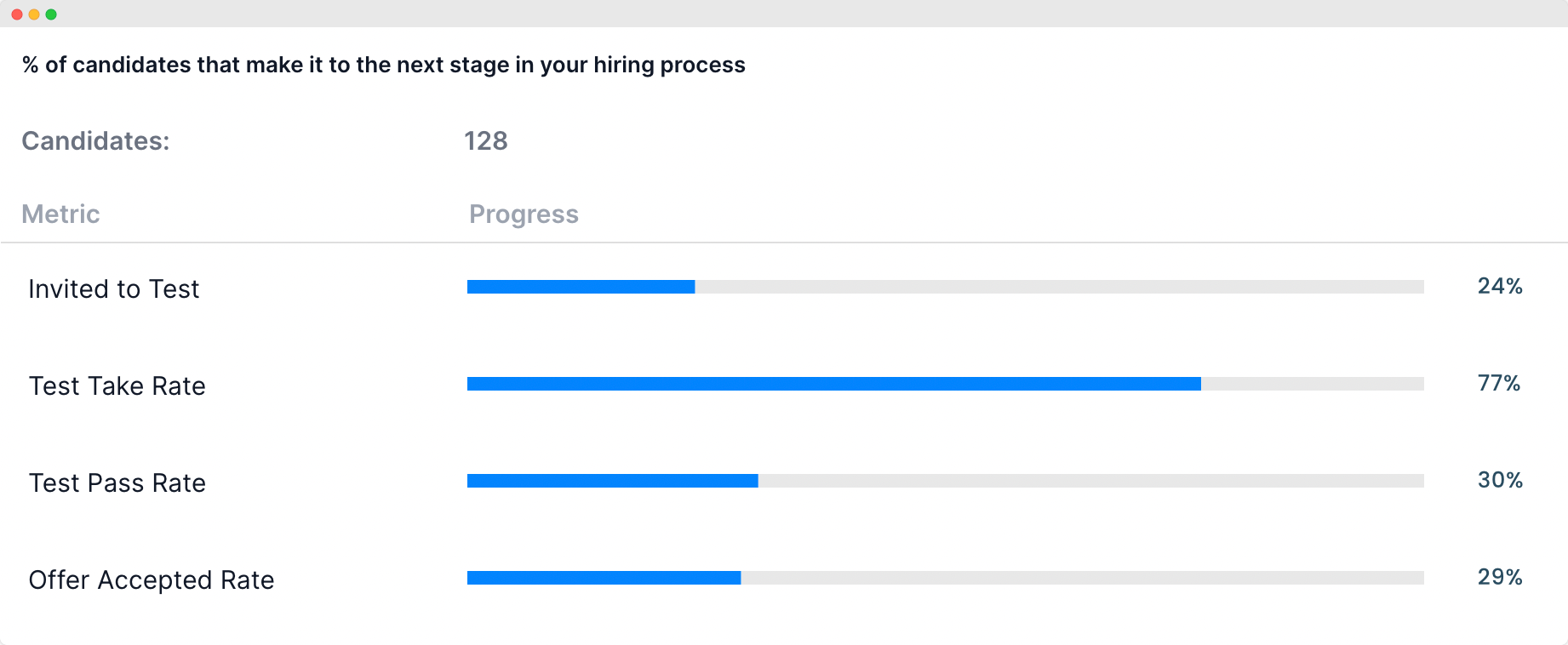 Why Stack Against chose Workello
"When we started using Workello, we posted a few job ads on Reddit and LinkedIn, and we got 70 candidates that all came to the same place," says Federico. "I didn't have to check my email or my LinkedIn inbox or endlessly chat with people to get their portfolios and rates. I could easily check their samples, move them to the next stage, and do it all in the same place without fumbling through apps."
"Every step of the process was very optimized and made my life so much easier, and I could pick the right person for the job without bias."
If you need to hire writers and produce a lot of content without spending countless hours on the hiring process, sign up for Workello today.