Stoute Web Solutions is a full-service digital marketing agency from Portland, Oregon. They've helped almost 400 clients generate over $5 million in combined revenue and have published over 16,000 high-quality articles. Besides exceptional content, the agency offers several services to help clients scale, including web design, hosting, and consulting. 
To keep creating outstanding value for his clients, the agency's CEO, Paul Stoute, needed to add more writers and a developer to his team. Typically, this would entail a manual process wherein candidates apply through email or the company's platform.
This process was extremely complicated. Emails would sometimes end up in spam, or the sheer number of applicants would prevent Paul from giving each proper attention. As a result, hiring was quite ineffective.
To streamline the candidate selection process and ensure equal opportunities for all applicants, Paul switched to Workello. This allowed him to easily identify and select the top candidates without time-consuming and cumbersome procedures.
The Hiring Process
Hiring playbook used: Hiring Niche Writers
Paul built a compelling ad around Workello's pre-optimized job description. He needed writers with experience in B2B and B2C writing, so the template helped him outline the responsibilities and requirements without having to build an ad from scratch. His job post was up and running in no time.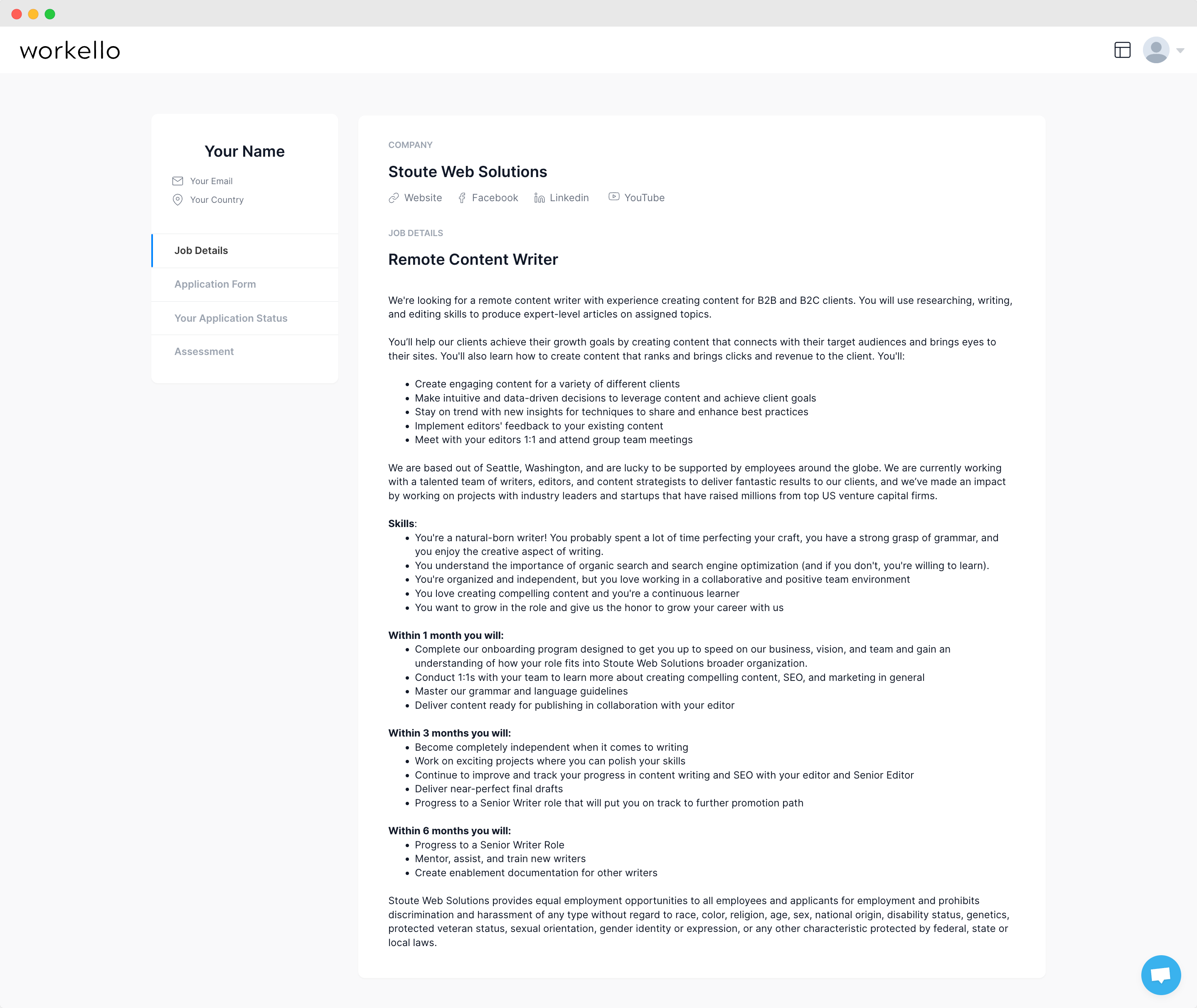 The job ad quickly yielded 133 candidates. This time, they were all in one place, so there wasn't a chance of someone being overlooked. Better yet, Paul could sift through applications without shuffling between several platforms and wasting time.
He invited 14 candidates to a test based on Workello's pre-written assessment. This allowed candidates to showcase their work in action, making it easy for Paul to see who was the right fit without wondering if applicants oversold themselves in their portfolios.
Eight candidates passed the assessment and made it to the interview stage. After Paul got to know them better, he decided to hire three. Two writers stayed with the company, helping Stoute Web Solutions maintain its high content standards.
Paul also hired a developer who is now working on his client projects!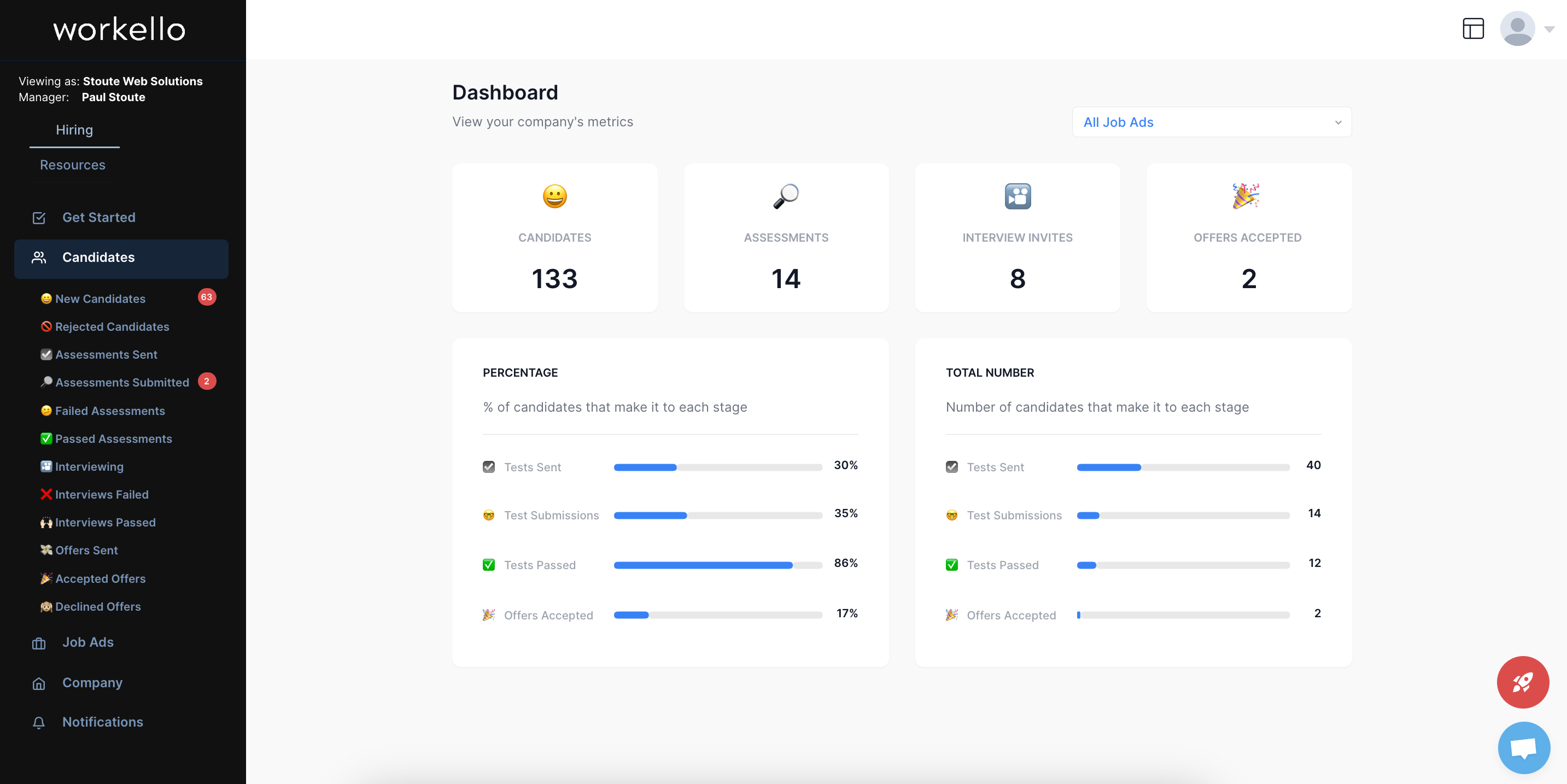 Why Stoute Web Solutions Chose Workello
"Transitioning to Workello made our lives so much easier, and now everyone gets a fair run-through without getting lost in the shuffle," Paul said. He can now ensure no good writers can pass him by due to complex processes.
Paul also said the platforms he'd used before Workello weren't as comprehensive. "We saw that the [Workello] platform provided some additional features that other hiring platforms didn't." He explained that those other platforms could also gather applicants in one place, but he'd still have to go through them manually, which was too time-consuming.
"Workello picked up where other platforms dropped off by providing easy, repeatable, and scalable hiring systems," Paul concluded. He also pointed out the benefit of having the same assessment across the board, which allowed him to compare writers directly.
If you need expert writers to scale your content production without risking a quality drop or disruptions due to lengthy hiring processes, sign up for Workello today.