Strawberry Media is a successful PR agency based in Australia. It offers various services beyond traditional PR, including digital marketing and coaching. The agency has helped numerous businesses scale and position themselves uniquely in their markets.
Trinity Frederick, Strawberry Media's CEO and founder, needed to find expert writers to grow the healthcare websites she was managing. This wasn't her first time on the hunt for talent, but her previous efforts hadn't been particularly effective.
Trinity said she'd done everything manually, so the process was quite messy. She'd post ads on different platforms and manage applicants through emails and Word docs, which took a ton of time and made it hard to track candidates as they progressed through the hiring stages.
To consolidate her hiring efforts and find quality writers more quickly, Trinity decided to try Workello.
The Hiring Process
Hiring playbook used: Hiring Niche Writers 
Trinity needed writers with experience in the health and wellness niche to ensure all content had the necessary authority and expertise. She used Workello's pre-written job description and gave it a few tweaks to clarify the expectations.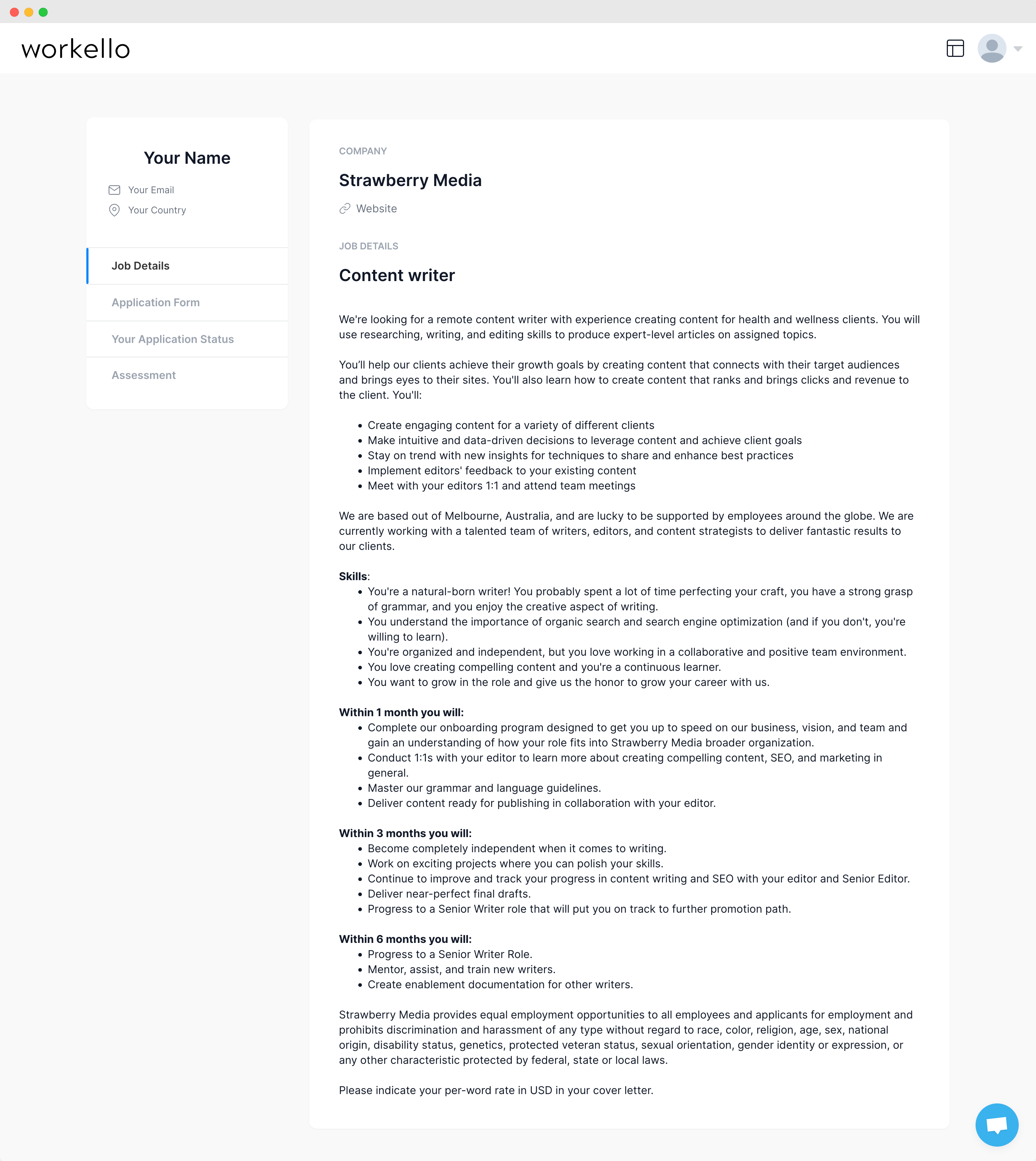 She posted the ad on LinkedIn and ProBlogger, as she had before Workello. The main difference now was that she could aggregate all her applicants into one convenient platform. This had been the main friction point of her previous process, so Workello gave her the centralized hub she needed.
Trinity was blown away by the turnout. "There was a swell of responses, and I was quite overwhelmed," she said. She liked that writers could include their portfolios and cover letters so that she could get a better picture of each applicant.
More importantly, she could test writers with Workello's pre-written assessment to ensure their quality matched her standard.
Out of 242 candidates, 59 took the test. Trinity said she was pleasantly surprised by the number of writers who went through the assessment, giving her lots of talent to choose from. 
Trinity shortlisted and interviewed 13 candidates, after which she narrowed the pool further and hired the top 9. She's thrilled with the work they've been doing and is now able to grow the websites without bottlenecks.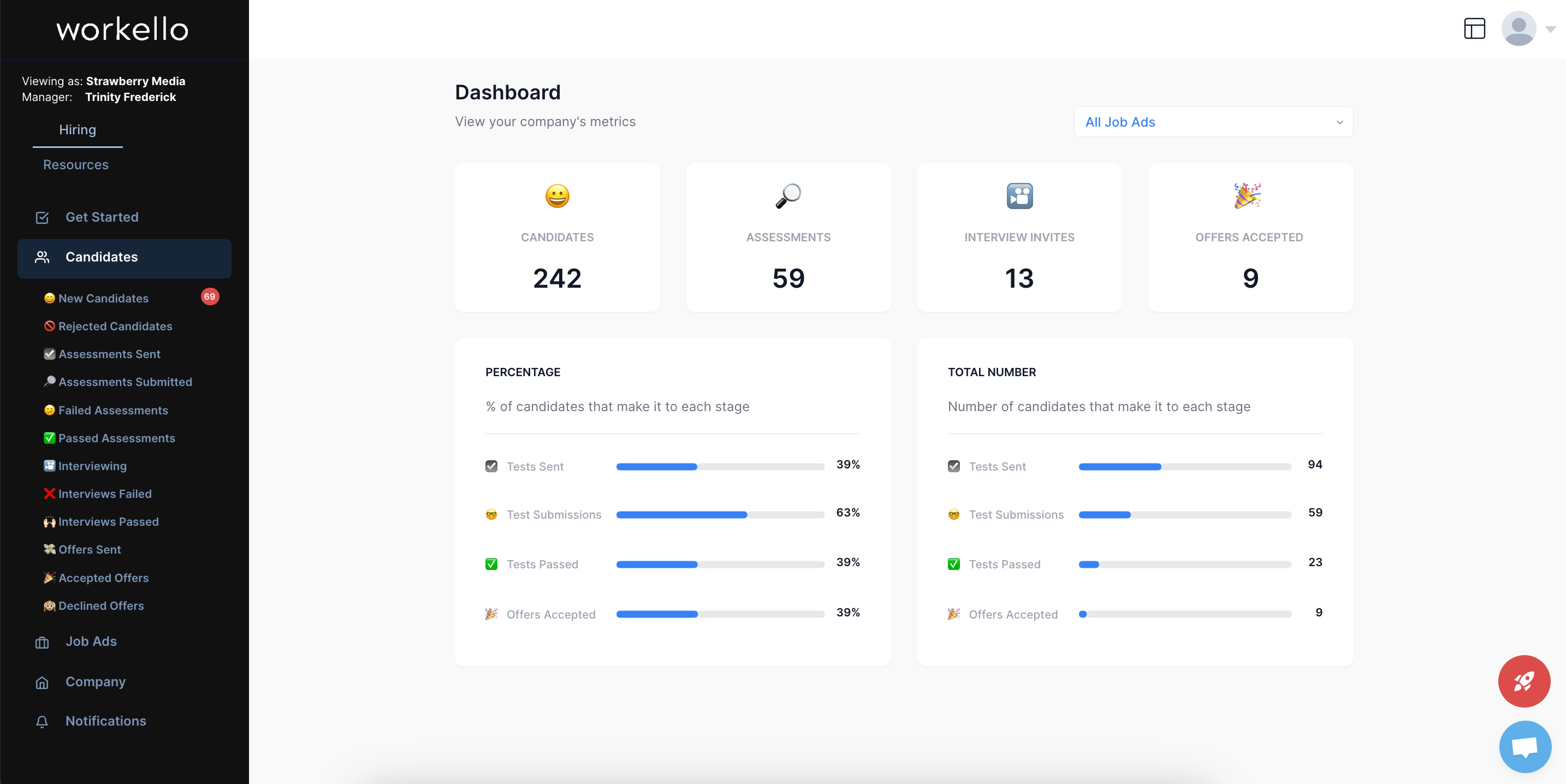 Why Strawberry Media Chose Workello
Workello's simplicity and ease of use are among the main benefits Trinity pointed out. "Having everyone funneled into one central spot I can check every day is fantastic," she said. Applicants are no longer scattered across a bunch of platforms or spreadsheets, so everything is more streamlined.
Trinity also linked Workello to Slack so she could stay updated on her applicants' progress without manually checking it. She took advantage of note cards to jot down her thoughts on each candidate and compare them more easily.
"When you're trying to hire writers, there's a lot of volume you have to go through," Trinity explained. "Taking out a little time from the process is truly helpful." Workello cut down the hiring time significantly, so Trinity highly recommends it. 
"Give it a try—you'll love it!" she concluded.
If you want to uncover hidden gems in the sea of applicants without wasting time and energy, sign up for Workello today.