Travel Tractions and Marketing Mill are prominent SEO and digital marketing agencies, specializing in delivering high-quality content and SEO-related work for an extensive array of brands online. Their clients include The Broke Backpacker, MissTourist, and Green Global Travel.
Under the leadership of Matt Davidson, these companies operate with around 35 team members, approximately 30 writers and five project managers, ensuring the delivery of top-notch content and marketing solutions.
The Challenge
For Matt and his companies, hiring amazing content writers was essential. They wanted to streamline the influx of applicants to secure the best talents available. They had tried various platforms like Facebook and LinkedIn, but the results were scattered and chaotic, making the process of sifting through applicants cumbersome and less effective. They had to sift through numerous emails, Google Docs, and messages on social platforms, and the hiring process was not effective at all.
The Solution: Transition to Workello
To overcome the hiring hurdles, Matt turned to Workello. His goal was to optimize the application process, ensuring a smooth, seamless experience both for him and the prospective candidates. With Workello, he could centralize all applications, eliminating the need to juggle between different platforms.
The Hiring Process
Hiring playbook used: Hiring Niche Writers
Matt created his job ad on Workello, posted it on LinkedIn, and was met with an overwhelming response—around 250 applicants within just a few days. Workello allowed Matt and his team to efficiently sift through hundreds of applications, making sure that no potential hire was overlooked.
After a thorough review, Matt was able to finalize two hires who were perfectly aligned with the company's needs.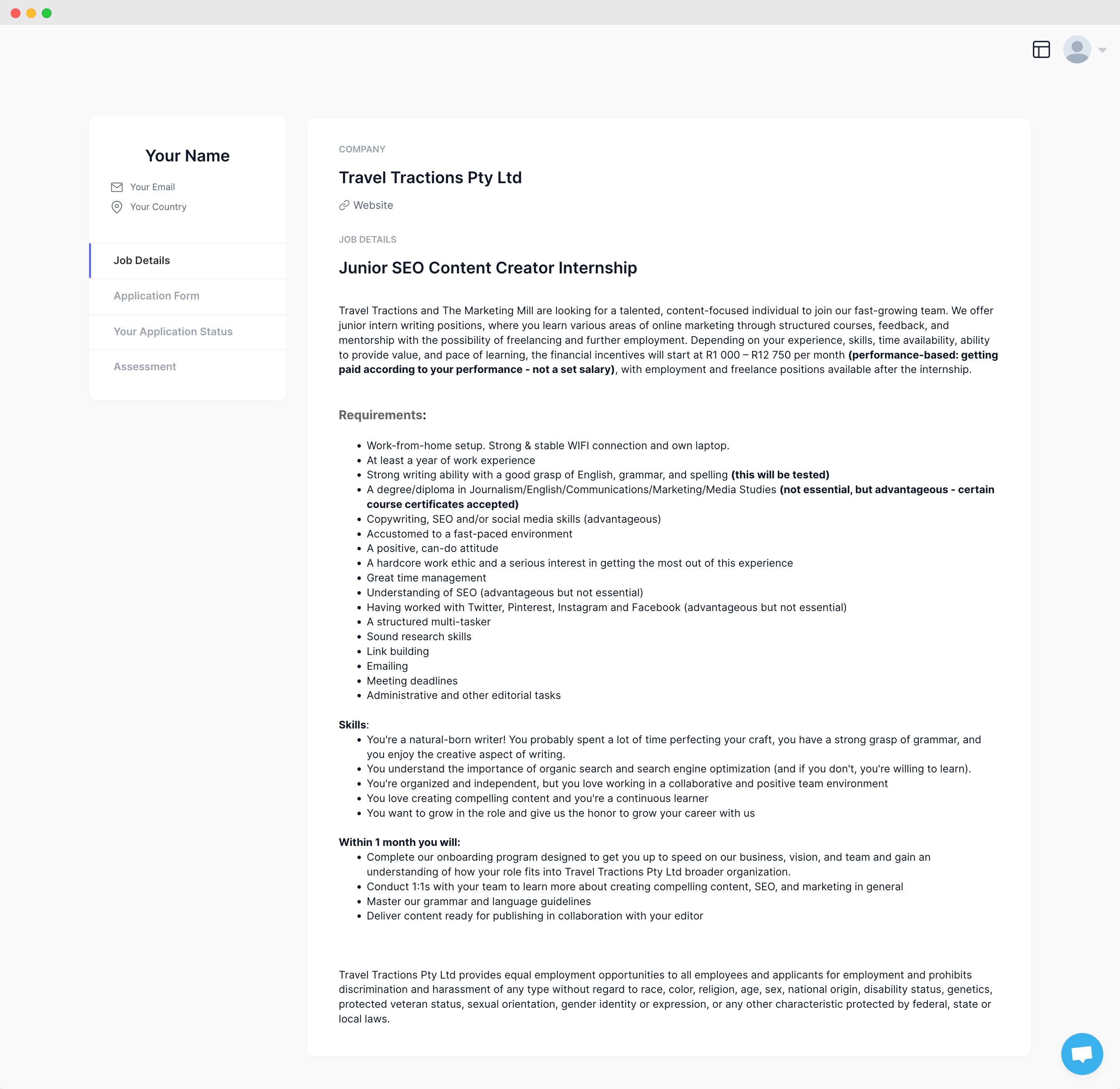 Why Travel Tractions Chose Workello
Matt praised Workello, stating it was a superior solution to conventional hiring methods, allowing them to manage applicants in a more organized and systematic manner. Workello provided a singular, dedicated platform where all applicants could be assessed, making the hiring process significantly less tedious and more effective.
Matt appreciated how Workello transformed the hiring process into a 'numbers game', allowing him to bring as many qualified candidates into the final selection as possible and ensuring the selection of the best available talent.
"I would definitely recommend Workello," Matt asserted. He emphasized how Workello is instrumental for companies who want to make smooth, efficient hires, saving a lot of time compared to other ATS'.
If you are looking to hire the top 1% of candidates without wasting time, sign up for Workello today.