ContentWish is a content agency helping niche websites grow traffic organically by providing a comprehensive set of services such as keyword research, content writing, and publishing. The company was founded in Italy in 2019 by Mahmoud Elsaid, who had initially built an in-house writing team to create content for affiliate websites. The agency has, in the past three years, evolved into an all-inclusive content solutions provider with more than 700 projects under its belt, successfully executed on behalf of more than 400 clients. 
ContentWish needed to find a way to optimize and streamline content production as it had recently expanded its service and client portfolio. That's why Mahmoud and his team decided to hire a virtual assistant (VA) to help with tasks such as WordPress publishing. They decided to carry out the recruitment process through Workello after successfully using the platform to recruit high-quality writers and editors for their team.
The Hiring Process
Hiring playbook used: Hiring VAs
To start sourcing candidates for their VA vacancy and creating a captivating job ad, ContentWish resorted to Workello's pre-written job description. As the role they were looking to fill consisted of two specific categories of duties, they amended the job description accordingly. They added their own set of requirements and necessary qualifications to a fully customizable Workello template.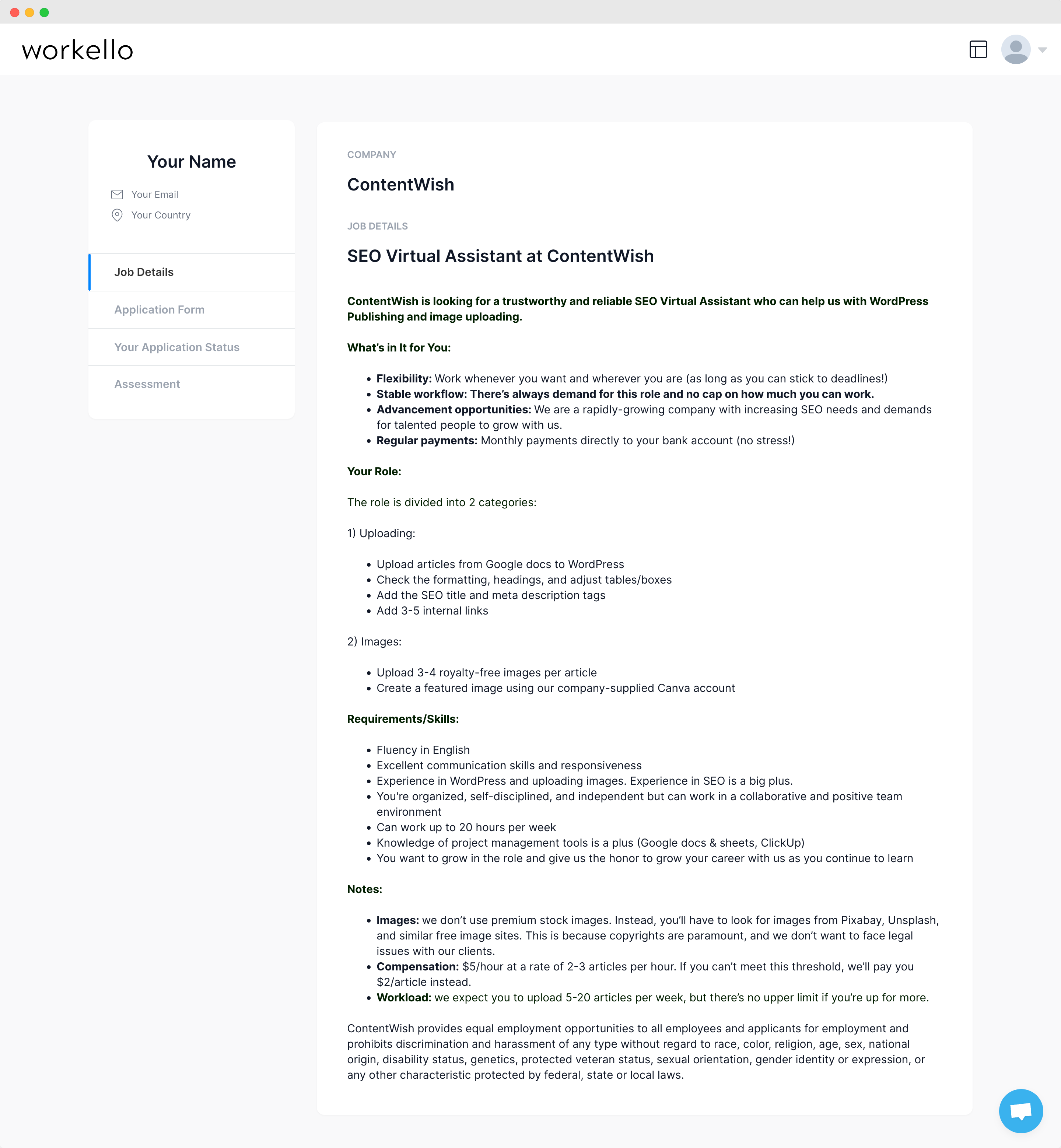 ContentWish also used Workello's pre-written test templates to assess the skills they were looking for in their future VA. They customized the provided template and required the candidates to upload two posts on two separate websites using WordPress. The pre-written assessment was additionally expanded with several role-specific tasks such as writing out the meta titles and descriptions, adding relevant images, and internally and externally linking the uploaded post. 

For this particular role, Mahmoud sourced candidates primarily from Upwork and LinkedIn. After identifying several suitable prospects, Mahmoud's team provided them with the Workello-generated link containing the job description and assessment, and they began receiving applications in a matter of days. They received 11 candidates, 3 of whom were invited to take the test. Out of the two applicants that passed the test, the team could easily choose the perfect candidate for the role they were advertising. 
Mahmoud was looking to hire only one VA in this particular cycle, but with an already established and battle-tested process, he plans to hire more soon as his business keeps growing.
The entire cycle, from creating a job description to hiring and onboarding a suitable VA, took only a week. During this time, Mahmoud closely followed some of Workello's best hiring practices that have been tested in trial by Workello's creators for years. 
Why TeamWish Chose Workello
"We were expanding and offering more SEO services in our content agency, such as WP publishing," Mahmoud said, explaining why they needed to hire a virtual assistant as soon as possible. "Then I said yes, let's see if we can try out Workello for hiring another role [besides writers and editors]," he added. "This one candidate did everything perfectly, and we accepted him, also through Workello," Mahmoud concluded.
If you are an SEO agency and want to scale your production by transferring some of the tasks from your writers and editors to VAs, sign up for Workello today and put your hiring efforts in overdrive.