Dr. Mark Coster is the co-founder of Fairy Digital, an Australian digital marketing agency that won the prestigious Graduate of the Year award from the eBusiness Institute in 2020.
With digital marketing and SEO being their primary service, Fairy Digital needed to scale their content team to fulfill their client's needs and grow their own websites. However, sourcing and hiring experienced content writers is incredibly hard and time-consuming, so Mark decided to start using Workello to grow his team.
In just two weeks, Fairy Digital received 140 candidates, tested 30, and hired 7 new writers that joined their ranks.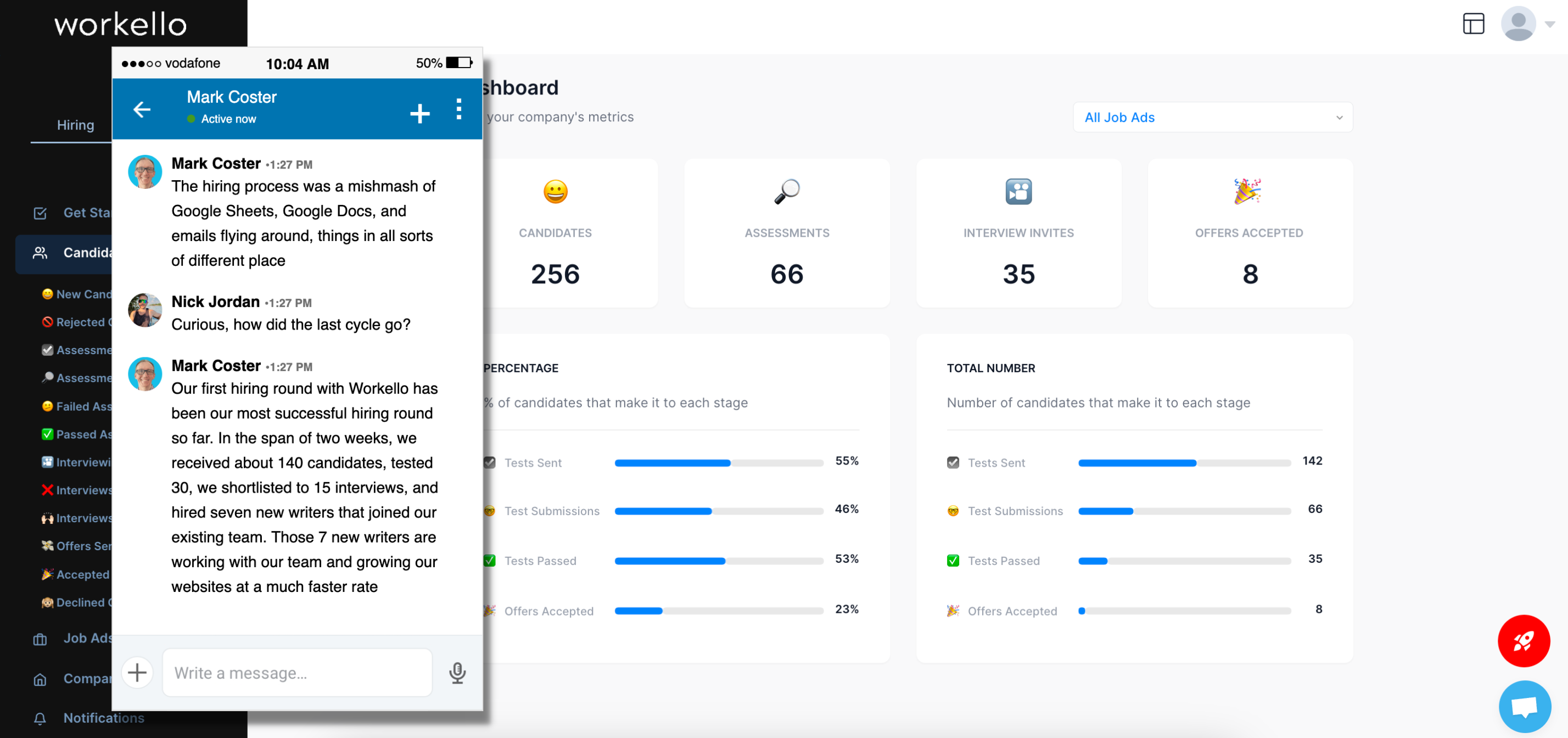 The story of FairyDigital
Fairy Digital was founded by Dr. Mark Coster and Silvia Borges who wanted to help small businesses grow their audiences. The husband and wife duo often wished they had a magical fairy that would just take care of their chores and implemented that thought into their business by acting as a magical fairy that helps small businesses with their marketing needs.
They started by growing their own small business and quickly realized that they can help others with online marketing and SEO as well. Mark is a former scientist turned SEO (with a Ph.D. in chemistry!), and Silvia is a content marketer with a degree in Business.
The folks at Fairy Digital are experts in SEO and local search, and they help small businesses in Australia get more leads, more sales, and more clients.
The challenge of hiring
The biggest struggle with hiring and scaling the team Fairy Digital had was the organization.
"The hiring process was a mishmash of Google Sheets, Google Docs, and emails flying around — things in all sorts of different places", says Mark Coster. "It really made the whole process quite the struggle because it was hard to keep track of where we were at in the hiring process."
Like numerous other agencies and SaaS companies that are trying to build and grow their content teams, Fairy Digital fell into the trap of hiring manually. Loads of unread emails, hard-to-track spreadsheets, and numerous PDFs and Word files with writer portfolios made the hiring process feel like a chore that no fairy could magically fix, instead of feeling exciting and inspiring.
Why Fairy Digital chose Workello
"Workello has really helped us keep all our candidates in one place and keep everything streamlined, and now we can only go to one tool instead of a mish-mash of different apps and try to keep the hiring process in check that way," Dr. Coster says.
Mark ran a hiring cycle with Workello and felt that the way that they dealt with the candidates has been very professional and that they got a good feeling about them as a company due to the automated candidate communication that Workello offers. They didn't have to reply to numerous emails, send Google Docs with test articles, or fumble with calendar schedules to book interviews. The whole process was streamlined for both Fairy Digital and their candidates.
The hiring process
Hiring playbook used: Hiring Generalist Writers
Fairy Digital used Workello's pre-optimized job description and aligned it with their brand. The template all Workello users can access was created with three years of consistent hiring experience, and it is written to achieve three things:
Get the most qualified candidate to apply for your job
Excite the candidates about working with you
Show that your organization can advance their careers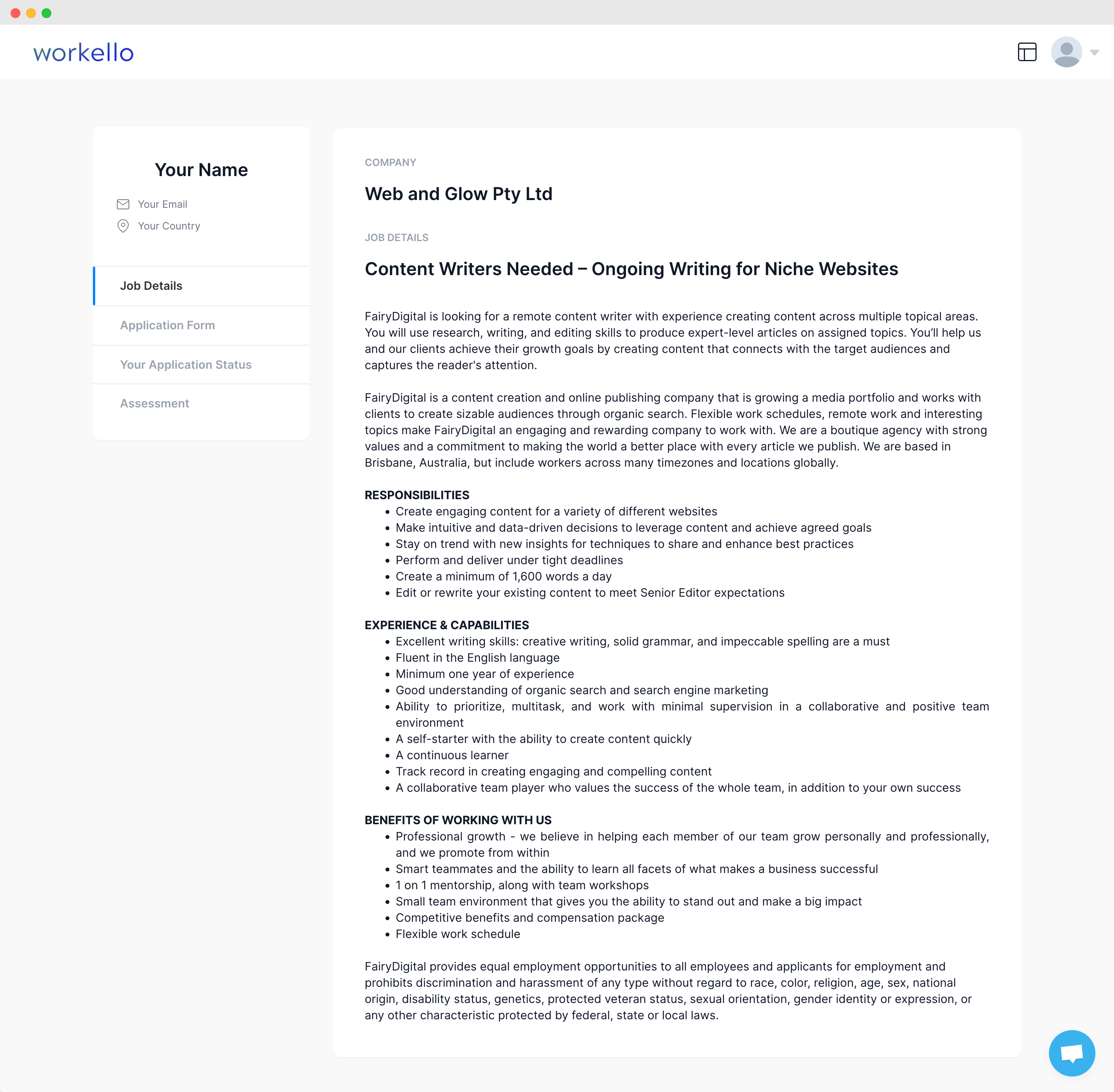 The assessment task they chose was also based on Workello's pre-optimized template and aligned with their brand and the type of content they want to produce. Workello's writing assessment was designed to be:
Less time-consuming than other writing assessments
Clear and concise to avoid any potential confusion for the candidate
A good representation of your candidate's writing and research skills
The results were amazing. Fairy Digital gathered around 140 candidates with their first job ad, tested 34, interviewed 16, and hired 7 new writers! They ran another ad for STEM writers and are expecting to hire at least 7 more team members.

"Our first hiring round with Workello has been our most successful hiring round so far. In the span of two weeks, we received about 140 candidates, tested 30, we shortlisted to 15 interviews, and hired seven new writers that joined our existing team," says Coster. "Those 7 new writers are working with our team and growing our websites at a much faster rate"
If you're a digital marketing agency like Fairy Digital and need to scale your content team to service your clients, Workello is the right solution for you. Book a call with us today.