NewTerritoryMedia is probably the coolest video production agency you will ever come across. Founded by CEO Joey Daoud, they help brands create massive audiences on YouTube, and they are a one-stop-shop for all video-production needs any company may have.
They worked with brands such as Cafe Press, Don't Tell Comedy, and FreePrints, and created award-winning documentary films for Netflix, National Geographic, Time, and even The New York Times.
They sure are busy! And, as you can imagine, a video production agency like NewTerritoryMedia needs to hire many writers and a LOT of video editors.
The challenges NewTerritoryMedia had with hiring
In the past, the folks at NewTerritoryMedia would look for new team members by posting their job ads on Reddit and various job boards. This is all well and good, but the issue is that the process was very unstructured.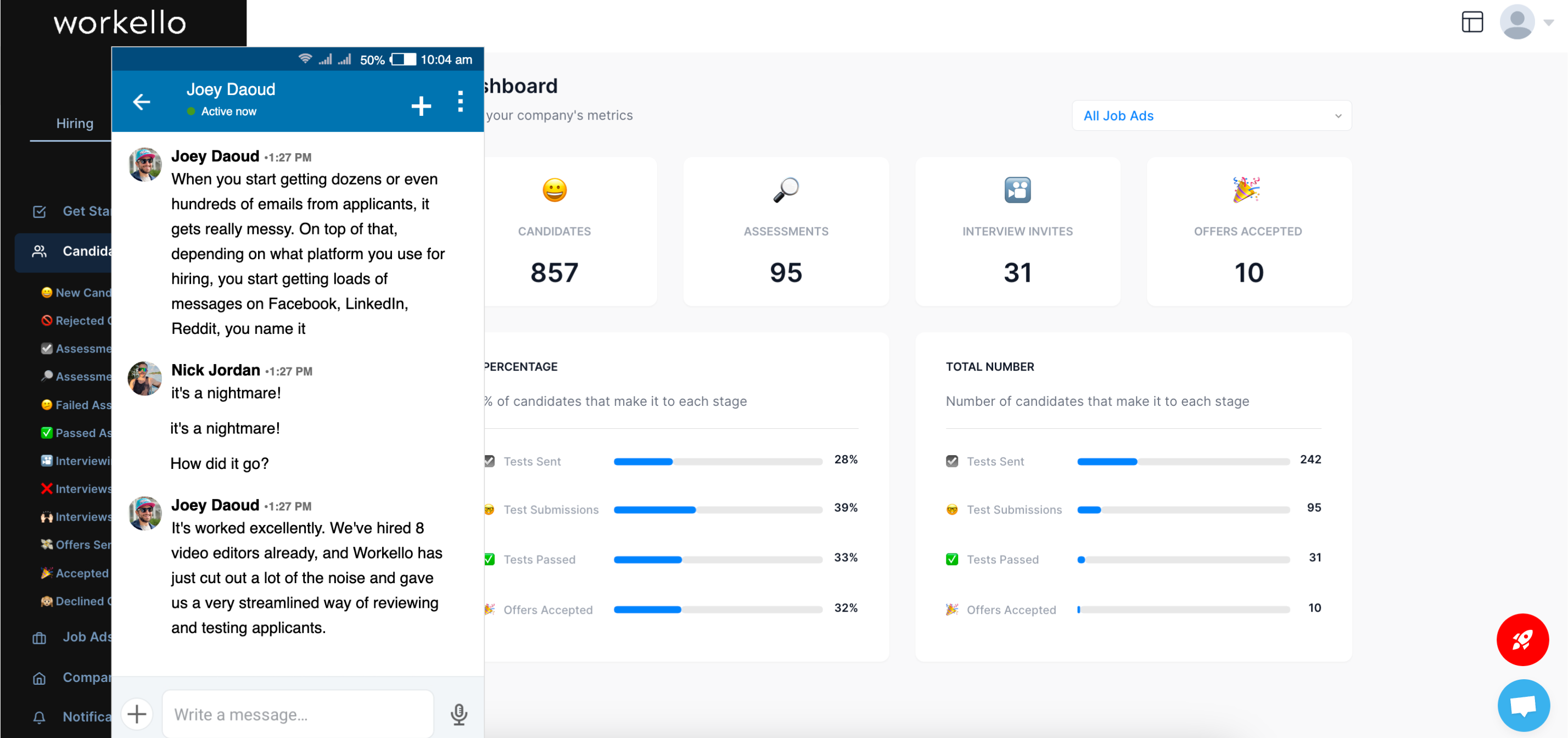 "People would just email us, which quickly turned into a giant mess," says Joey Daoud. "When you start getting dozens or even hundreds of emails from applicants, it gets really messy. On top of that, depending on what platform you use for hiring, you start getting loads of messages on Facebook, LinkedIn, Reddit, you name it."
They realized that they needed to change something and make the process easier, so they started using Airtable and Clickup forms to standardize the applications. Still, even that became hectic, especially when they wanted to test their candidates.
"If we were to do a writing test, we would send a blank Google Doc that the candidate then copies, writes their test, and sends it back. But then we were dealing with a bunch of links and Google Docs, and it was just a very long and messy process in figuring out how to best track people without anyone falling through the cracks," says Daoud.
Why NewTerritoryMedia chose Workello as their applicant tracking system
"With Workello, it's been so much easier and so streamlined," says Joey. "I feel like we're hiring more now that the hiring process is not a time suck or as intimidating as it once was."
Joey and the team love the simplicity of Workello's application form and the fact that all their candidates now end up in one centralized place where everything is done right there, on the platform.
"And then the testing part with Workello is where everything really shines. Workello was originally built for hiring writers and writing tests, but we've been able to use it for video editors and even bookkeepers!" Joey says.
Hiring process — Writers
Hiring playbooks used:
New Territory Media used Workello to hire YouTube scriptwriters and content writers. They created a job ad based on Workello's pre-optimized template, and they achieved several things with it:
They attracted candidates familiar with the type of content they want to create
They attracted candidates looking for long-term engagements
They positioned their company as an exciting place to work and advance their candidates' careers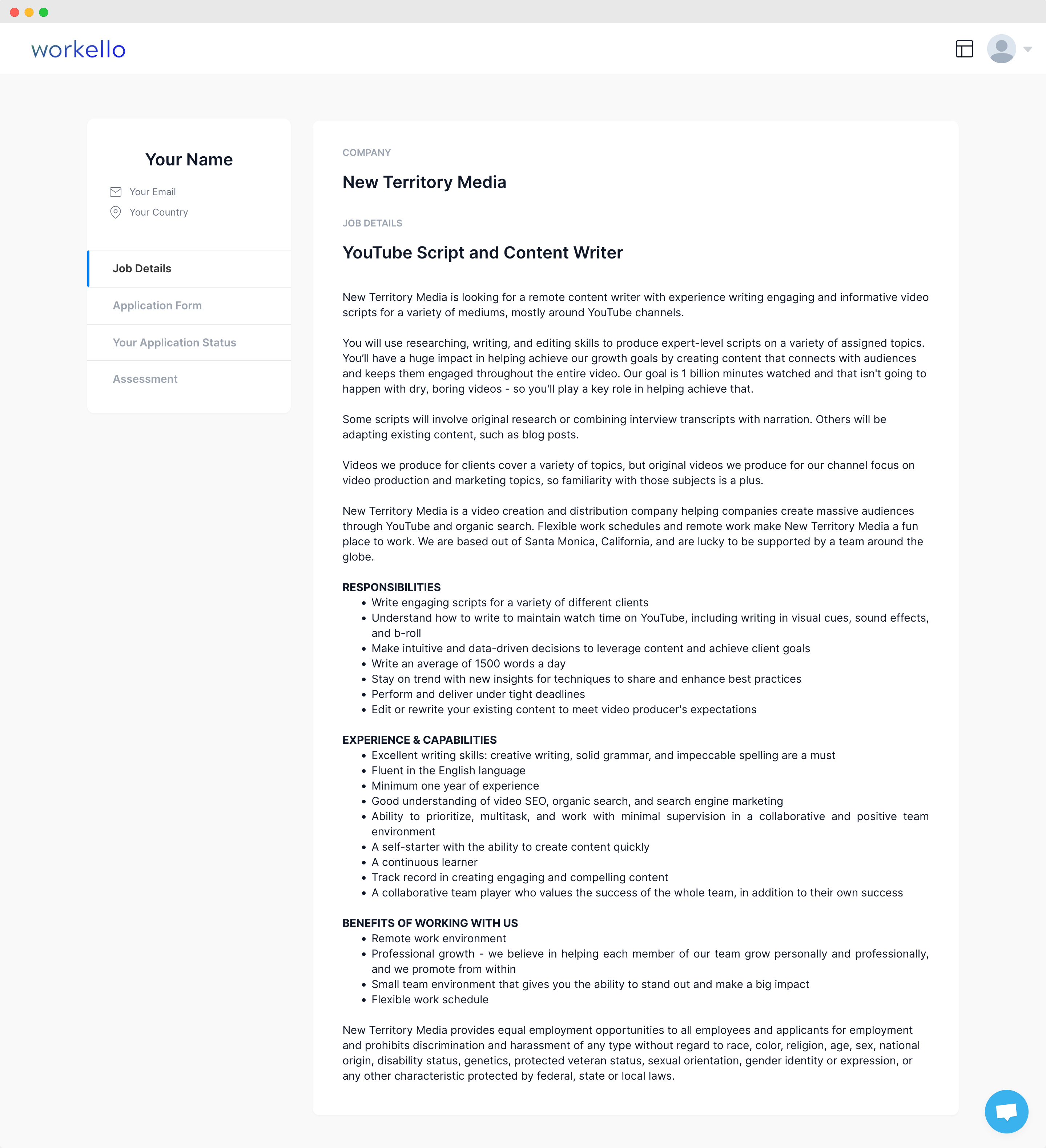 The assessment they opted for was comprised of two sections:
Hook writing
Content writing
They provided their candidates with a video they should watch and create 2-3 hooks that would work with the video in question. For the content/scriptwriting part of the assessment, they asked their candidates to write up to 200 words based on the short brief they included.
They also told their candidates what they will be evaluated on so they can be aware and pay attention to:
Correctness
How well they cover the topic at hand
How engaging their writing is
Grammar
Fluff (which should be non-existent)
They posted their job ads across the internet and used Reddit, Facebook, and LinkedIn to spread their application forms.
And it worked beautifully. They received about 380 candidates, tested 55, and are now in the process of hiring.
Hiring process — Video editors
New Territory Media folks are a video and content creation agency, which means they create a LOT of video content. They used Workello to hire not just writers, but also video editors!
The NTM team crafted a fantastic job description that told their candidates exactly what they were looking for and described the benefits of working with them.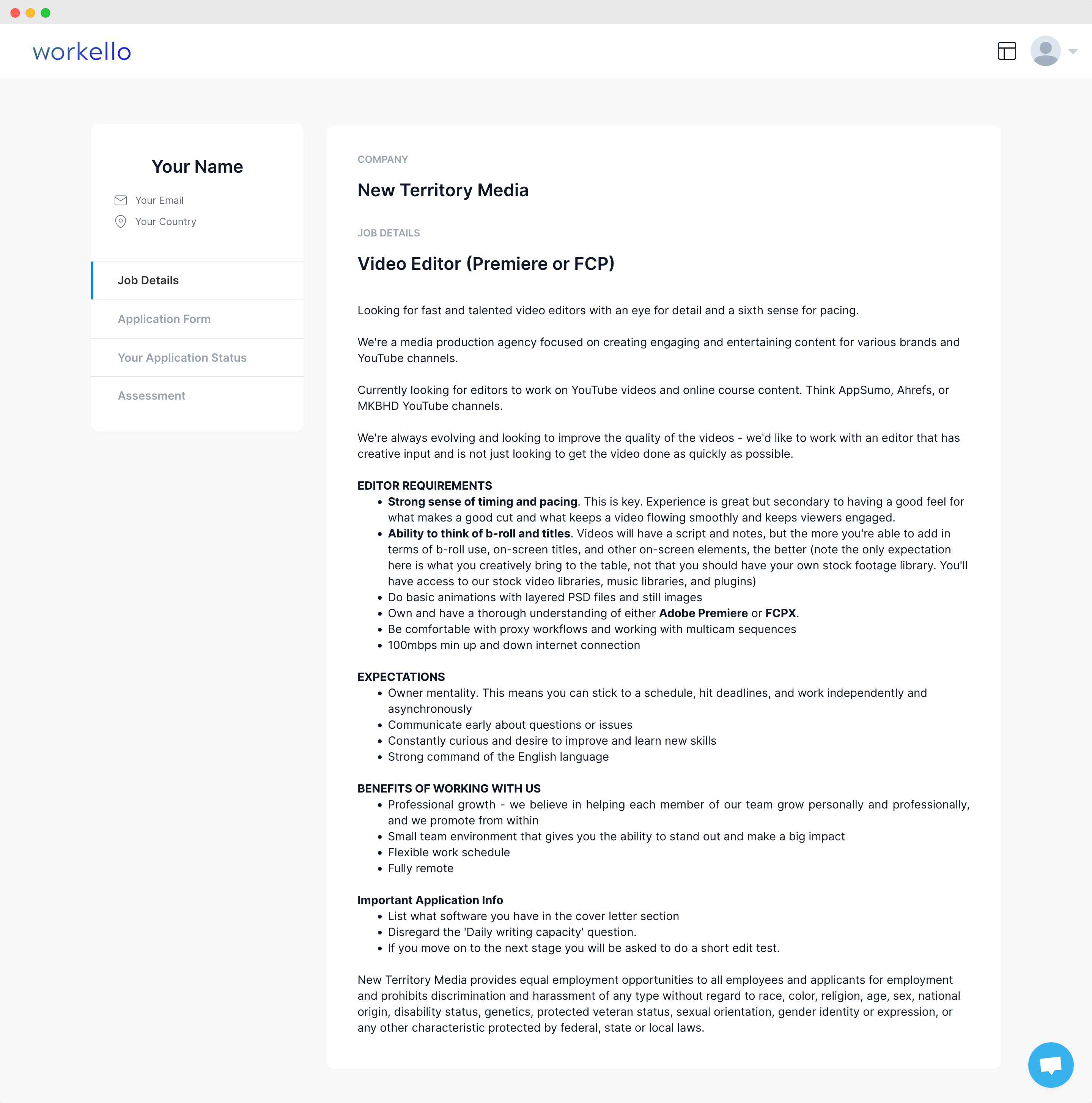 The assessment they created was focused on their candidates' editing abilities and it included a link to a video they should download, a script they should follow, and the requirements for the final deliverable.
They used job boards to spread their application form, as well as interest-based communities on Facebook and Reddit to attract more candidates. They got a little above 150 candidates, tested about 20, and hired 8 video editors in 2 weeks!
Hiring process — Bookkeepers
Workello can help you hire for any role you need — you just have to design the job description (or use one of our pre-made templates) and create an assessment task (which we can also help you make). The New Territory Media team needed a bookkeeper and they needed to assess a lot of candidates to find their perfect match.
Their job ad was clear and simple, and communicated that they are specifically looking for a QuickBooks expert that can help them.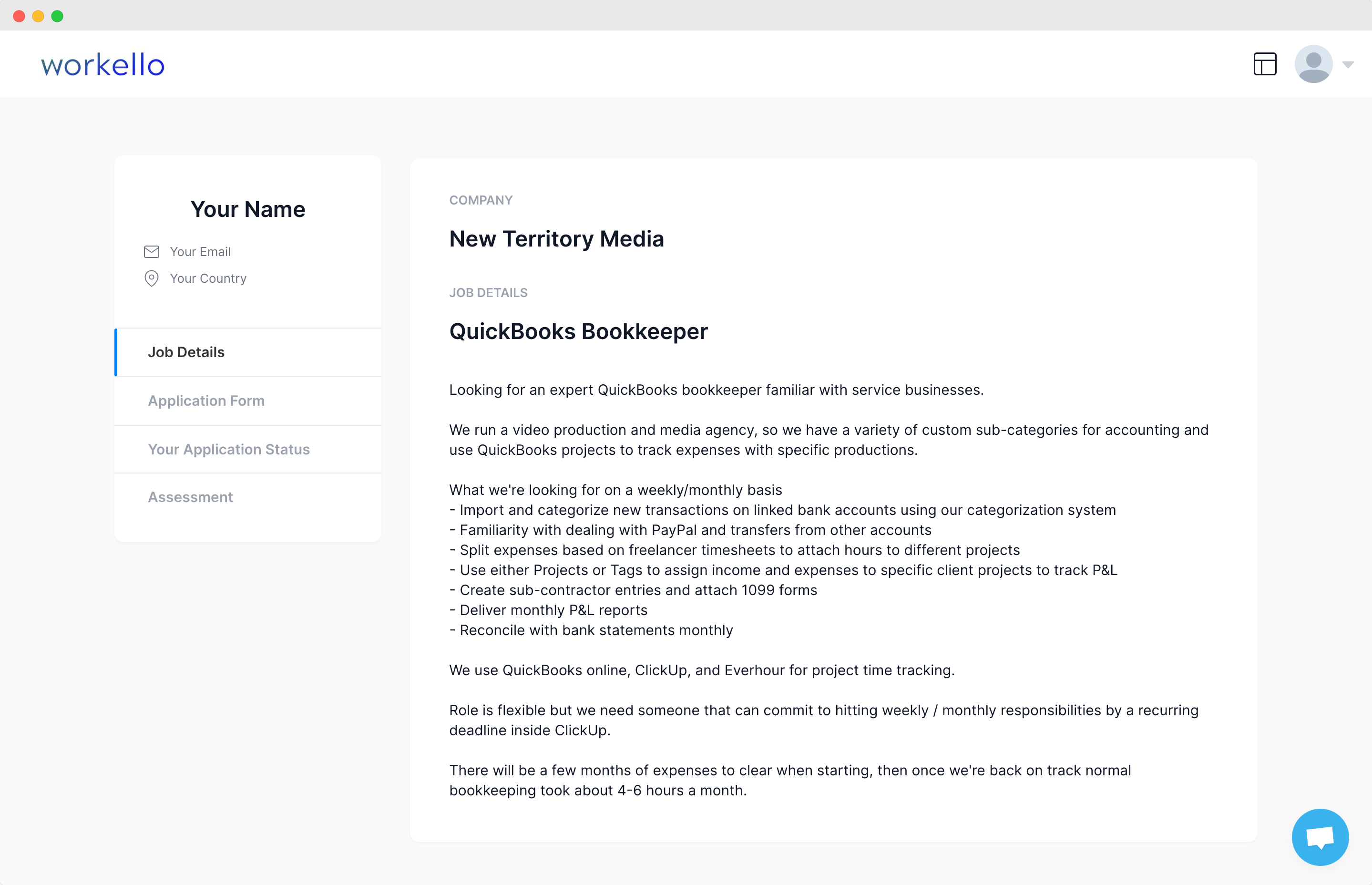 The assessment task they designed comprised of a spreadsheet the candidate should create and show how they would split the charges that NTM provided. They also asked for a quick video walkthrough of the deliverable.
They spread their application form on various job boards and Facebook bookkeeper communities and received 150 candidates, tested 10, and hired one new bookkeeper!

New Territory Media's hiring stats look amazing, and they are one of Workello's most versatile customers who hired for roles that Workello was not originally designed for. Inspired by their incredible growth, we decided to help our customers hire anyone and have updated Workello to allow companies to do pre-hire assessments for more than just content related roles. Thank you NTM team for being such an inspiration to us!
"It's worked excellently. We've hired 8 video editors already, and Workello has just cut out a lot of the noise and gave us a very streamlined way of reviewing and testing applicants."
Workello solved another issue for the NewTerritoryMedia team. Now, they are more comfortable posting even more job ads and expanding their team because they can finally enjoy a streamlined hiring process without having to deal with a myriad of emails and DMs on social platforms.
If you're a video or a content marketing agency like NewTerritoryMedia, Workello will help you simplify your hiring process. If you're looking for an all-in-one solution, sign up for Workello today.