How a 45-Person Content Team Hires SEO Writers
How a 45-Person Content Team Hires SEO Writers
How a 45-Person Content Team Hires Writers
Our content team has grown to 45 writers and editors over the last 18 months.
This enabled us to create and distribute a huge volume of content, as much as some of the largest publishers on the internet.
Sounds great, right? I wish it were easy too.
If you've ever hired even one writer, you know how difficult it is to find a good one.
Now imagine evaluating and testing thousands of candidates, hiring 125, and realizing that not everyone is as great as they presented themselves, so you end up with 45. You keep a team of 45 superstars. This is exactly what we did.
In the next 15 minutes, you'll learn how to replicate the hiring funnel we spent hundreds of thousands of dollars building and thousands of hours iterating and optimizing — all for the cost of a couple of pieces of content.
How it all started
Workello started as ContentDistribution.com, a content agency.
In 2019 Content Distribution kicked off a client project backed by A16 and Peter Thiel.
This project turned into one of the most ambitious SEO campaigns ever.
By 2021 Content Distribution had scaled the project from 0 to 1,000,000 visitors per month, and the content agency from 1 to 45 writers and editors, publishing nearly 10,000 pages in two years.

All of this drove a Series B at a $210,000,000 valuation for our client.

The best SEO campaigns don't look like SEO
If you're already familiar with ContentDistribution.com, then you're probably familiar with how we've taken 4 projects from 0 to 100,000 organics/month, without building new backlinks and without doing technical BS.
If that's the first time you're hearing that, let's catch you up.
| Domain | DR / DA | Pages Published | Organics Per Month | # of Months | New Backlinks? | Technical BS? |
| --- | --- | --- | --- | --- | --- | --- |
| AnyLeads.com | 35 | 70 | 47,000 | 13 | No | No |
| LogicInbound.com | 58 | 100 | 103,000 | 13 | No | No |
| Doggypedia.org | 9 | 220 | 116,000 | 13 | No | No |
| CampusReel.org | 33 | Thousands | 166,000 | 13 | No | No |
| DoNotPay.com | 58 | 8,000 | 1,000,000 | 24 | No | No |
This guide to finding better writers faster is already jam-packed with actionable content, so if you want to learn how to crush SEO without backlinks and without technical BS, start here:
Join the Fat Graph Content Ops community: Ask questions from SEOs and content marketers from brands like Shopify, Intercom, Quora, and Coinbase in our weekly AMAs, and get our latest content as soon as it's live.
DoNotPay Case Study: 0 to 1,000,000 Organics Month and a $210,000,000 valuation.
Love YouTube? We do too. Watch the DoNotPay Case Study in super granular detail (70 minutes), then subscribe to catch more in-depth guides.
Scaling Content Velocity: Why the #1 lever to get the fastest SEO results is publishing content faster.
Get 200+ Writing Candidates in 72 hours: A step-by-step guide for setting up an automated hiring funnel to attract & hire better writers faster.
Best places to find writers when you're just starting out
If you're like ContentDistribution in 2019, you just need to hire one or two writers to fulfill your client's needs.
What do you do then?
Post on Facebook and LinkedIn
Or just go to Upwork.
Upwork has some great candidates.
I found Gordana on Upwork.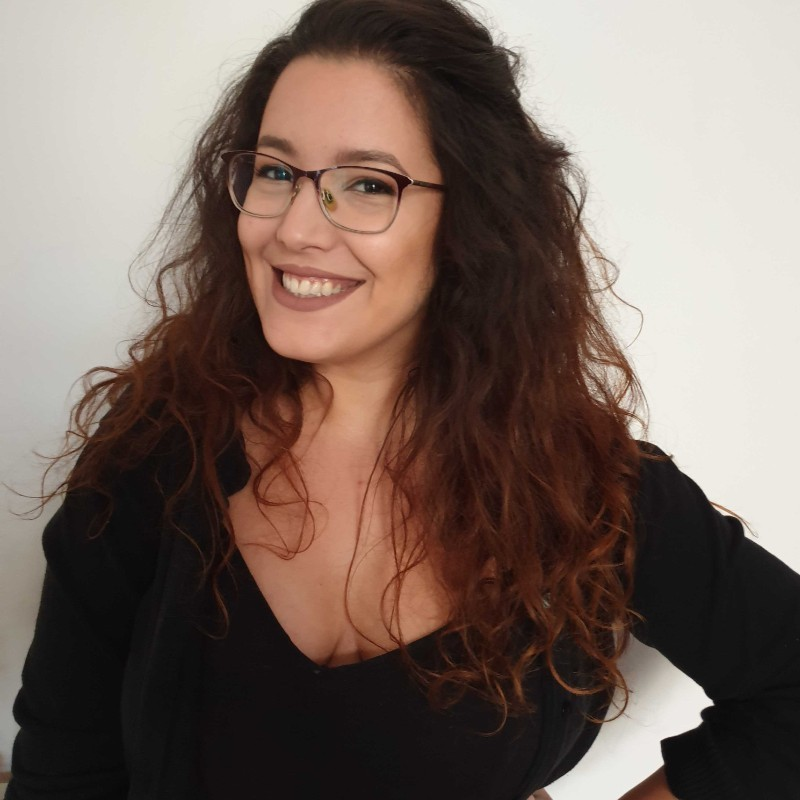 You might recognize Gordana as Content Distribution's Director of Operations, but she started as a writer.
Over those two years, Gordana went from writing → editing → content management → project management → and finally, Director of Operations running our 45-person content team.
There is some great talent on Upwork.
But I didn't find 5 Gordanas on Upwork.
Or even 3.
I found 1.
Facebook can be good too, but it's…chaotic.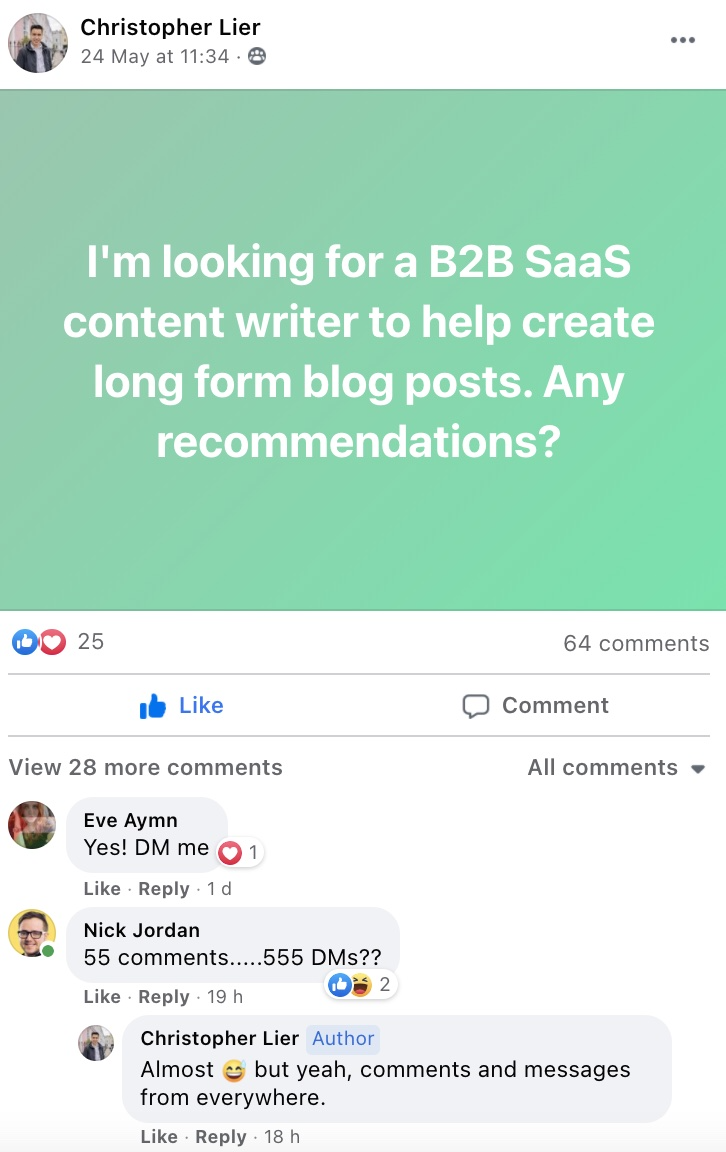 Hiring great writers is like hiring great developers
Hiring great writers is like hiring great developers —  the good ones are snapped up quickly.
This means that every single hiring platform suffers from the same hiring problem.
The best writers are hired faster than these platforms can source new, good writers.
It doesn't matter if you're hiring from Facebook, LinkedIn, Craigslist, Monster, Glassdoor, or a writer marketplace like Upwork or Textbroker.
Good writers are hired faster than your hiring channel can source new writers for employers to hire.
Imagine I gave you my list of 500 pre-vetted writers I know will crush it.
By the time you finish reading this article, how many do you think are still available?
None of them.
Because good, pre-vetted writers are worth their weight in Google stock.
And they get snapped up by companies like ours.
This has a bunch of implications on how you grow your content team:
There is no magical hiring platform where all of the candidates are good.
A majority of writing candidates are not good, regardless of rate/price, or hiring channel.
If we want to find more good writers, we need to evaluate, test, and filter out more bad writers
So, in order to evaluate and test more candidates, we expanded off UpWork and began hiring across multiple job boards and marketplaces.
And things got a whole lot worse.
We still had all of the same problems we had on UpWork:
We used platforms that aren't designed for testing and hiring writers.
We couldn't track where candidates were in our hiring funnel.
Candidates submitted heavily edited portfolios that didn't reflect their true first draft capabilities.
At that point, we were dealing with all of those challenges, just multiplied by 20.
Candidates were coming in from literally everywhere — Facebook, LinkedIn, comments, DMs, Email, Upwork, Craigslist, and dozens of unique job boards.
We couldn't track our candidates by their application status.
We weren't seeing or responding to most candidates.
We were following up with good candidates too late, or not at all.
We were constantly hunting through apps for writers 'we remember looking good' and never finding them.
And most of our candidates continued to be unqualified.
After months of banging our heads against the wall trying to make it work, a light bulb went off.
We had spent thousands of hours building our systems to turn content into traffic and dollars, but we had spent no more than a couple of dozen hours building and optimizing our hiring funnel to source, evaluate, test, and hire good writers.
Hiring funnel of a top 1% content agency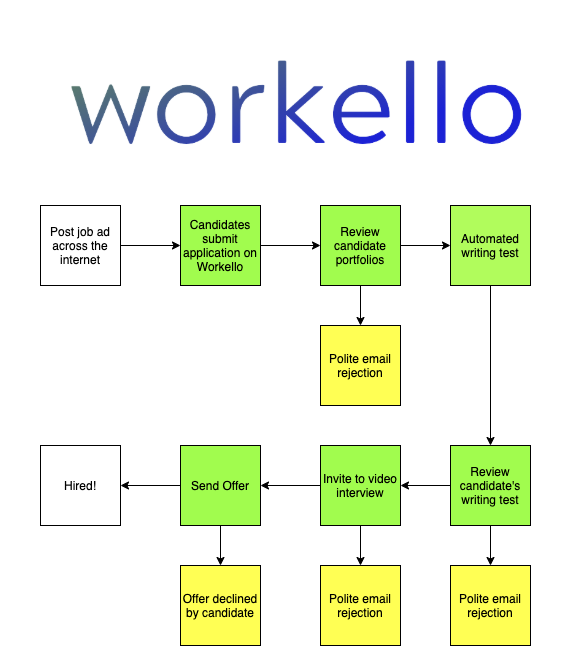 We went back to the drawing board and distilled the problem down the furthest we could:
Websites that publish a lot of content generate millions of visitors per month
To publish a lot of good content, we need a lot of good writers.
To find a lot of good writers, we need to evaluate a lot of candidates
To evaluate a lot of candidates, we needed to quickly filter out unqualified candidates so we're only left with the best
To filter out unqualified candidates faster, we need to……….?
Then we asked ourselves: what would your dream system to filter out bad candidates and find good candidates faster look like?
Here's what we wrote down:
A single place to view all of our candidates from all of our hiring channels
A system that allows us to sort our candidates by application status, so we know exactly what to do next
A place where we can test, reject, interview, and hire candidates without leaving our dashboard
An automated writing test to filter out bad candidates with good portfolios
Automated communication to bring writers through our hiring funnel with less effort
The system we built started off as Google Sheets + Google Forms + Zapier. Over thousands of hours, this improvised workflow evolved into the system below.
Write your job description
If you don't have any job ad copy yet, don't worry — you don't need to reinvent the wheel.
Check out Content Distribution's job ad copy here.
Or grab job ad copy from other companies hiring writers and repurpose it for your own.
Get copy from companies hiring writers on:
Build your list of hiring channels
We started off hiring in a few:
Facebook Groups
Job boards in low-cost-of-living countries
Facebook job ads (free)
LinkedIn job ads (free)
But over the last two years, we've expanded to more than 250+ Facebook Groups, job boards in low-cost-of-living countries, and dozens of free job ads on Facebook and LinkedIn.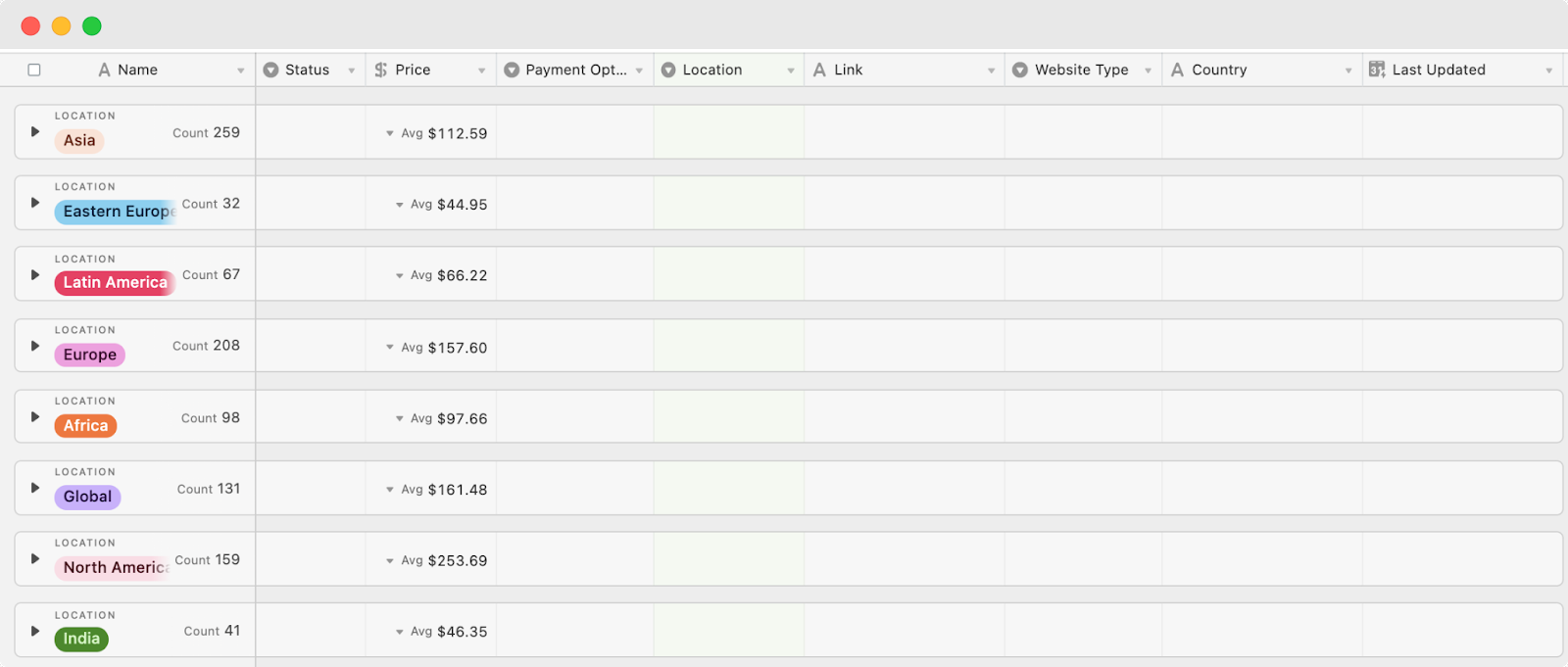 Distribute your job ad across the internet
In the beginning, our editors and content managers posted our job ads across the internet.
It's not very hard, but it takes time.
If you need to hire more than a handful of writers, you're eventually going to ask yourself why your content managers are posting job ads instead of creating great content.
Lucky for you, we documented the entire process, and just saved you another hundred hours of R&D and documentation on the way to scaling up your content ops.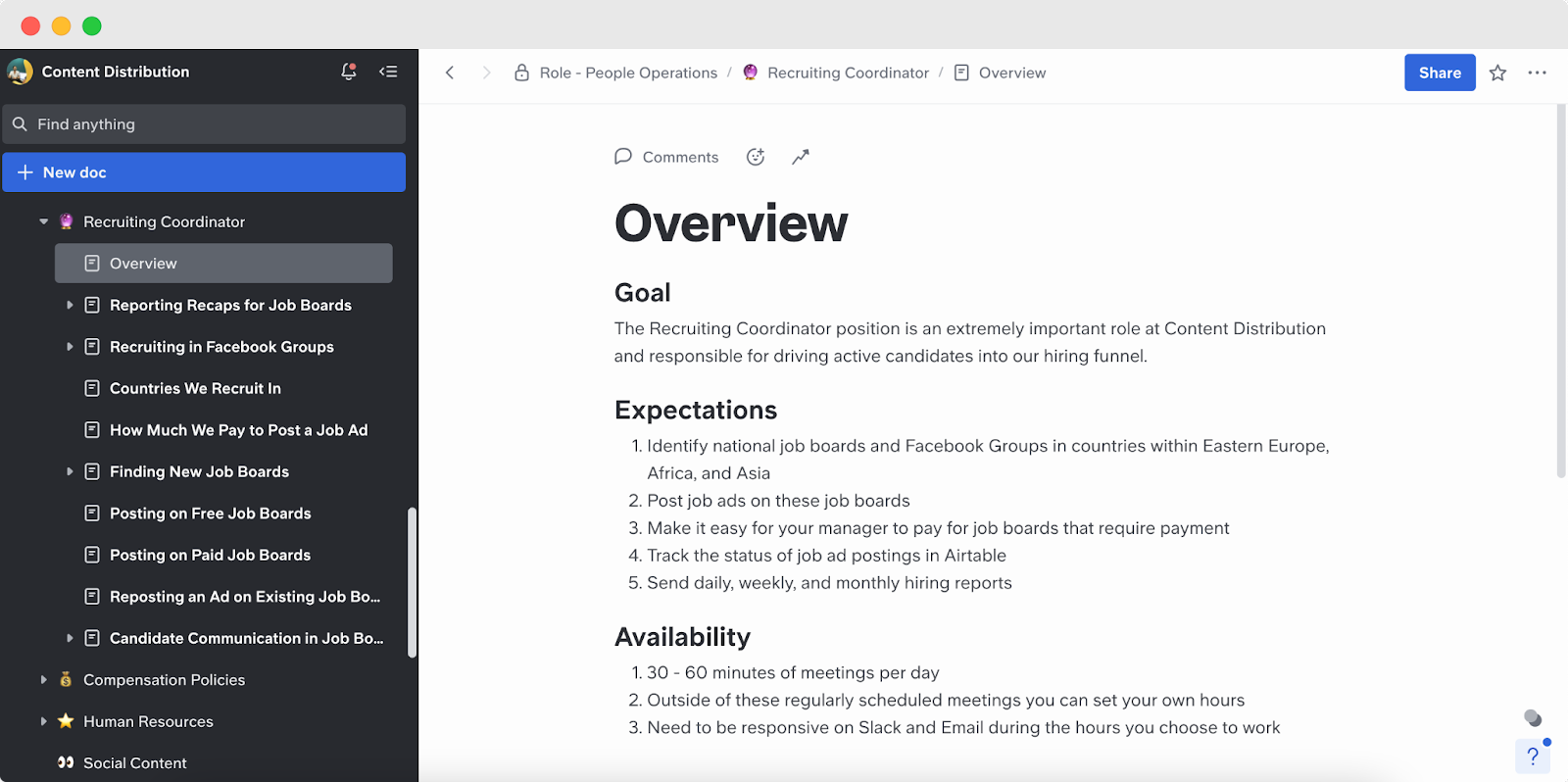 Sign up to Workello for free to get our playbooks for delegating job ads to someone else delivered to your inbox. 
Candidates submit their application
Writing candidates find your job ad on Facebook, LinkedIn, Craigslist, Glassdoor, and anywhere else you've posted your job ad, and click through to an application form hosted on Workello to submit their application.
Candidates submit their applications in a consistent, standardized format, regardless of where they found your job ad so you have all the information you need to decide whether to move them to the next step.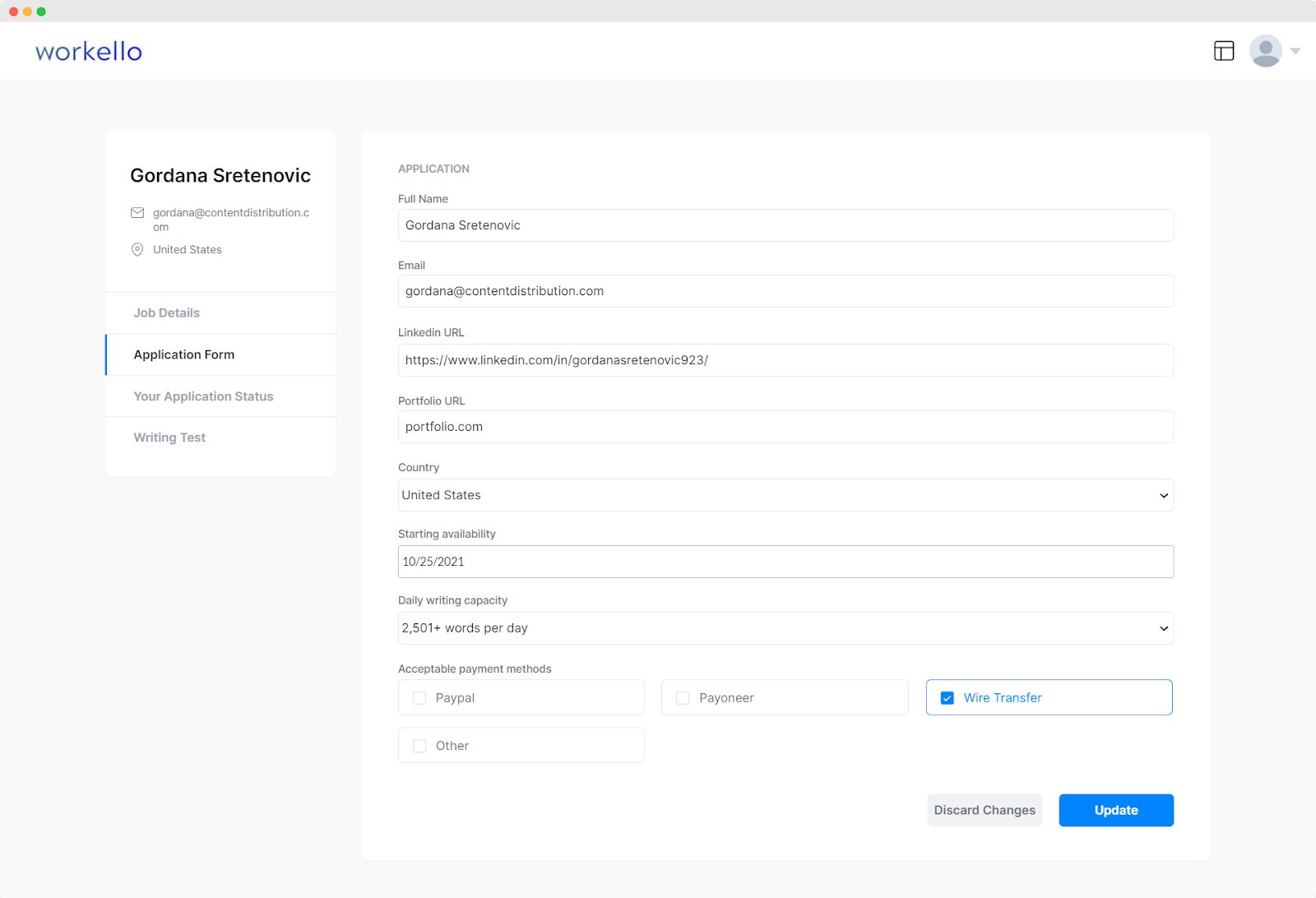 Watch candidates stream in
Regardless of where your candidates find your job ad, you can evaluate, test, and hire them from a single place.
Candidates are sorted by their application status:
Application Received
Application Rejected
Test Candidate
Interview Candidate
Send Offer
This tells you exactly where each candidate is in your hiring cycle and what you need to do next.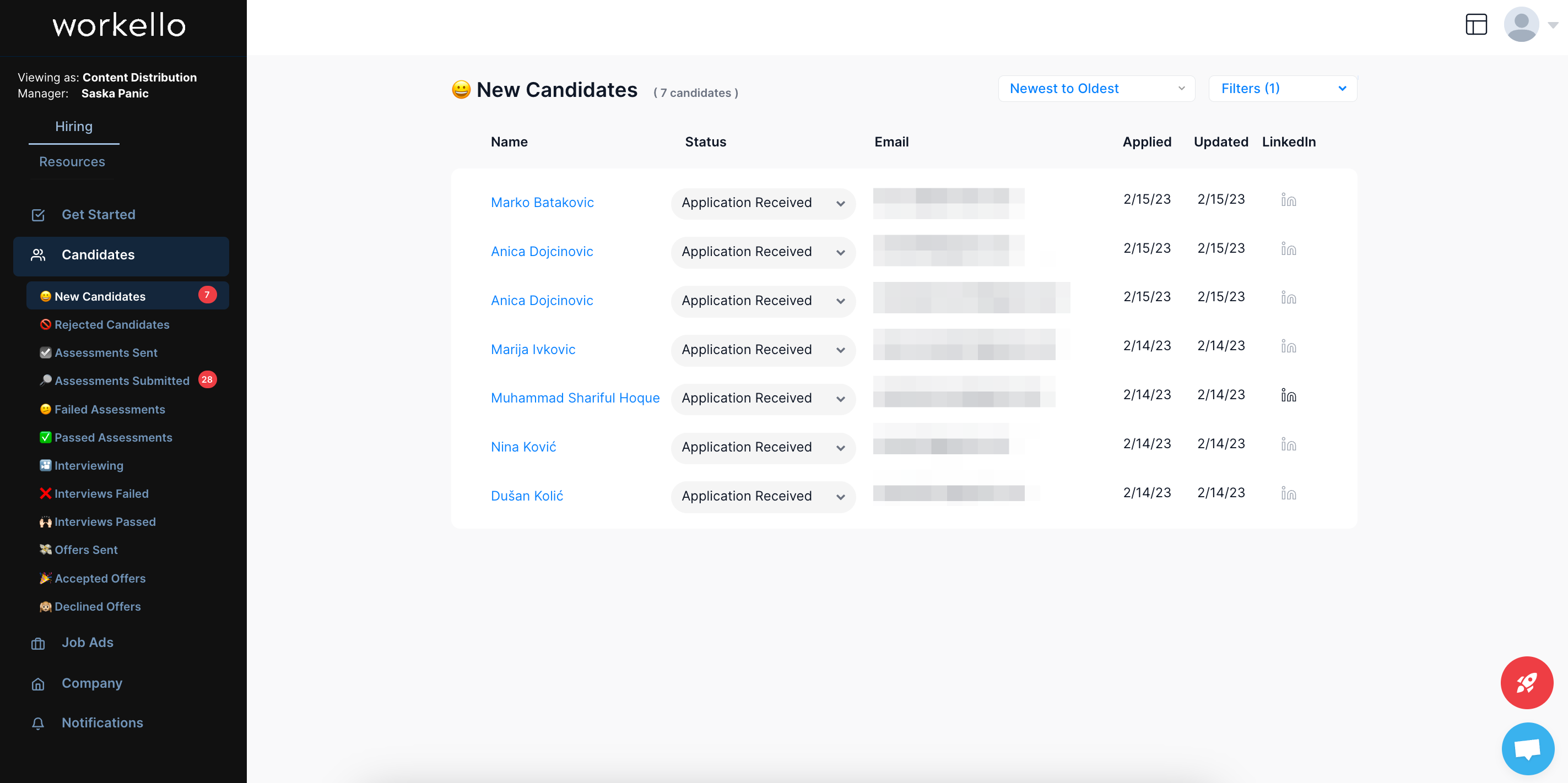 Reject non-qualified candidates
Your editors and content managers can log in a couple of times per week to review new candidates.
Politely reject unqualified candidates by changing their status to 'Reject Candidate.'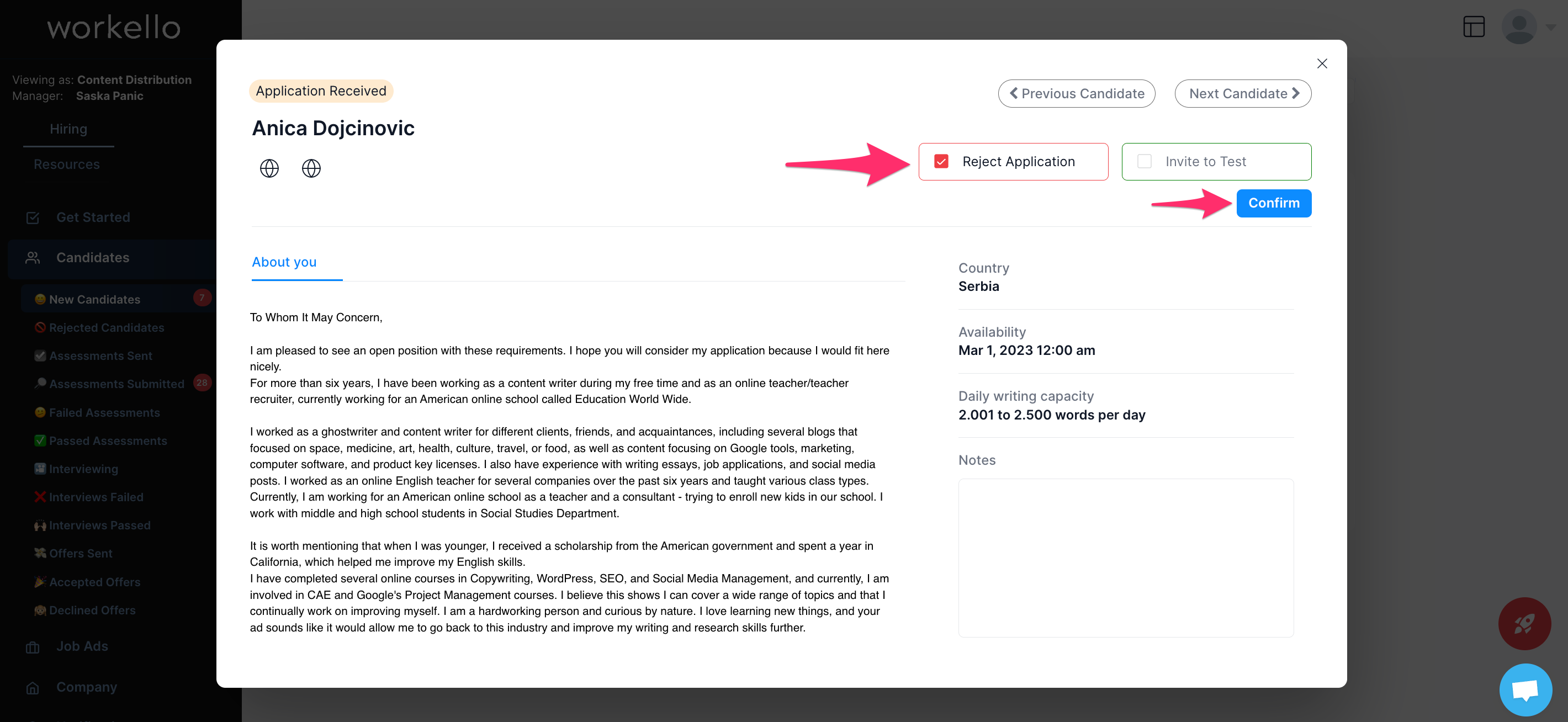 Triggering an automated email to the candidate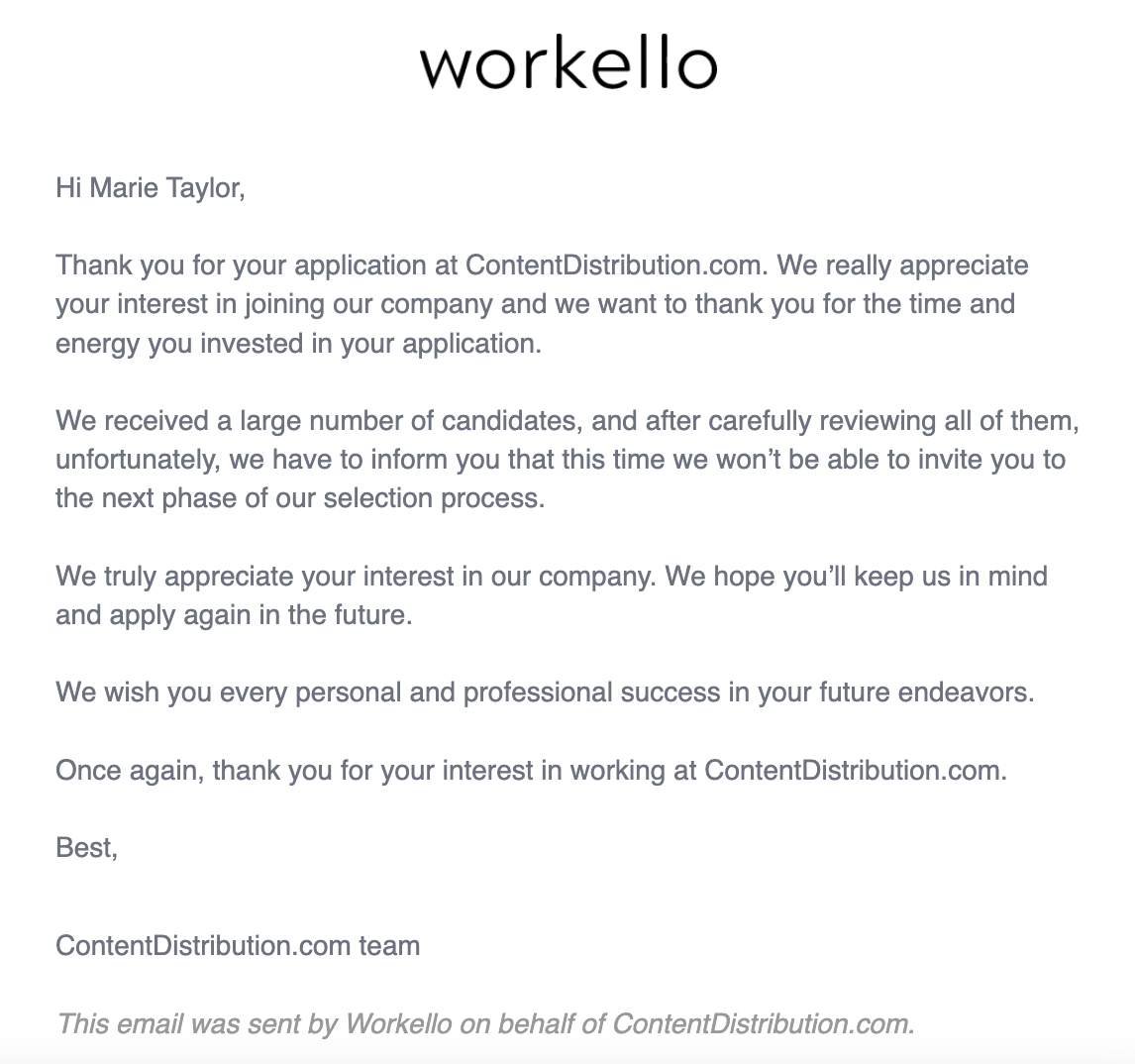 Point, click, test
Many of your candidates will be bad writers with good portfolios.
Writing candidates almost exclusively submit published and polished content in their portfolio, and published content almost always goes through an editing cycle before going live.
It's impossible to tell how much editing the content in your candidate's portfolio went through before being published, and more often than not, the content in a candidate's portfolio will be drastically different from what you receive in a 1st draft.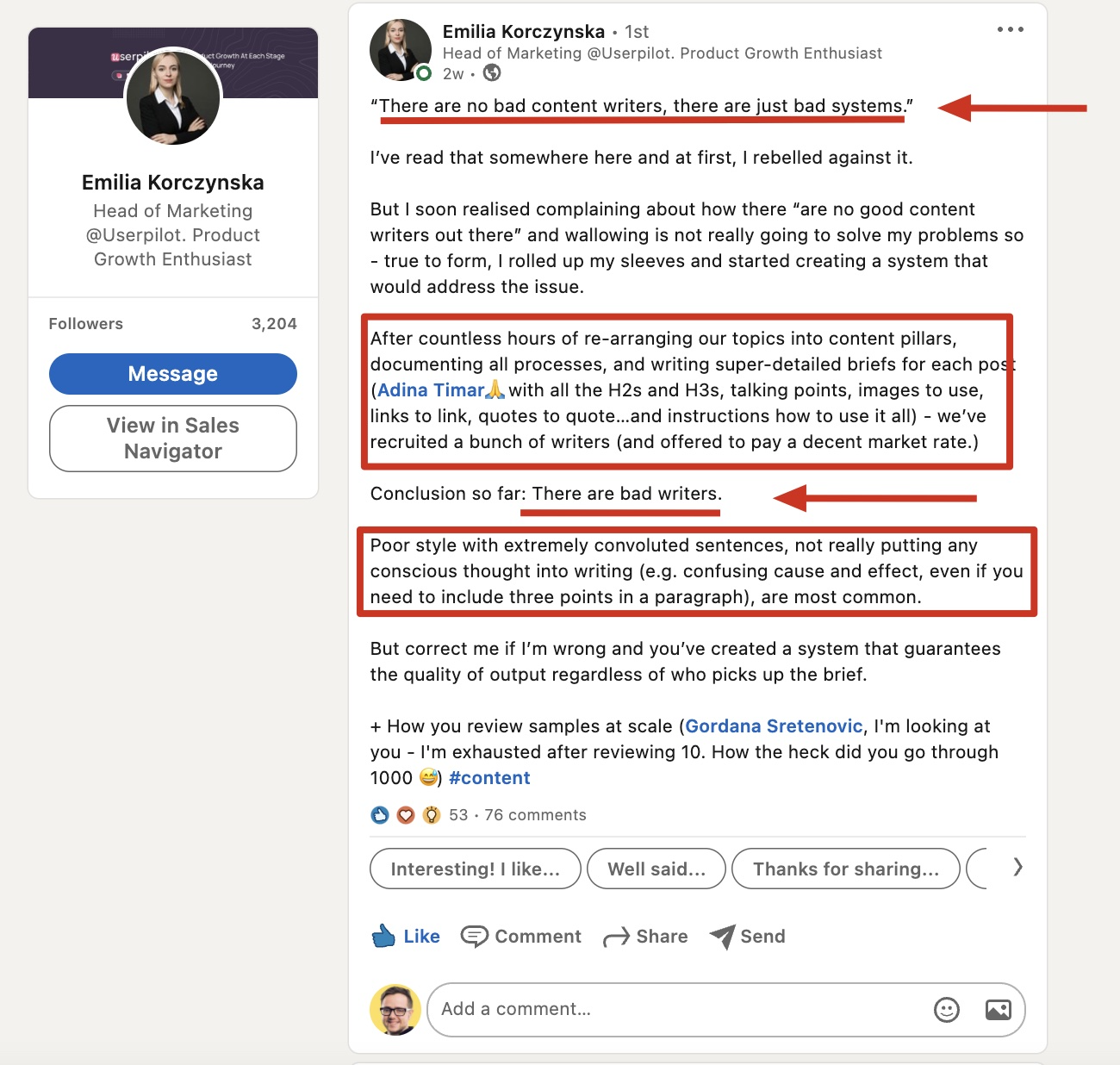 Before we started testing every candidate before hiring them, we paid for a lot of content that required total re-writes to make it usable.
Workello makes it super simple to test a writer's first draft content quality. And this helps you understand how much editing they'll need – before you hire them.
Change the candidates status to 'Test Candidate'
The candidate receives an email congratulating them on moving to the next stage of the hiring process and invites them to complete a short written test hosted on Workello.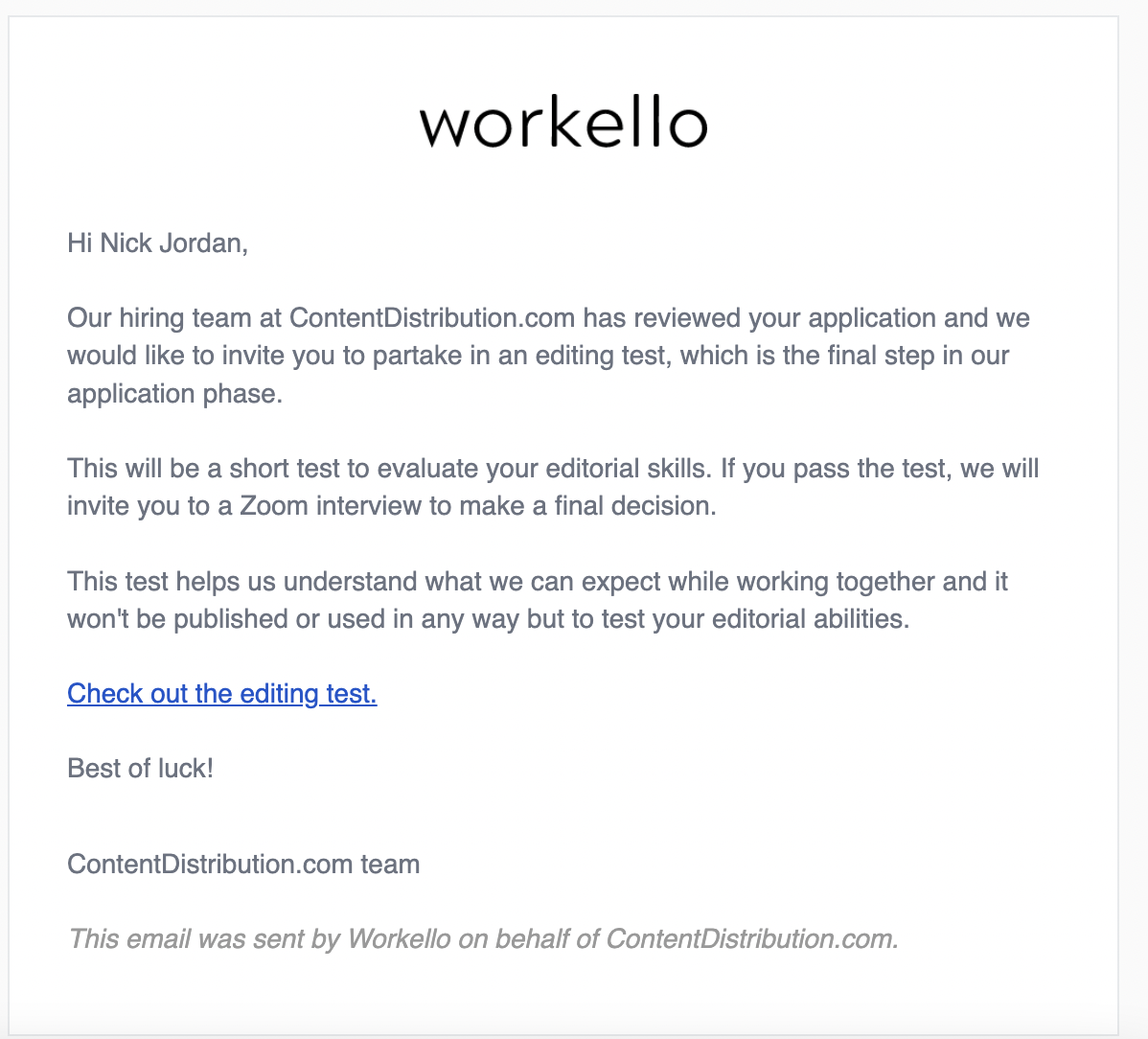 This is what it looks like when your candidate clicks the test link in the automated email.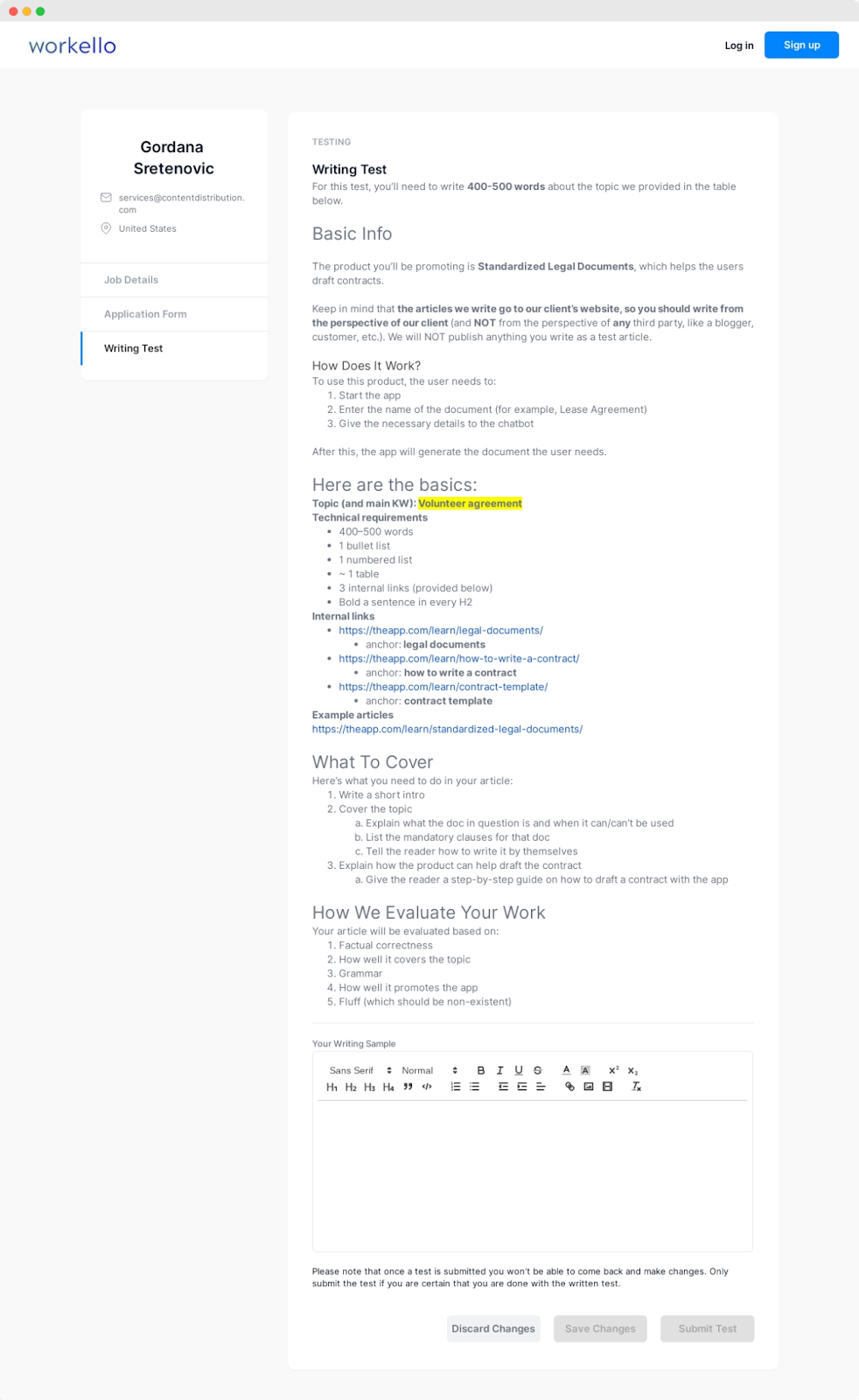 How to make a good test?
Testing writing candidates is a balancing act of thoroughness against willingness. The more thorough your writing test, the less likely a candidate is to complete your test. But, the less thorough your test is, the more likely you are to hire unqualified writers.
If you followed the steps above, by the time your candidates see your test, they're impressed with your brand and how organized your hiring process is, and they're feeling good about investing their valuable time into finishing your evaluation process.
The three areas you want to evaluate your candidates on are:
Language proficiency
Research skills
Article formatting (internal links, headings, etc)
Signup for Workello and steal our writing test. 
Interviewing Candidates
After the candidate submits their writing test on Workello, their status changes to 'Test Complete', letting your content managers know that it's time to review the candidate's test.
If the candidate passes, they'll receive an invite to book a video interview via Calendly.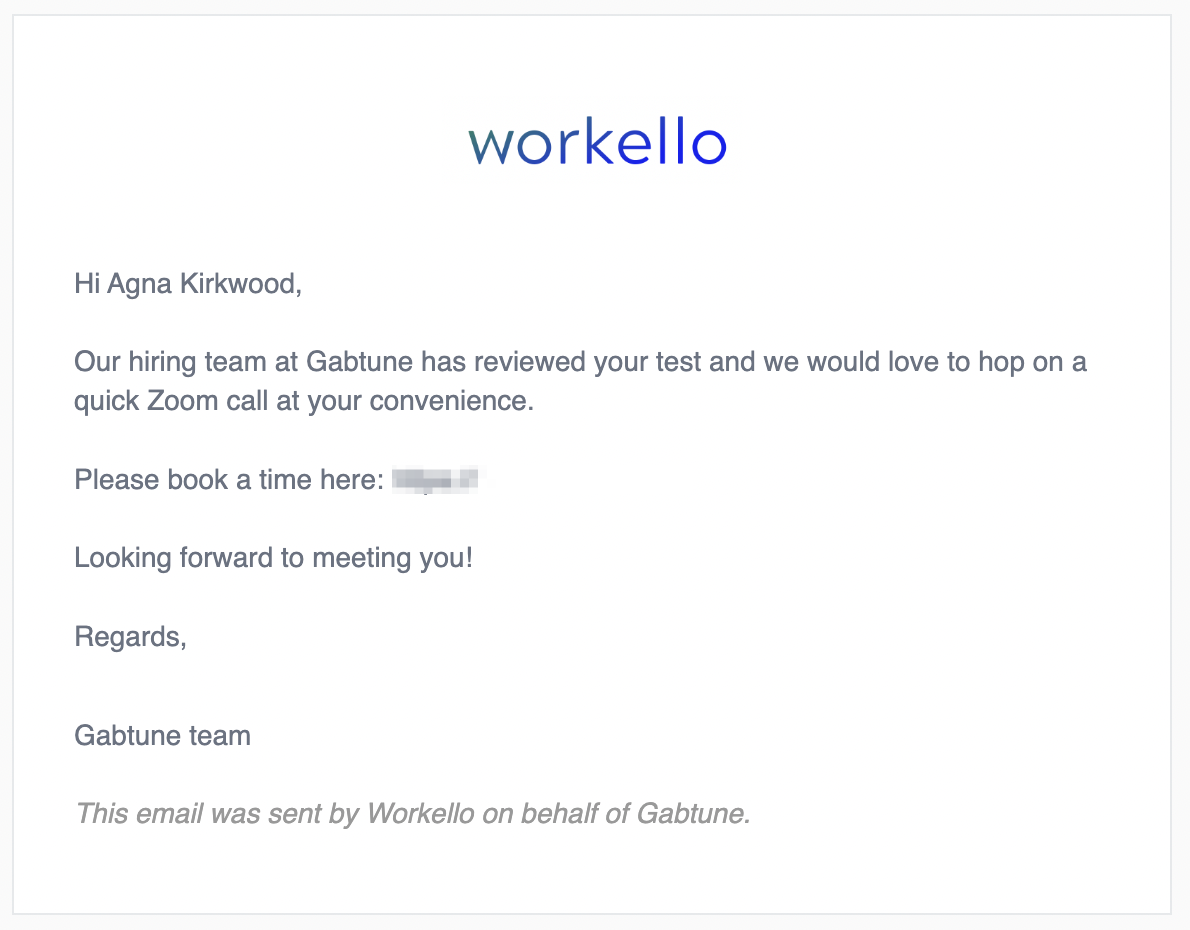 If, on the other hand, the candidate fails the test, update their status to 'Reject Candidate' and they'll receive a polite rejection email thanking them for their time.
The Candidate Status Page
Despite all of the automations and optimizations we had built, we still spent a lot of time answering the same questions again, and again.
Did you receive my application?
Did you review my test?
When will I hear back?
What are the next steps?
And when we were late to reply or missed the question altogether, we were also inadvertently missing out on great candidates.
So, we built an automated status page to address the most common questions candidates have during the hiring process.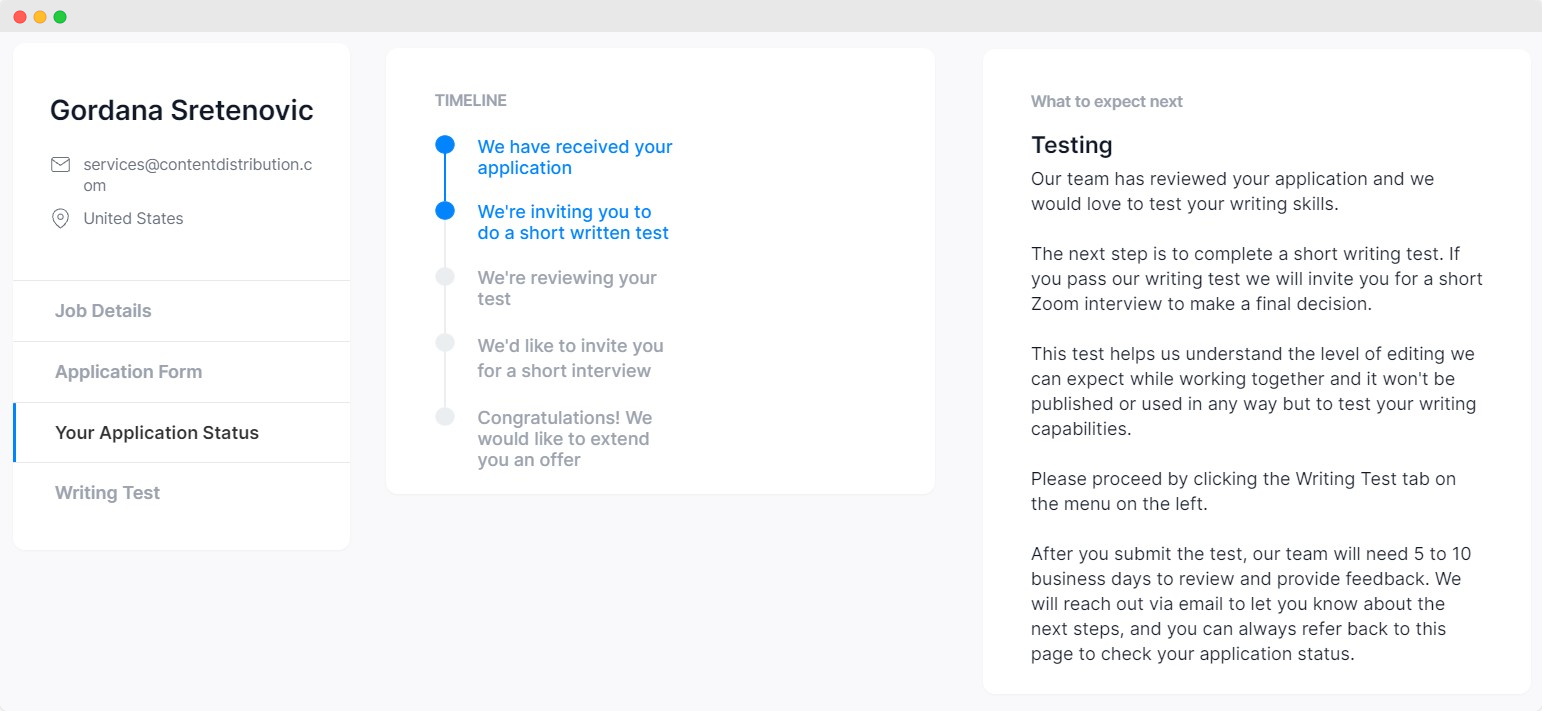 Besides reducing transactional questions, it also increases transparency and organization around the hiring process which helps keep good candidates invested in finishing the process.
Check out an example here.
The investment paid off big time
While editing this, everything I wrote about how we hire writers sounds super simple and intuitive.
But when we started ContentDistribution, there was nothing like Workello to make it easier for us to spend less time hiring great writers.
It took thousands of hours and iterative improvements over thousands of candidates to develop a system that today appears, well, super simple.
We set quarterly goals.
We tracked our hiring and candidate metrics across every step of the hiring funnel.
We roped off a lot of time for micro improvements and documentation in bi-monthly sprints.
And before Workello, not going to lie — it sucked.
Our highly talented editing team spent their time posting job ads
Candidates applied through email, LinkedIn, Facebook comments and DMs, and through random job boards
We replied late, or never responded to a significant percentage of our candidates
Every candidate submitted their application differently, very few included all the info we need to qualify them
We couldn't track candidates by status
Testing was manual
The best candidates stopped responding to us before we could hire them
I consider the investment into automating our hiring funnel the most important investment our agency has made, second only to our investment into our content production processes to turn words into dollars.
We reduced our cost of quality content by 75% by building a team of non-native speakers
We worked together to drive one of the best SEO campaigns of all time
Our agency grew from 1 to 45 writers in less than two years
We enabled my editors and content managers to focus on creating great content, not finding and hiring great writers
What cost us more than $100,000 to build is now available to any content team for the price of a one good page of content.
Try Workello completely for free. It's pre-configured so you can start accepting candidates, and automating your hiring funnel in less than 3 minutes.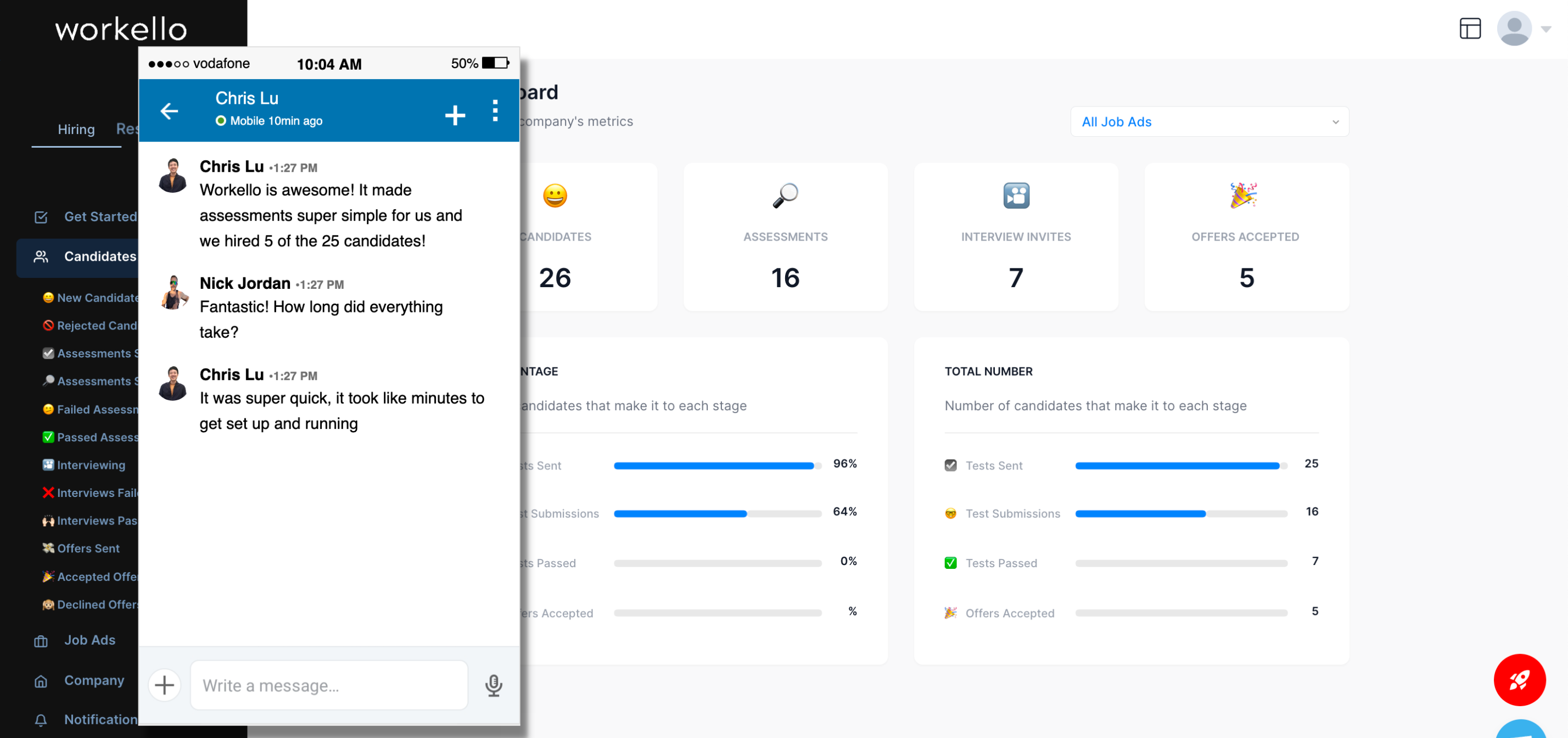 Get more content like this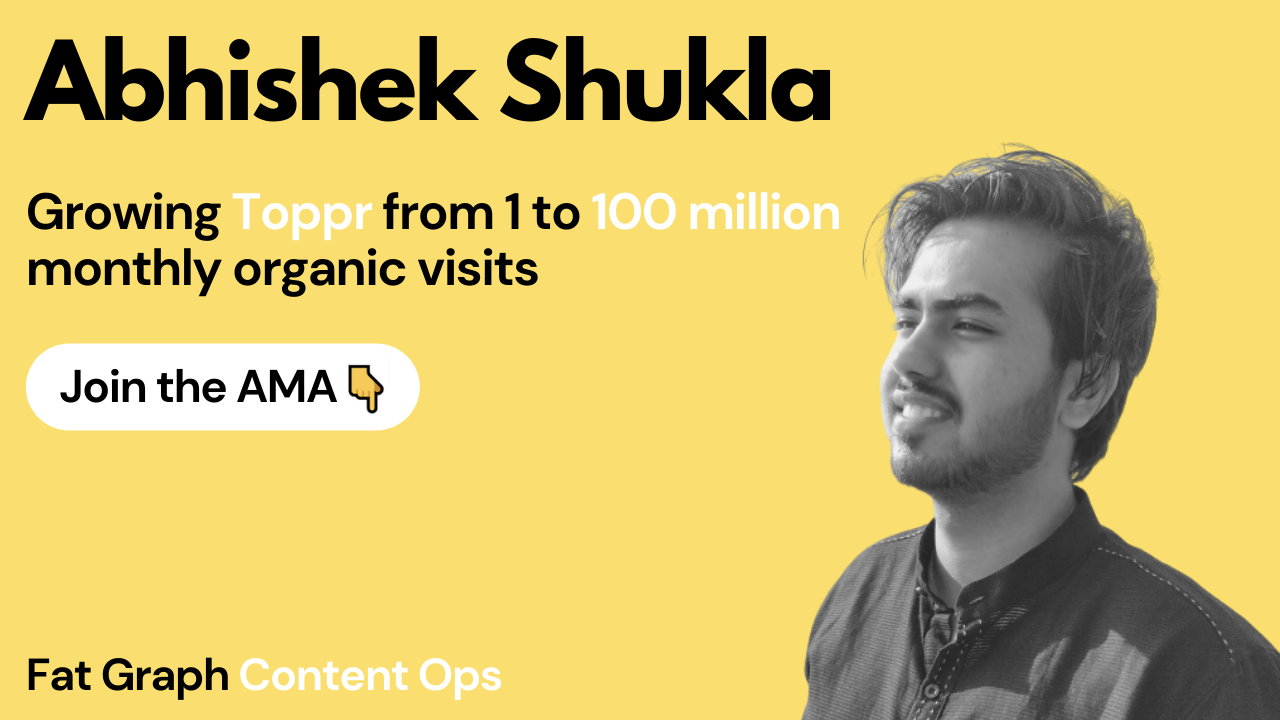 Join the Fat Graph Content Ops community to ask questions from SEOs and content marketers from Shopify, Intercom, Quora, and Coinbase, and other leading brands in our weekly AMAs, and get our latest content as soon as it's live.
Want to crush SEO without building backlinks or technical BS? Keep reading.
Hire Writers ASAP: Follow our playbook to get 200+ writing candidates in the next 72 hours.
DoNotPay Case Study: 0 to 1,500,000 Organics Per Month and a $210,000,000 Series B valuation.
Love YouTube? We do too. Watch the DoNotPay Case Study in super granular detail (70 minutes long), then subscribe to catch more in-depth guides.
Scaling Content Velocity: Why the #1 lever to get the fastest SEO results is publishing content faster.
Automating Keyword Research: AI perfect keyword research, without any SEO skills.
Hear from Workello Customers