State of Digital Publishing is a startup market research publisher helping businesses with everything related to digital publishing. Their list of services is quite vast and ranges from SEO and content strategy, all the way to ad revenue optimization.
Naturally, this means that SODP needs to work with a lot of good writers who can very quickly understand the needs of their clients and implement various writing styles in their everyday output.
Why SODP chose Workello
"Automating the hiring process with Workello helped us quickly filter through a lot of candidates while also keeping communication with them respectful and prompt", says Andrew Kemp.
Automated candidate communication is what made SODP fall in love with Workello. They could, with a click of a button, send rejection emails to candidates that weren't what they were looking for without offending them. They could also automatically invite their candidates to take a written test, all done in-app, without the need to send and receive Google Docs, PDFs, and Word files via email.
"You can just quickly filter through people, you're not leaving anyone dangling on a hook, and your hiring process becomes so much smoother and more efficient", Kemp says.
The hiring process
Hiring playbook used: Hiring Generalist Writers
State of Digital Publishing created a job description based on Workello's pre-optimized template that was designed to achieve three things:
Attract the most qualified candidates
Attract candidates looking for serious, long-term collaboration
Show them that they can build their careers with you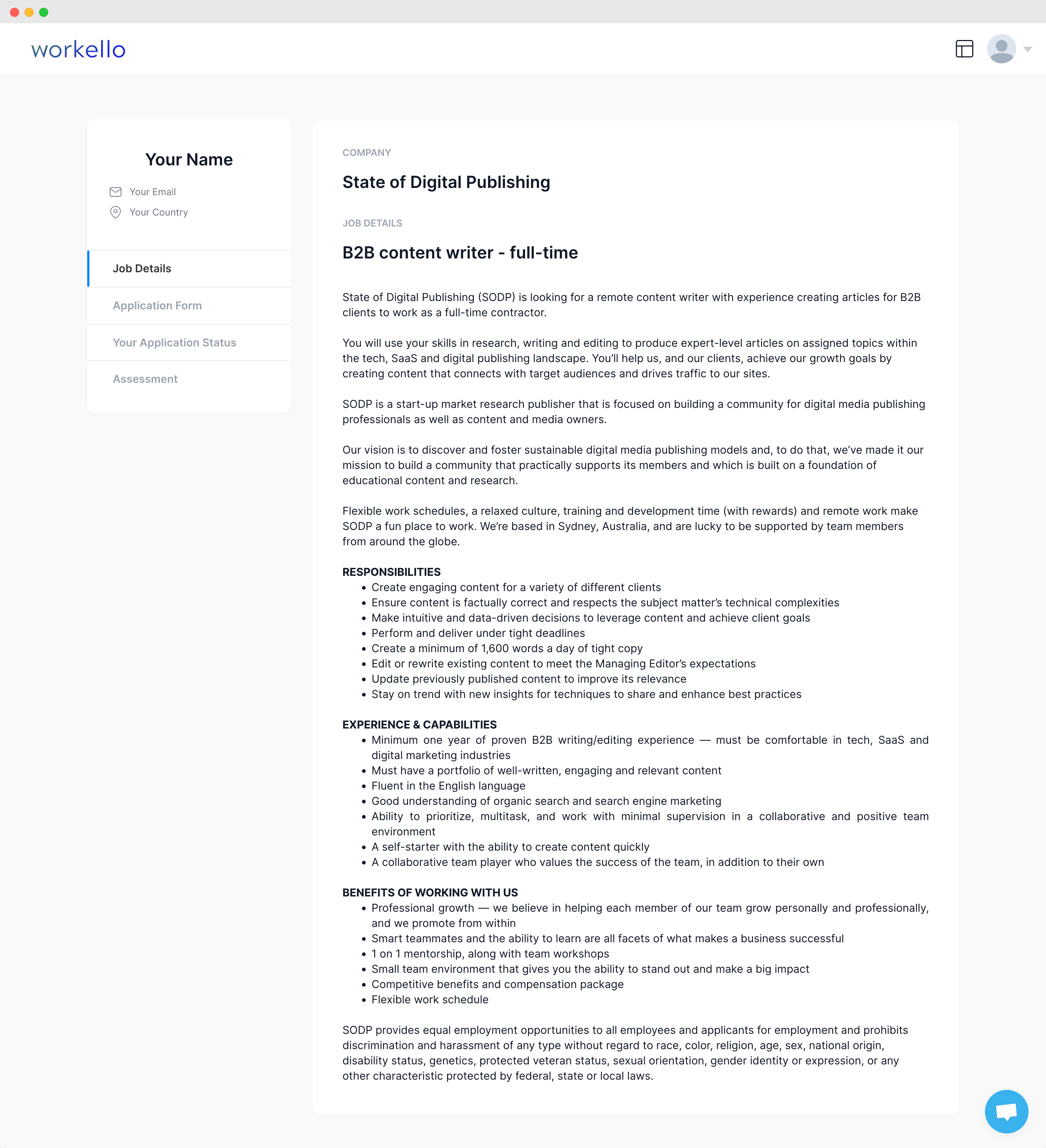 The writing assessment SODP opted for was also based on Workello's pre-optimized template that achieves three goals:
It clearly shows your candidate's writing and research skills
It shows their internal linking and optimization abilities
It takes significantly less time to do compared to traditional writing assessments so more candidates actually take your test
In addition to content writers, SODP were also looking for editors, and they used Workello to attract their ideal candidates. They based their editorial job description on Workello's standard template, aligned it with their brand, and added relevant responsibilities and benefits. Workello's directory of job descriptions can help anyone looking to hire for any role in content, marketing, SEO, or HR, design the perfect job ad quickly and easily.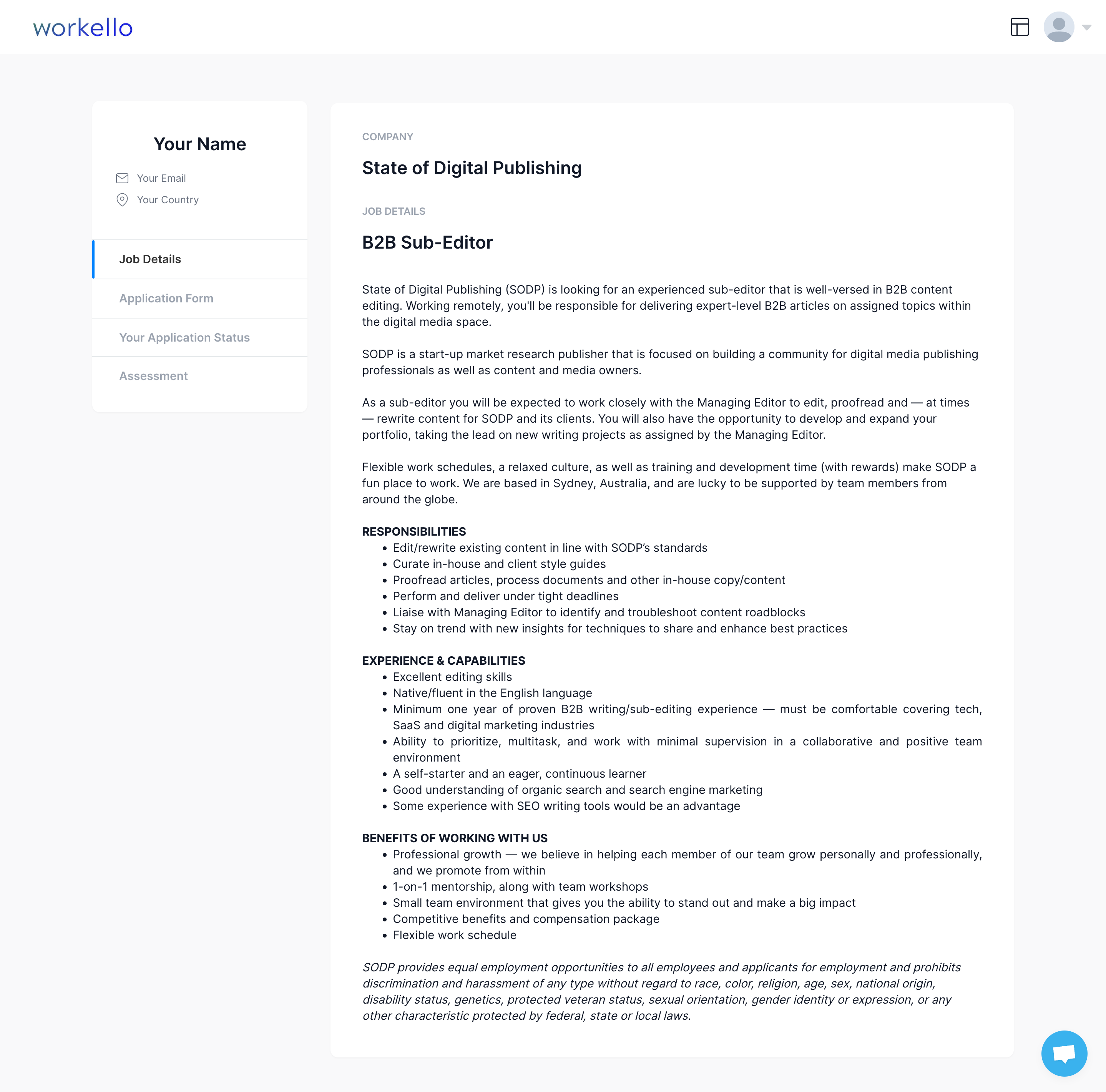 The editorial assessment SODP opted for was easy to set up and consisted of a text, three paragraphs long, that their candidates edited and optimized in accordance with the instructions provided.
State of Digital Publishing posted their job ads pretty much everywhere but focused primarily on local job boards in countries such as The Philippines, Serbia, and certain South American countries. They utilized LinkedIn and Facebook groups as well to attract the highest number of candidates they can.
The results SODP got are amazing. Out of 200 writing applications they received in the first couple of weeks, they tested over 50, and a whopping 18 candidates passed their writing assessment.

"Workello is fantastic. I've never actually used a tool like that in the 15 years I've been an editor", Andrew Kemp says. "Never in my life have I managed to filter through 200 candidates in a space of two weeks, and actually get to a point where I'm ready to hire someone, and that for me was a game-changer"
If you, like State of Digital Publishing, are a digital publishing agency and need to quickly filter through a lot of writing candidates so you can grow your website, try Workello today.